8 Best Container Tracking Software for Real-Time Shipment Tracking
How can I track a container's location in real time?
This is perhaps one of the most asked questions by your operations and logistics team. As a shipper, you need to know your shipment's location in real-time to proactively respond to any foreseen deviations and keep your customers informed about the status of the delivery.
Why has container tracking software gained such prominence over the last few years?
Eliminates laborious and time-consuming manual processes involving a team of professionals who are overburdened with numerous follow-ups and phone conversations to track the shipments.
Relying on inaccurate information from the shipping lines' website about the shipment's status could create problems with your customers.
Being reactive to delays and other disruptions could have considerable cost implications for your supply chain and logistics.
Not informing your customers about the exact delivery schedules could result in customer churn.
Real-time container tracking is a necessity that demands the attention of supply chain professionals. With the newest advancements in technology, it has become straightforward to track the precise locations of all your containers as and when updated, thereby obtaining much-needed visibility into the supply chain operations.
The emergence of state-of-the-art container tracking systems gives you timely updates on the different stages in the movement of your shipment. It enables you to deal with any rerouting or delays proactively.
With more and more companies rapidly shifting to automated container tracking solutions, such software has exploded in the market. To separate the wheat from the chaff and identify the best-suited software that gives you the best ROI for your company, asking the right questions is crucial.
We have done our due diligence and compiled a list of the best container tracking software available today that might be a good fit for your company.
Here are some noteworthy real-time container tracking software
Any efficient container tracking system should provide detailed information like the name of the port where your containers may be stored, the live location of your containers, status and exact delivery times. Here are some of the container tracking systems that have helped several shipping companies in streamlining their freight transportation processes.
1. GoComet Container Tracking Software
One of the most intuitive and easiest-to-use container tracking software available in the market today, GoComet's container tracking solution allows you to track all your international shipments in real time on a single dashboard. The cloud-based solution auto-captures every movement of your shipment, assesses your carrier performance and sends automated updates directly to your inbox every time your shipment achieves a journey milestone.
The solution is multi-modal, i.e., the platform can track your cargo across various modes, including Sea, Road, Air and Rail, right from the time it leaves the warehouse until it reaches the end consignee. The platform also offers actionable insights and helps you improve customer experience by allowing you to share the tracking data with your customers, making way for unprecedented transparency.
G2 and Capterra reviews for GoComet
2. Cogoport
Cogoport offers container tracking with convenience and transparency, thereby facilitating better customer relationships. Detailed shipment information like addresses and carrier details, comprehensive tracking history such as location, time, and status of the shipment, and original and up-to-date ETA of the consignment are constantly displayed on the dashboard. You can track packages created outside Cogoport, enabling you to keep tabs on all your shipments.
G2 and Capterra reviews for Cogoport
3. Alpega
Alpega offers a cloud-based reusable packaging solution that enables real-time container visibility. Alpega's reusable package management software supports the transportation process, from scheduling to tracking arrivals to fee settlement, in an automated way, allowing you to gain complete visibility of your shipping containers at any time. Their solution equips your containers with detailed traceability of every movement using serial numbers. Identification technologies such as barcodes or RFID clearly distinguish every container, making them easily locatable and tracking their movements.
G2 and Capterra reviews for Alpega
4. FourKites
FourKites has an advanced container track and trace solution equipped with AI and machine learning algorithms. It provides end-to-end live global tracking of containers across every mode, sends out proactive alerts to logistics managers in case of any delays/emergencies, and documents detailed predictive analytics for analyzing and improving performance at a later stage.
G2 and Capterra reviews for FourKites
5. Project44
Project44 is one of the leading tracking platforms providing multi-modal visibility with its predictive tracking platform. The platform helps to gain actionable insights on where your orders are located, how they are being shipped and other real-time shipment metrics via their shipment tracking platform. You can get live updates into disruptions, enabling you to plan and collaborate with stakeholders proactively.
G2 and Capterra reviews for Project44
6. Ocean Insights
Now part of Project44, Ocean Insights enables you to track and monitor all your containers with a consolidated view of all your shipments in real time. Their container track and trace solution gets comprehensive data from various shipping lines and seaports. Smart filter options allow you to quickly and easily identify shipments that require immediate attention. The platform also provides auto-alerts and notifications such as delays, discharge, rollovers, or lengthy wait times, on-the-go.
7. Infor Nexus
Infor Nexus has developed a single networking platform that offers live tracking with mapping visualization and location-driven ETAs for the ocean, truckload, and air modes. Everything you need is available on a single dashboard, including varied carrier data, multi-piece shipment tracking details, alerts and notifications of delivery delays, shipment returns tracking and more.
G2 and Capterra reviews for Infor Nexus
8. Kuebix
Kuebix's International container management technology allows shippers to save time and money while protecting their assets through increased visibility of their ocean freight. You can track and trace shipments with real-time carrier updates, provide customers with updated arrival information, and do much more with the software.
G2 and Capterra reviews for Kuebix
Key product feature comparison based on G2 reviews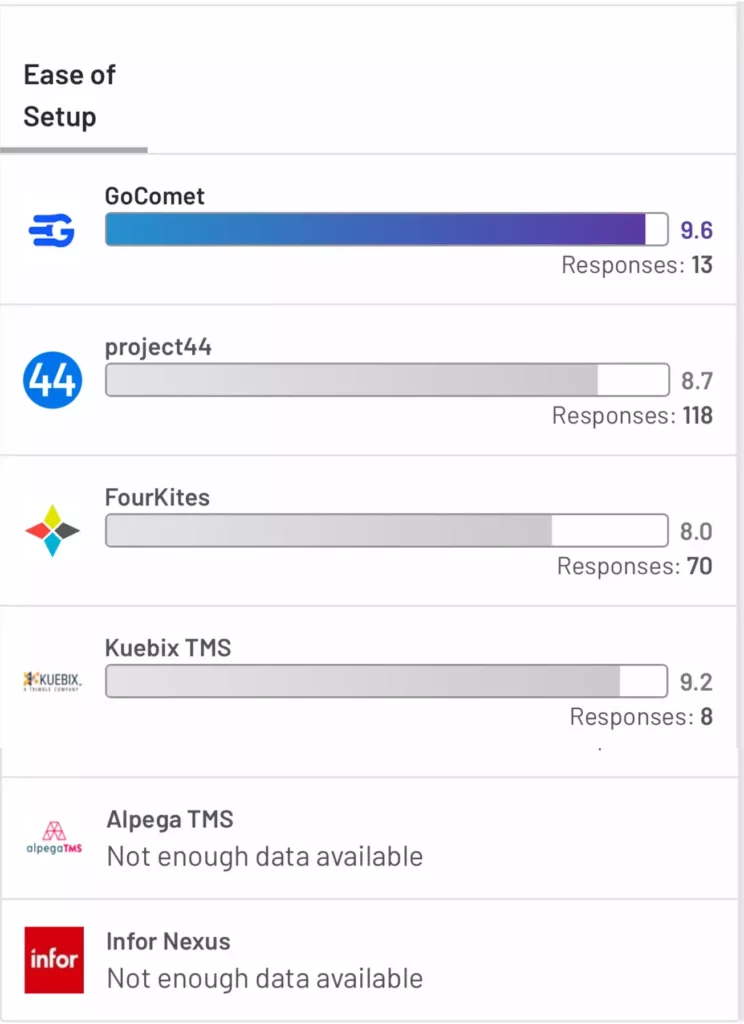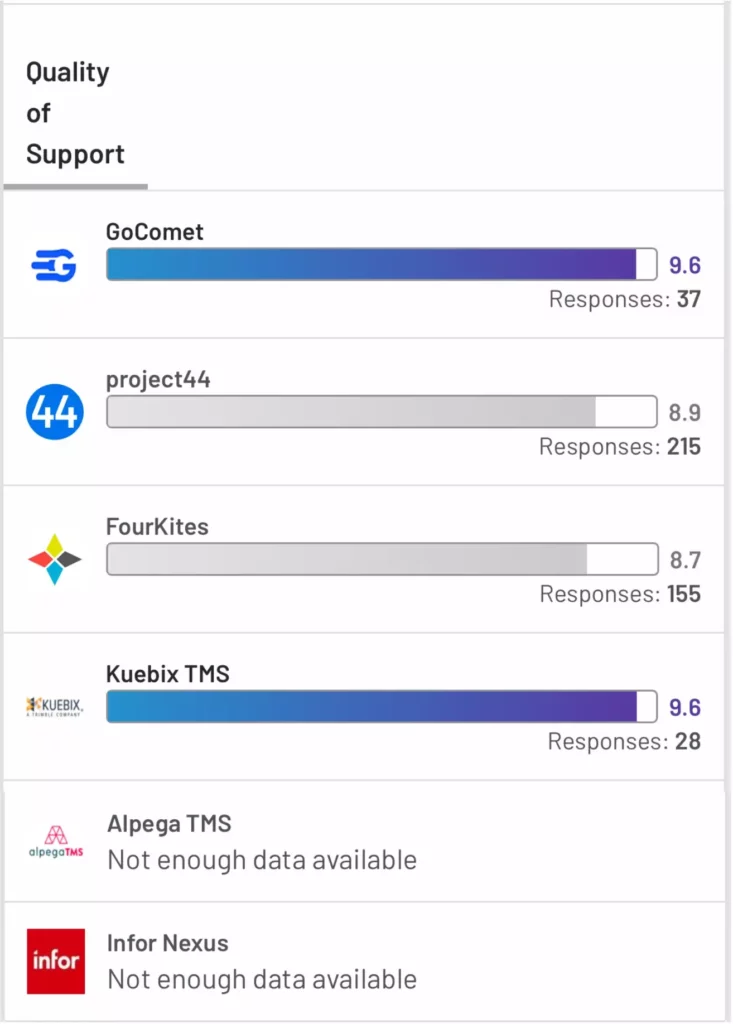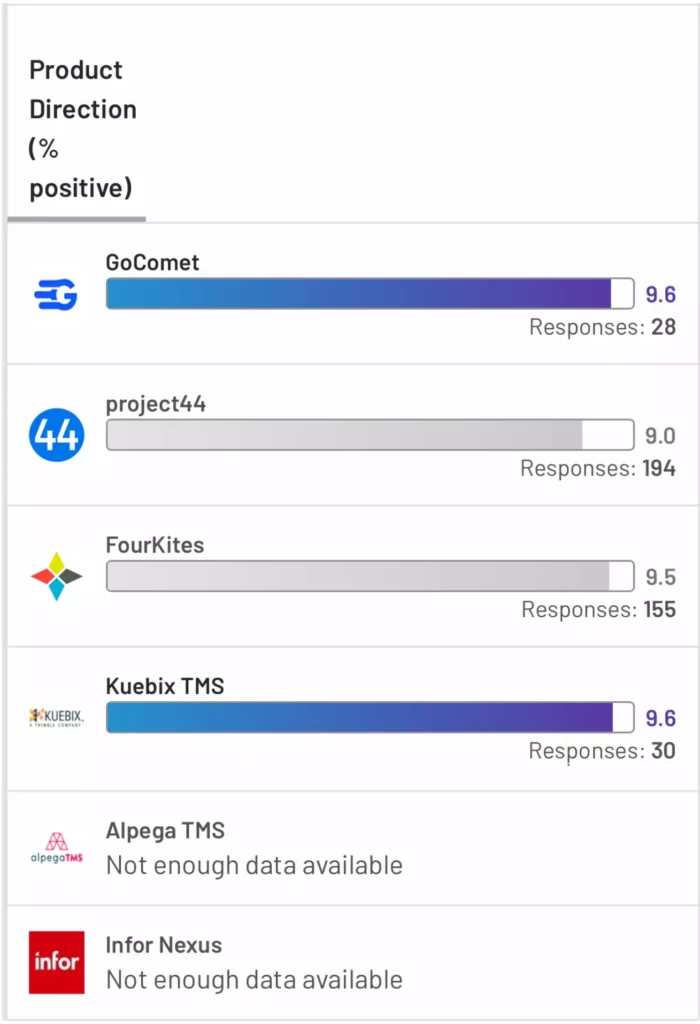 Five crucial points to keep in mind before choosing a container tracking software
1. It would be best to explore an easy-to-use, customizable, multi-modal container tracking software solution, which is also highly scalable as and when your business grows. Not to mention, such SaaS solutions are the easiest to deploy, hardly require any training to start using, and are highly intuitive.
2. Always go for a user-friendly interface. A user-friendly solution not just ends with an attractive UI and UX design but must also be compatible with your existing ERP framework and other TMS software. Good software automates your current process, but a great one ensures delivery of the promised automation with less or no compromise on your existing processes.
3. Do not choose a heavy ERP solution and bear the full costs if your requirements are different and minimum. Choose a container tracking solution that best suits your shipment volume and everyday operations. Affordable solutions make it easier for medium and smaller companies to optimize their supply chain efficiencies cost-effectively.
4. Choose a provider who can give a proactive customer support team and has the quickest response in case of any issues in your container tracking software.
5. With plenty of container tracking software out there in the market, it is imperative to shortlist a few that fit your organization's supply chain goals and offers a trial version before a full-scale deployment. Ensure that the trial covers all the features that your organization will use post-deployment.
In our world, where innovation and efficiency are a must, GoComet has hugely contributed to our digital transition. The product is very user-friendly. ERP integration, carrier performance, auto-alerts, real-time container tracking, and routing history is what we needed to make the difference, and they got it all delivered into a single app.
With GoComet, we've had really great benefits, especially our customer feedback. When we share the status of their shipments in real-time, our customers feel that they've got a supplier they can rely on. Internally, our efficiencies between teams have improved.
The ability to keep things consolidated in one area and easily track the information whether it is the status of the shipments, our expenditures, cost savings with just a few clicks—that is the power we saw with GoComet's tool. The process has become extremely seamless.