Skip port congestion in just 3 simple steps
Are you facing challenges with port congestion in your supply chain operations? If so, you've come to the right place.
Port congestion is a significant issue in the supply chain industry, and its impact can be unpredictable and volatile. However, it's important to note that the situation is not always as dire as it may seem.
By following three simple steps, you can effectively mitigate shipment delays caused by port congestion. By processing data from more than 45,000 containerized shipments monthly, GoComet's port congestion tracker evaluates port congestion and delays at major ports across the US, EU, EMEA, and SEA regions. This analysis is powered by a machine learning algorithm that considers the turnaround times of containers upon arrival and departure.
Let's explore a real-world scenario involving a manufacturing firm located in China, which needs to import a critical raw material from Shanghai to the production hub in California. The firm typically moves 100 TEUs (Twenty-foot Equivalent Units) per month and wants to use GoComet's Real-Time Port Congestion Tool to plan the shipment from China to the USA.
Step 1: Port Selection
Analyze Historical Data:
By analyzing weekly and monthly maximum delay data, you can identify recurring congestion patterns or peak periods at different ports. By comparing the congestion levels across different weeks & months, you can identify ports with consistently lower congestion, allowing you to make an informed decision regarding port selection.

Analyzing the data, it becomes evident that Long Beach Port, located closer to Los Angeles Port, experiences considerably lower congestion delays. Therefore, based on this robust data, it is a logical and well-informed choice to designate Long Beach as the Point of Destination for the shipment. By leveraging real-time congestion delay data, the tool facilitates the selection of the most suitable port for timely delivery, minimizing potential delays. The analysis reveals that Long Beach Port, in close proximity to Los Angeles Port, exhibits significantly reduced congestion delay.
Consequently, the decision to opt for Long Beach as the Point of Destination for the shipment is strongly supported by the empirical evidence.
Want to check out the port congestion delay for your next shipment? Get live data for your major ports.
Step 2: Carrier Selection
Selecting the right carrier is pivotal in avoiding port congestion nightmares. GoComet's smart scheduling tool provides instant access to the latest sailing schedules of international cargo terminals, benchmarked freight rates, and carrier performance. It also gives arrival plans, routing information like transshipments, and the vessel's name and voyage number.
In our case, let's select the carrier for our shipment from Shanghai, China to Long Beach, US
When selecting a carrier for your shipments from China to the US, opt for carriers that offer direct routing. Direct routing minimizes the risk of delays and potential congestion at transshipment ports, ensuring a more efficient and streamlined journey for your consignments.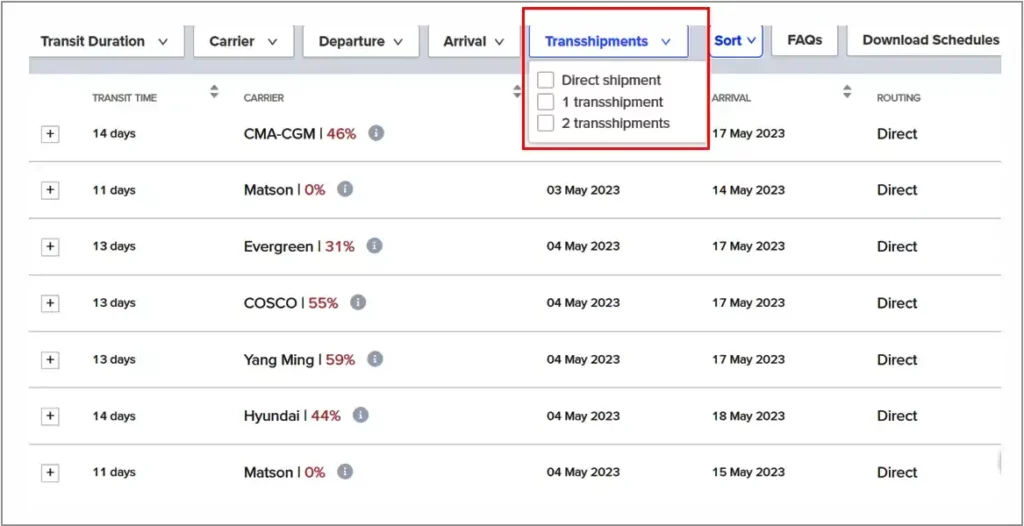 Get the performance report of all carriers in your target region
Select the Best-ranked Carrier:
To further enhance your chances of avoiding port congestion, prioritize carriers with the highest rank based on their performance and reputation. Analyze industry rankings, customer reviews, and historical data to identify carriers that consistently excel in managing congestion-related challenges. These carriers are likely to have robust systems, efficient processes, and contingency plans in place to navigate potential congestion at ports effectively.
Based on GoComet's analysis of direct shipment carriers, it seems best to choose CMA-CGM with an 86% performance rating.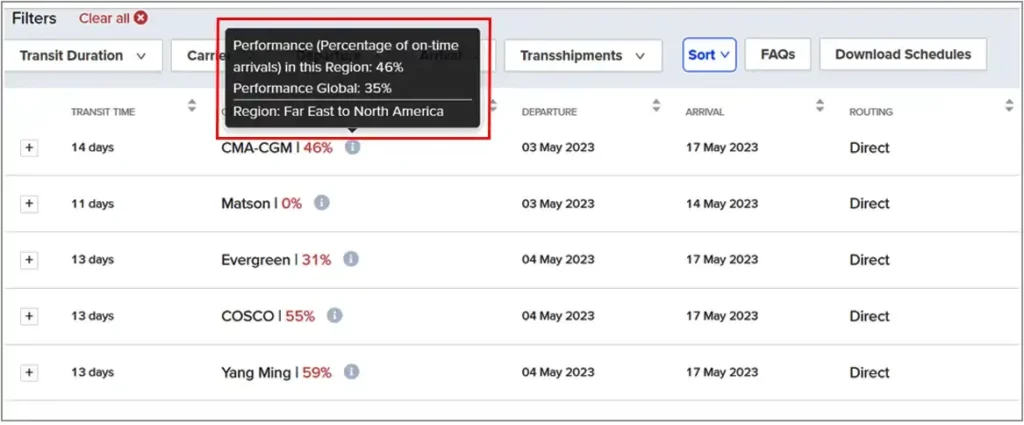 Step 3: Negotiation
The final task entails entering into negotiations with the vendors to obtain the most competitive rates for our shipment. We need to share information regarding the selected port and the carrier that has been recommended for the shipment.
Conclusion
GoComet's port congestion tool not only provides us with the ability to select the best port and carrier at competitive rates for our shipments, but it also empowers us with industry best practices for overcoming port congestion. With this data-driven approach, we are equipped to make informed decisions for hundreds of shipments each month, spanning over 700 ports worldwide. By leveraging GoComet's expertise and insights, we can effectively navigate and mitigate the challenges posed by port congestion, ensuring smooth operations and timely deliveries. This innovative solution positions GoComet as a valuable partner in optimizing supply chain efficiency and overcoming port congestion challenges.
Escape the port congestion trap! Master the 3 steps and revolutionize your logistics.