Top 10 Major Ports in China
China is known for its manufacturing and shipping capabilities. It has a long coastline that is dotted with various harbors and small ports, which are used for a variety of purposes, including trading, fishing, and shipping.
China is one of the world's largest importers, with its ports serving as major hubs for the transport of consumer goods, minerals, automobiles, and agricultural products to many countries around the world. The development of China has been heavily influenced by its shipping ports, which are a vital part of the country's economy and play a key role in facilitating global trade.
If you're interested in learning more about the major ports in China and their roles in the shipping industry, here is the list of the top 10 ports in China with crucial information about each port.
1. Port of Shanghai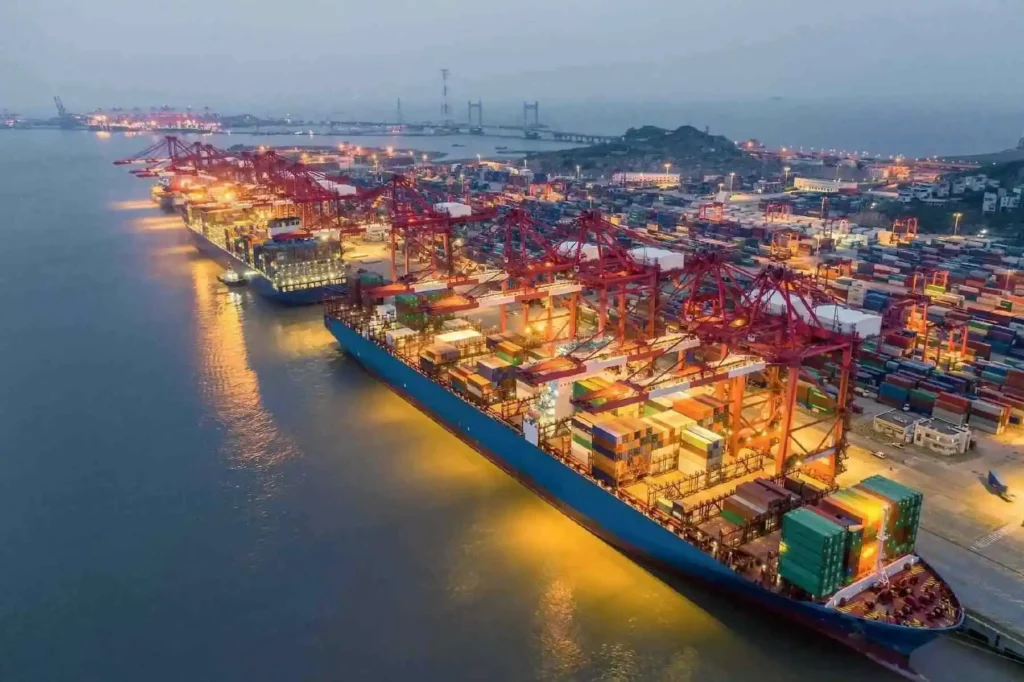 In January 2003, the Shanghai Port Authority underwent a restructuring that resulted in the establishment of the Shanghai International Port (Group) Co., Ltd. (SIPG), the operator of public terminals in the Port of Shanghai. In June 2005, it changed its legal status to a shareholder company, and on October 26, 2006, it commenced trading on the Shanghai Stock Exchange, becoming the first Chinese firm of its sort to do so.
The Port of Shanghai, located in the center of the eastern shore of the Chinese mainland, is where the Yangtze River, often known as the "golden canal," and coastal transit routes meet. It has access to both China's southern and northern coasts, all of the world's oceans, the Yangtze River basin, the inland rivers of Jiangsu, Zhejiang, and Anhui provinces, as well as the Taihu Lake basin.
The Port of Shanghai is located in a key geographic area with exceptional natural characteristics and a strong hinterland economy. It is served by well-connected road and railway networks as well as fully established cargo collecting and distribution systems.
Key Information
Monthly throughput record: 4.20M TEU
Total annual container throughput: 43.5M TEU
Vessels in port: 2290
Annual cargo tonnage: 514 million
Number of employees: 13,546
Top exports: Cars, integrated circuits, computers, telephones
Top imports: Processors and controllers, iron ore concentrate, gold, medium-sized cars
Top trading partners: United States, Japan, Hong Kong, Taiwan, United Kingdom and Germany
2. Port of Shenzhen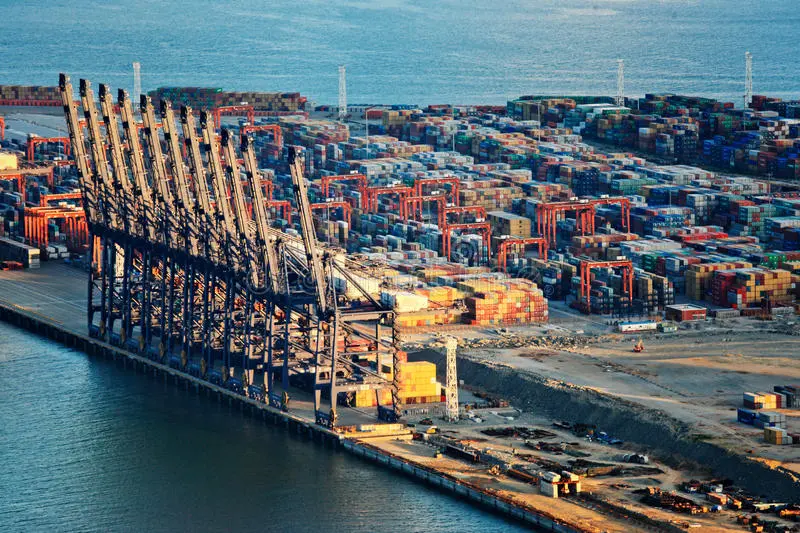 The Port of Shenzhen is located in China's Guangdong Province, south of the Pearl River Delta. It is one of China's most significant harbors in terms of foreign trade. Several ports along Shenzhen's coastline are referred to as the Port of Shenzhen. It covers 260 kilometers of coastline. The Kowloon Peninsula also divides the port into two sections, the eastern and western ports.
The port is home to about 40 shipping companies' headquarters, which have also opened about 130 international container lines. The Port of Shenzhen is also serviced by 230 international container routes. More than 300 ports in more than 100 nations are connected to Shenzhen.
The future of Shenzhen Port will see the implementation of the "two wings, six zones, and three main ports" layout. The east and west port groups are referred to as the "two wings," while the "six areas" are the east's Yantian and Dapeng port areas and the west's Nanshan, Dachan Bay, Dachan Island, Xiaochan Island, and Bao'an port areas. Yantian Port, Nanshan Port, and Dachan Bay Port are the "three main ports," emphasizing container shipping and highlighting Shenzhen Port's fundamental competitiveness.
Key Information
Container traffic in 2018: 27.7 million TEU
Cargo tonnage in 2018: 194.9 million tons
Coastal line: Stretches along 260 km of coast
Container lines: 130
Number of employees: 12,454
Top exports: Mechanical and electronic products, computers, data processing devices, mobile phones, audio and video equipment
Total foreign trade, including imports: 3.45 Trillion Yuan
Three main ports: Yantian Port, Nanshan Port and Dachan Bay Port
3. Port of Ningbo-Zhoushan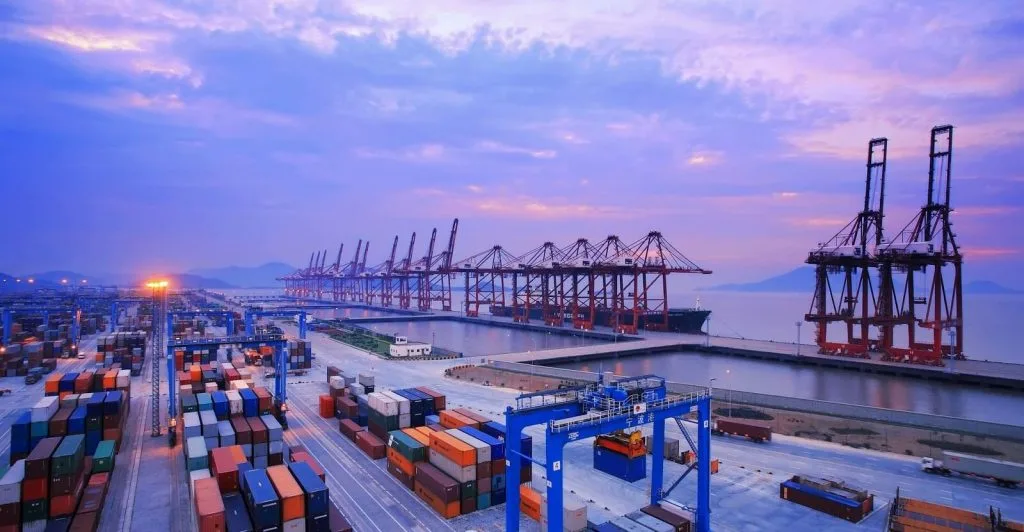 The port is a large state-owned company of Zhejiang Province, Zhejiang Provincial Seaport Investment & Operation Group Co. Ltd., i.e. Ningbo Zhoushan Port Group Co. Ltd. (referred to as Zhejiang Seaport Group).
Zhejiang Seaport Group owns and runs more than 310 businesses with about 30,000 employees. Its primary businesses include the development and utilization of marine resources, investment in the marine industry, management and capital operation of resources related to the sea and ports, investment in the design and operation of ports, shipping services, storage, trading, and processing of bulk commodities, construction of marine engineering, and design and supervision of port engineering, among other things.
The group progressively combines port resources across the province per the idea of unified planning, building, branding, and operation. The group is dedicated to creating an integrated operating system and a top-notch contemporary port cluster by managing port assets in an integrated, extensive, and intensive manner.
With a coastline that stretches for 220 kilometers, Ningbo Zhoushan Port has a sizable port area. In addition to owning more than 200 big deep-water berths for boats over 10,000 dwt and more than 115 large and super-large deep-water berths for vessels over 50,000 dwt, it has 19 port regions. Most large and super-large deep-water facilities in Mainland China are owned and operated by Ningbo Zhoushan Port.
Since 2005, Ningbo Zhoushan Port has experienced a sharp increase in cargo volume. Ningbo Zhoushan Port's container throughput in 2019 totaled 27.535 million TEUs, solidly placing it in third place globally. The total cargo throughput was 1.12 billion tons, putting it first globally for 11 years.
Key Information
Container throughput in 2019: 27.535 million TEU
Number of employees: 17,425
Top trading partners: European Union, United States and ASEAN
Total assets: 124.1 Billion
Total value of imports and exports at the port: $270.77 Billion
Largest import: Crude oil worth 153.48 Billion Yuan
4. Port of Guangzhou

The primary seaport for Guangzhou City, Guangdong Province, China, is the Port of Guangzhou. Guangzhou Port Group Co. Ltd., a state-owned enterprise, runs the port. It is currently South China's largest all-encompassing port. Over 300 ports in more than 80 nations and regions throughout the world are served by its international maritime trade.
The port is also the major transportation and economic hub for the Guangdong province and the Pearl River Delta. It is an important transportation center for businesses in provinces nearby, including Jiangxi, Yunnan, Guangxi, Guizhou, Sichuan, Hunan, and Hubei.
In South China, the merger of the three most significant rivers, the Dongxiang, Xinjian, and Beijing, is where Guangzhou Port is located. A vital transportation hub is created by the intersection of the waterway, railway, motorway, and air routes for all three rivers. In the Pearl River Delta region, it serves as the primary port of concentration.
Key Information
Container traffic: 24.2 million TEU
Cargo tonnage: 600 million tons
Minimum wage: US$300
GDP growth rate: 8.3%
Number of terminals: 8
Top exports: Tea, silk, paper, copper, iron, gold and silver
Major trading partners: U.S, Japan, South Korea, Hong Kong, Taiwan and Thailand
5. Port of Hong Kong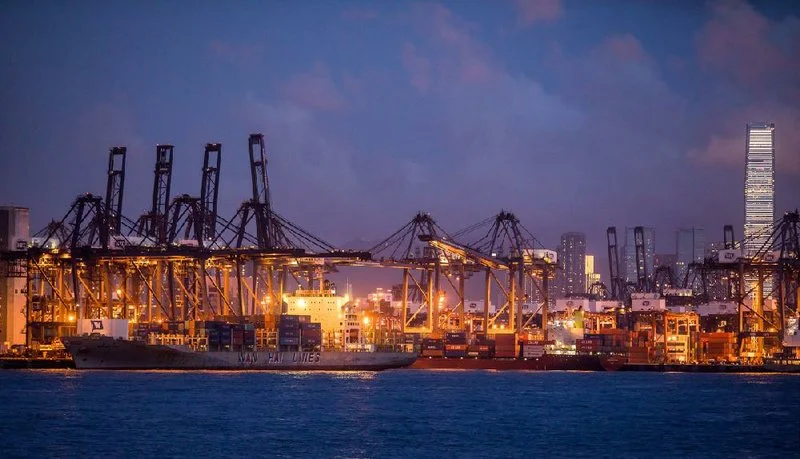 A deep water seaport near the South China Sea, the Port of Hong Kong, is mainly used to transport manufactured goods in containers, with raw materials and passengers coming in second and third. The natural harbor and deep waters of Victoria Harbor, which play a crucial role in Hong Kong's economic development, offer perfect conditions for the berthing and handling of all vessel types.
In terms of maritime movements, cargo handled, and passenger carries, it is one of the busiest ports in the world. For many years, the port was among the busiest—container ports in the world. From 1987 to 1989, from 1992 to 1997, and from 1999 to 2004, it ranked as the busiest cargo port in the world. In 2016, 25 869 container ships with a net registration tonnage of 386,853 tons passed through the container port in Hong Kong.
There are currently 11 separate yard sites used only for mid-stream activities, taking up 27.5 hectares of land and 3,197 meters of waterfront.
Key Information
Container traffic in 2018: 19.6 million
Cargo tonnage in 2018: 258.5 million tons
Land area: 279 hectares
Available berths: 24
Main exports: cement, blank audio media, oscilloscopes, metalworking transfer machines
Major imports: Equipment, manufactured goods and articles, chemical, mineral fuels
Top trading partners: Taiwan, USA, Singapore, Korea, Japan, Vietnam and India
6. Port of Qingdao
The Port of Qingdao is a seaport on the Yellow Sea in the vicinity of Qingdao, Shandong Province, People's Republic of China. It is one of the ten busiest ports in the world.
In 2011, the Qingdao Port in Shandong Province, East China, joined forces with three other Chinese ports to form a strategic partnership with the largest port in the Republic of Korea (ROK). To establish a maritime and logistics hub in Northeast Asia, the ports of Qingdao in Shandong, Yantai, Rizhao, Weihai, and Busan in the ROK have joined forces to form the alliance.
Four sections of the Qingdao harbor serve as independent ports. Dagang and Qianwan manage cargo and container traffic. The Qingdao port is an international terminal, whereas Qianwan predominantly deals in domestic containers. A sizable facility for handling iron ore cargoes is also present at the Qingdao port.
Key Information
Container traffic in 2018: 18.26 million TEU
Cargo tonnage in 2018: 600 million tons
Alliance: Busan Port, South Korea
Number of Employees: 9,218
Major cargo handled: Grains, steel products, fertilizers, finish product oil, aluminum, frozen Products
Top trade partners: ASEAN, the United States and the EU
7. Port of Tianjin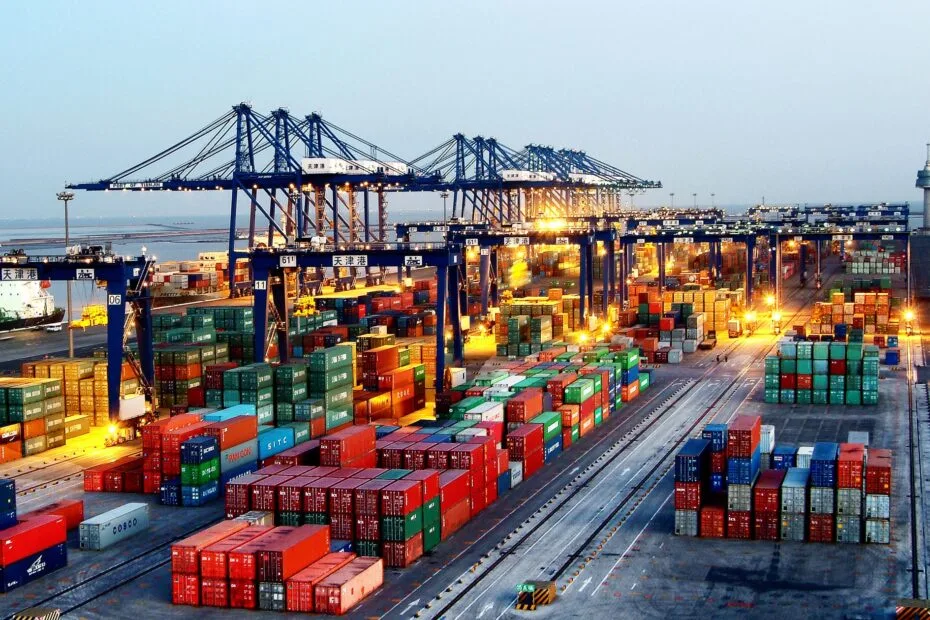 Tianjin, formerly known as the port of Tanggu, is the biggest port in Northern China. It is also acknowledged as Beijing's primary maritime entry point.
Every year, this port handles 500 million tons of cargo on average. It has undergone massive expansions through the years to accommodate the significant volume of goods it handles. To boost its capacity rate, the port is being developed constantly. This port in China is constantly open. It serves both people and various kinds of freight.
The port is renowned for moving bulk liquid and oil cargo. Its handling of freight containing liquid lye and propylene is one of its outstanding offerings. Additionally, it features roll-on and roll-off terminals for grain and other edible oils.
Key Information
Container traffic in 2018: 15.97 million TEU
Cargo tonnage in 2018: 428.7 million tons
Top imports: Fixed-wing aircraft, unladen weight, soya beans, electronic integrated circuits, iron ore, medium-sized cars
Top exports: Telephone sets, processors and controllers, bicycles, cargo containers
Major trade partners: United States, Hong Kong, Japan, South Korea and Vietnam
8. Port of Dalian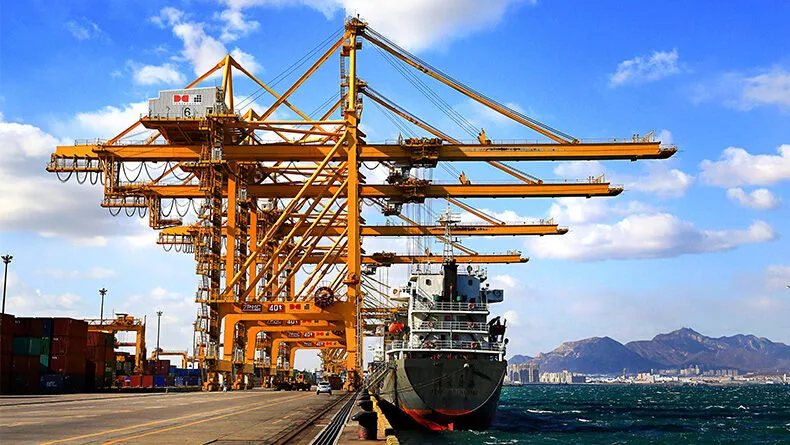 The Dalian port has been in use since 1899 and is currently operated by the Dalian Port Corporation. The port is situated on the Liaodong peninsula in the Liaoning province. It is the most northern Chinese harbor where the water doesn't freeze. The port has more than 80 berths as well. Ships carrying more than 10,000 tonnes of cargo can be docked at 50 of them.
The port mostly reloads refined oils, coal, grain, and mineral oil. More than 300 ports in 160 nations send ships to Dalian. The Dalian port serves over 90 trade routes, both domestic and international. It ranks as China's second-largest transshipment hub.
The northern port of Dalian serves large portions of the Pacific coastline. It manages a sizable amount of the cargo and container traffic from Pacific Rim countries to North and Eastern Asia. It is a deep-water port that serves both the Yellow Sea and the Bohai Sea, and it is the second-largest transshipment hub on the Chinese mainland. Over 160 different countries' ships are serviced at 300 ports.
Seven berths that were once held by Nippon Yusen, Singapore Dalian Port Investment, and PSA China are now operated by the Dalian Container Terminal (DCT). Rail and vehicle connections to the port are good. For goods and containers, there are also sizable storage areas. Deepwater berths that have been modernized typically have a depth of 16 meters.
Key Information
Container traffic in 2018: 9.77 million TEU
Cargo tonnage in 2017: 455 million tons
Major trading partners: Japan, European Union, Saudi Arabia, United States and ASEAN
Number of employees: 11,227
Majorly handled cargo: Coal 15 million tons
9. Port of Xiamen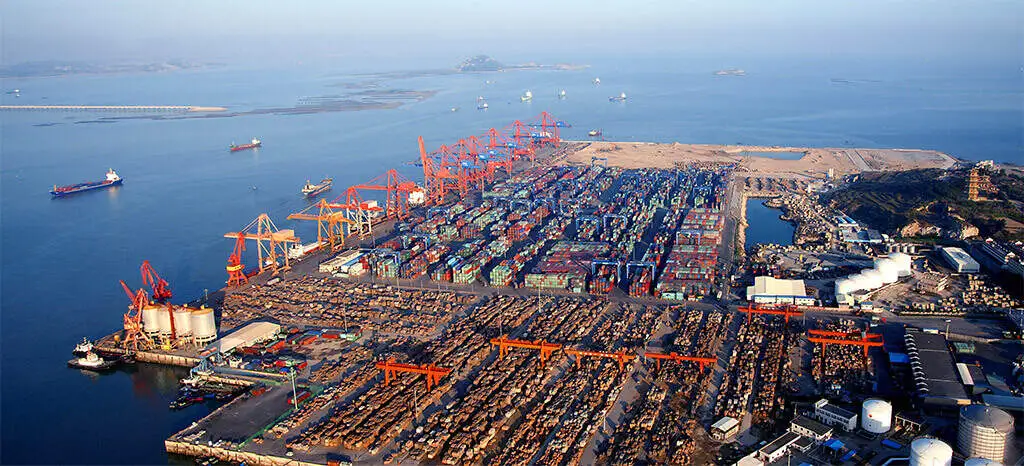 Xiamen is a deep sea port situated on the island of Xiamen along the Jiulongjiang river. It is ranked 17th in the world for cargo throughput— one of the few ports that can handle mega boats and sixth-generation ships. The Xiamen Municipal Government owns the bulk of Xiamen and manages it through the Xiamen Port Authority. It became one of the biggest ports in the world in 2010 after merging with the Port of Zhangzhou. Currently, it is South-East China's largest port.
The port has 74 total berths spread across 12 separate operating zones. Nine are specifically designed terminals for handling containers; the remaining are for cargo. On average, these berths can process 10,000 tons of cargo, while some can handle 100,000 tons. The port extends across 30 kilometers of the harbor, with an average anchorage depth of 17 meters. Haitian, Liwudian, Dongdu, and Heping are a few operational zones.
Xiamen has cutting-edge technology and provides service to all major shipping lines. It handles almost 500 vessels per month from more than 50 nations and regularly runs 70 routes via the busiest ports in Europe, the Americas, and Africa. Additionally, the port runs a little passenger ferry that connects Xiamen to other ports on the mainland. Regular ferries run between Hong Kong, Guangzhou, Shanghai, and Wenzhou; service is also offered to Kinmen island.
Key Information
Container traffic in 2018: 10.7 million TEU
Cargo tonnage in 2018: 218 million tons
Major exports: Tea, salt graphite powder
Major imports: Wheat, cement, chemical fertilizers, coal, rolled steel, sugar
Major trade partners: ASEAN, U.S and European Union
10. Port of Yingkou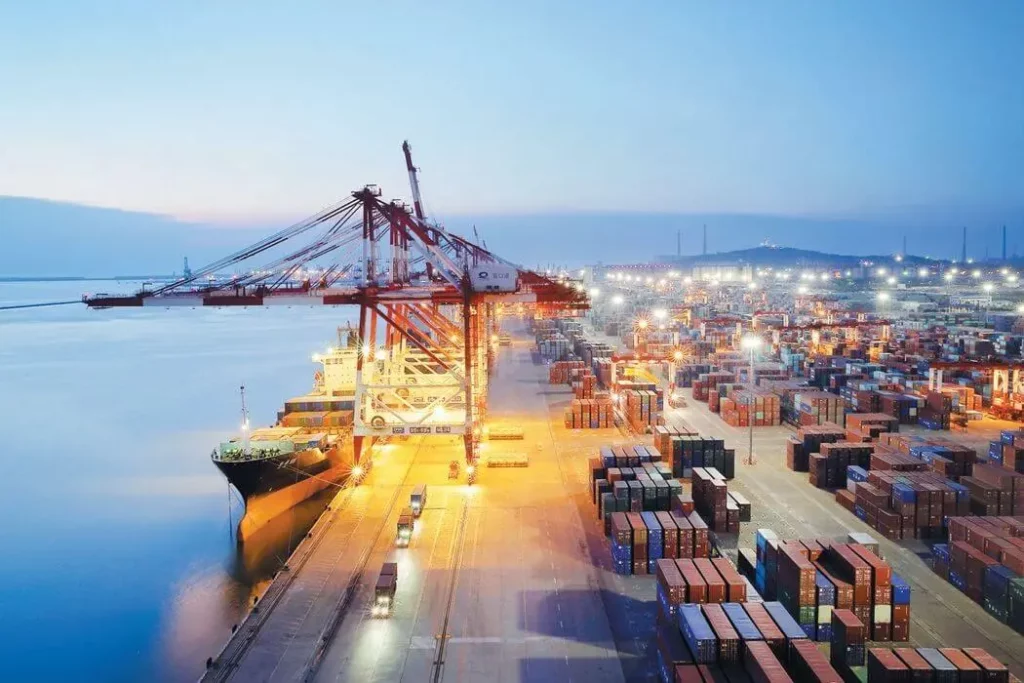 Yingkou Harbor is one of China's smallest ports, but it is bigger than the largest ports in other countries. This port, which the Yingkou Port Group Corporation runs for the Republic, has 27 berths as well as numerous smaller docks and piers. The primary imports in this country are grain, coal, steel, and cars.
The main exports are foodstuffs, electronics, mass-produced commodities, containerized goods, and machinery parts.
The Old Yingkou Port on the Daliao River and the Bayuquan Port on the Bohai Sea are the two functional areas of the port. The seaport provides loading, pipeline transportation, pilotage, communication vessels, transportation by road and rail, and other services to incoming ships. Chinese Shipping Corporation (COSCO) and the port authorities jointly built the primary Bayuquan container terminal.
Key Information
Container traffic in 2018: 6.5 million TEU
Cargo tonnage in 2018: 21 million tons
Main imports: Grains, coal, steel, vehicles, oil tar, minerals
Main Exports: Container transfers
Major trade partners: Japan, Korea, the U.S and the European Union
FAQs about ports in China