Top 15 Busiest Ports in the World – Updated list in 2023
Since 90% of all global trade relies on ocean freight, it is evident that the maritime shipping industry is crucial to the survival and growth of the global economy.
One of its most essential stakeholders in maritime is the busiest ports in the world, specifically, the ability of these ports to control the flow of commodities in and out of them, whether they are acting as final destinations, origins, or transhipment points.
Given China's economic strength, it is not surprising that Chinese ports lead the list of top ports globally. Not just the first place in this list, but more than half of the top 15 busiest ports in the world are from China as well.
1. Port of Shanghai, China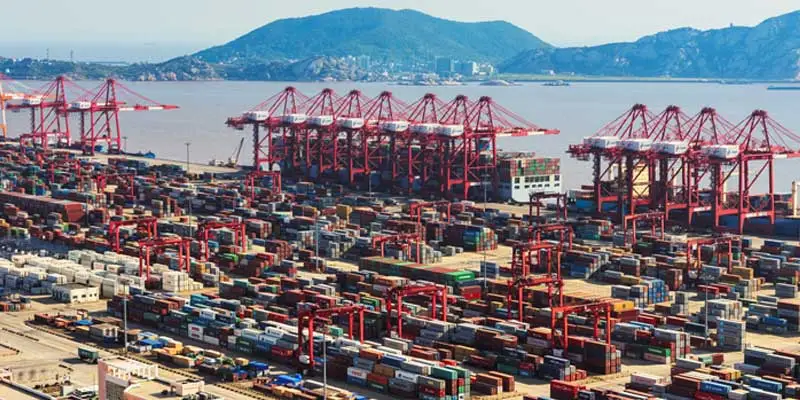 Since 2010, when Shanghai's port passed Singapore to claim the title of the busiest port in the world, it has been tracing an astonishing growth trajectory.
In 2019, the Port of Shanghai handled more than 43 million TEUs of containers, making it the busiest port in the world. The Port of Shanghai is a crucial entry point for China's trade and commerce with the rest of the world. It is situated in the Yangtze River Delta, the center of China's economic superpower.
The port has 200 berths and is outfitted with cutting-edge machinery and equipment to handle huge ships and cargo efficiently. The Port of Shanghai continues to gain significance as a center for international trade and commerce due to its advantageous location and sophisticated infrastructure.
The Shanghai Yangshan Deep Water Port, the largest automated container port in the world, is also a part of the Shanghai Port.
Key info:
UN/LOCODE: CNSHG
Monthly throughput record: 4.20M TEU
Total Annual Container Throughput: 43.5M TEU
Vessels in port: 2290
Annual cargo tonnage: 514 million
Number of employees: 13546
Major exports: Cars, Integrated Circuits, Computers, Telephones
Major imports: Processors and Controllers, Iron Ore, Concentrate, Gold, Medium-sized cars
Major trading partners: United States, Japan, Hong Kong, Taiwan, United Kingdom, Germany
2. Port of Singapore, Singapore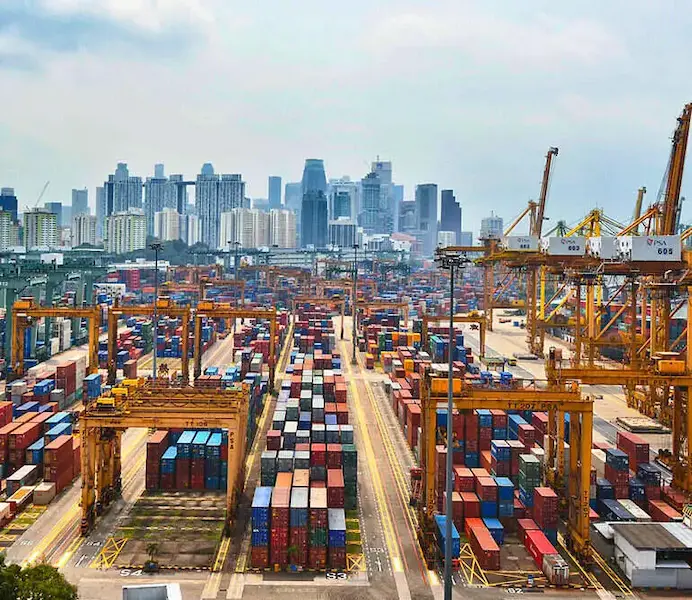 From 2005 until 2010, Singapore was the busiest port in the world before being surpassed by the Port of Shanghai. With 130,000 vessels calling at the port each year, the Port of Singapore now provides connectivity to over 600 ports in 123 countries across six continents. Additionally, it is the busiest transhipment port in the world, handling about 20% of all shipping containers.
The port, which connects Asia, Europe, and the Americas, is furnished with more than 200 berths and is strategically situated. The Port of Singapore is a centre for international trade and business, thanks to its cutting-edge logistics and transportation facilities and excellent container handling capability.
Key Info:
UN/LOCODE: SGSIN
Annual TEU: 37.2 million TEUs
Berths: 84
Average vessel arrival annually: 140000
Major imports: Electrical Machinery, Equipment, Mineral Fuels Including Oil, Machinery including computers, Gems, Precious Metal, Optical, Technical, and Medical Apparatus
Major exports: Electrical Machinery, Petroleum, Chemical Products, Miscellaneous manufactured articles, Oil bunkers
Major Trade partners: China, United States, Indonesia, Malaysia, Japan
3. Port of Shenzhen, China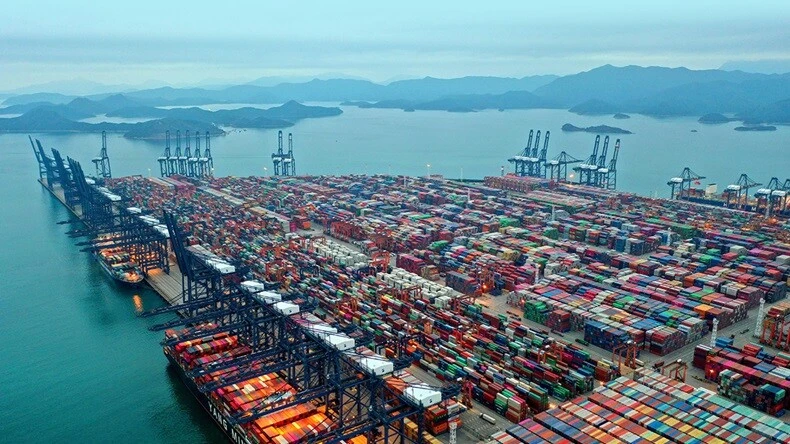 The Port of Shenzhen is the second-largest port in China and the third-largest port in the world. Several ports in the area, including Yantian, Chiwan, Dachan Bay, and Shekou, are referred to collectively by this name.
Many tech companies, including Huawei, Tencent, and SenseTime, have set up shop there due to technical advancements in the region. Shenzhen, sometimes known as China's Silicon Valley, is currently a major worldwide technological centre.
The Port of Shenzhen has seen a growth in commerce and container movement due to the city's industrial activity and investments. As a result of this constant rise, the port overtook the neighbouring Port of Hong Kong to claim third place in 2013.
Key Info:
UN/LOCODE: CNSZX
Container traffic in 2018: 27.7 million TEU
Cargo tonnage in 2018: 194.9 million tons
It stretches along 260 Km of coast
130 container lines
Number of employees: 12454
Total foreign trade, including Imports: 3.45 Trillion Yuan
Three main ports: Yantian Port, Nanshan Port and Dachan Bay Port
Major exports: Mechanical and Electronic products, Computers, Data processing Devices, Spare parts, Mobile phones, Audio and Video equipment
4. Port of Ningbo-Zhoushan, China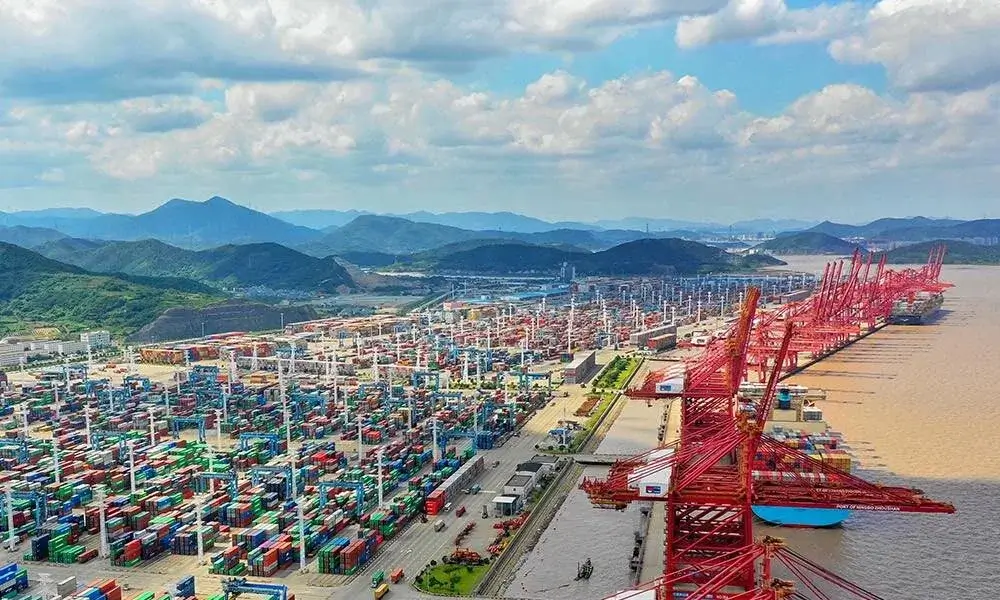 The ports of Ningbo and Zhoushan, once two distinct organizations, united in 2006 to form the Port of Ningbo-Zhoushan, the fourth-largest port in the world.
The Port of Ningbo-Zhoushan is an important entry point for regional trade and business. It is strategically situated at the Yangtze River's entrance on China's eastern coast.
The port has more than 400 berths and is renowned for its cutting-edge infrastructure, including advanced terminal equipment and container storage rooms.
Key Info:
UN/LOCODE: CNNBG
Container traffic in 2018: 26.4 million TEU
Cargo tonnage in 2018: 1.12 billion tons
Container throughput in 2019: 27.535 million TEU
Number of employees: 17425
Top Trading partners: European Union, United States, ASEAN
The total worth of assets: 124.1 Billion
Total Value of Import and Exports at the port: $270.77 Billion
Largest Import: Crude Oil worth 153.48 Billion Yuan
Must Read: Quarterly Region-Specific Report on Port Congestion- 2023!
5. Port of Guangzhou, China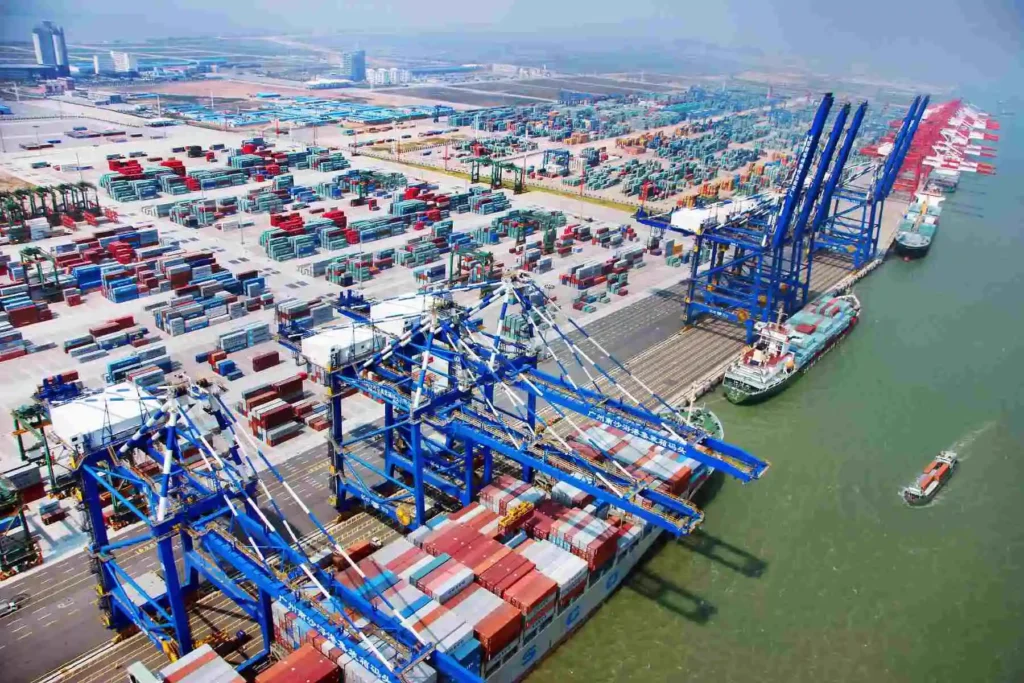 The Port of Guangzhou, situated in the southern province of Guangdong, serves as a crucial entry point for trade and business in south China.
The Port of Guangzhou became the fifth busiest port in the world after it handled a record-breaking number of 21.87 million TEUs in 2018. This was a 7.4% increase from what was handled by the port in 2017.
Key Info:
UN/LOCODE: CNGZG
Container traffic: 24.2 million TEU
Cargo tonnage: 600 million tons
Minimum wage: US$300
GDP growth rate: 8.3%
Number of terminals: 8
Major exports: Tea, Silk, Paper, Copper, Iron, Gold and Silver
Major trading partners: U.S, Japan, South Korea, Hong Kong, Taiwan and Thailand
6. Port of Busan, South Korea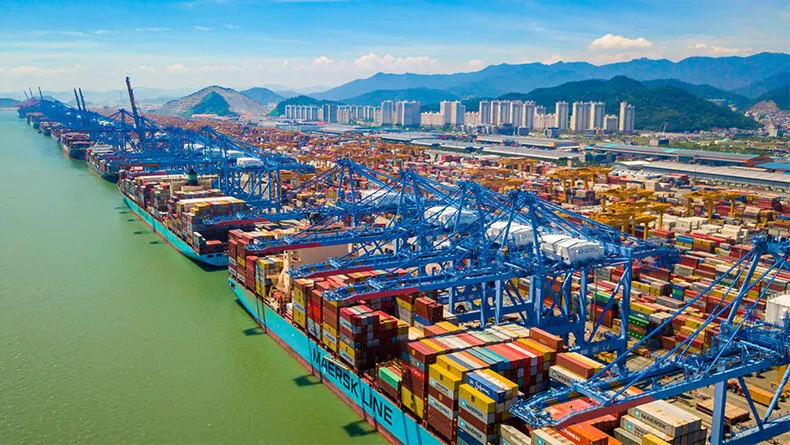 Stepping away from China, we find South Korea's Port of Busan is the sixth busiest port in the world. Situated on South Korea's southeast coast, it is a significant entry point for trade and commerce in the area, linking South Korea to other nations in Asia and beyond. The port of Busan is also the world's third-largest transhipment port.
The port of Busan handled 11.46 million TEUs in transshipments in 2018, which was an 11.5 per cent increase from the year before.
Key Info:
UN/LOCODE: KRPUS
Vessels in Port: 499
Expected Arrivals: 273
Container throughput: 22.7 million TEU
Major exports: Circuits, Cars, Refined Petroleum, Passengers and Cargo ships, Vehicle parts
Major Imports: Electrical equipment, Mineral Fuels, Oils, Distillation products, Machinery, Nuclear Reactor, Boilers, optical, Medical apparatus, Vehicle, Iron ores and ash
Major trade partners: United Kingdom, United States, Japan, Netherlands, USA, China
7. Port of Hong Kong, China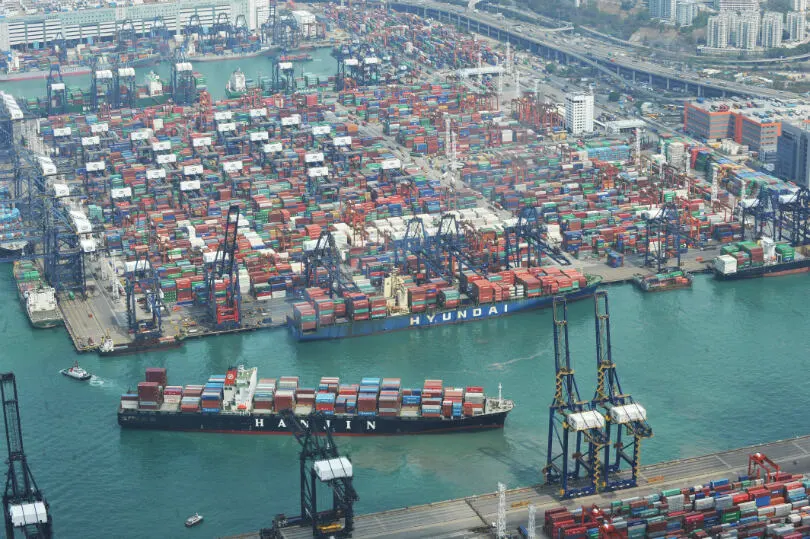 Just like the ports of Singapore and Busan, the Port of Hong Kong is also a critical transhipment port.
The Port of Hong Kong was one of the most influential ports in southern China in the 1900s. But given the rising prominence of China in global economic trade in the past couple of decades, the pot of Hong Kong has slipped a few places in the ranking.
Key Info:
UN/LOCODE: HKHKG
Container traffic in 2018: 19.6 million
Cargo tonnage in 2018: 258.5 million tons
Land area: 279 hectares
Available berths: 24
Main export: Cermets, Blank audio Media, Oscilloscopes, Metalworking Transfer Machines
Major imports: equipment, manufactured goods and articles, chemical, mineral fuels
Major trading partners: Taiwan, USA, Singapore, Korea, Japan, Vietnam, India
8. Port of Qingdao, China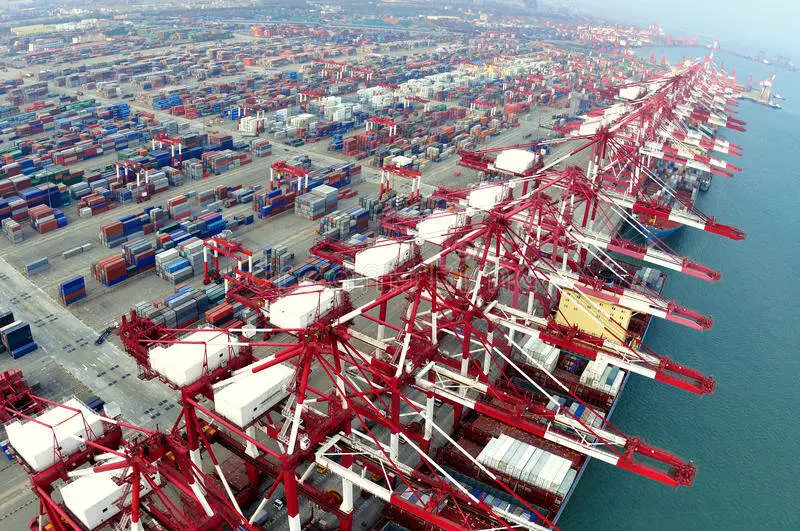 Established in 1892, China's Port of Qingdao comprises four port areas: Dagang, Qianwan, Guangdong, and Dongjiakou. It is considered one of the most important ports for the West Pacific trade.
Key Info:
UN/LOCODE: CNQDG
Container traffic in 2018: 18.26 million TEU
Cargo tonnage in 2018: 600 million tons
Tied up with Busan Port, South Korea
Number of Employees: 9,218
Major cargo handled: Grains, steel Products, Fertilizers, Finish Product Oil, Alumina, Frozen Products
Major trade partners: ASEAN, United States, EU
9. Port of Tianjin, China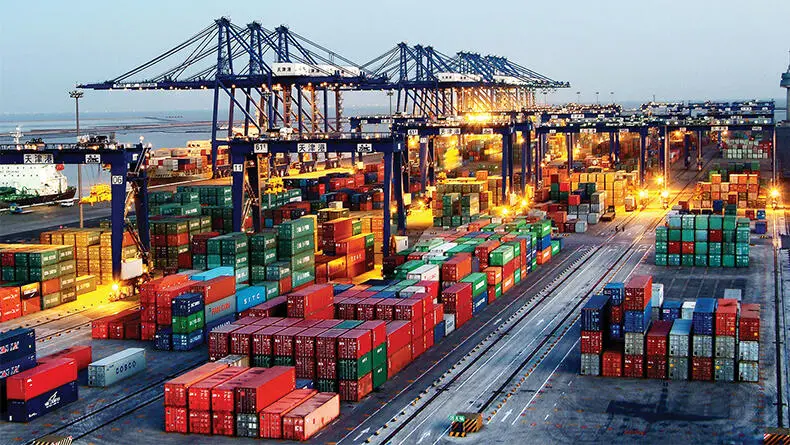 Considered the maritime gateway to the Chinese capital, the Port of Tianjin is just 150km from Beijing. The Port of Tianjin comprises five main areas: Beijing, Haihe, Nanjiang, Beigang, and Dongjiang.
Key Info:
UN/LOCODE: CNTXG
Container traffic in 2018: 15.97 million TEU
Cargo tonnage in 2018: 428.7 million tons
Ranked 4th in terms of cargo traffic
Ranked 9th in terms of container traffic
Major imports: Fixed-wing aircraft, Unladen weight, Soya beans, Electronic Integrated circuits, Iron ore, Medium-sized cars
Major exports: telephone sets, processors and controllers, bicycles, cargo containers
Major trade partners: United States, Hong Kong, Japan, South Korea, Vietnam
10. Port of Jebel Ali, UAE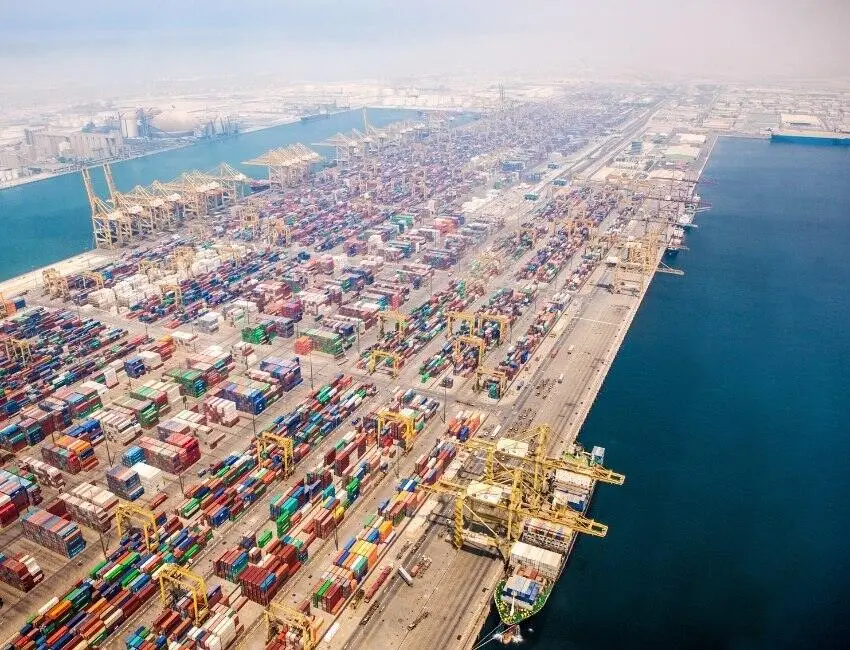 The port of Jebel Ali was opened in 1979 and has since been a prominent port in the global maritime industry. The port is not only the busiest and largest in the Middle-east region, but it is also known for being the world's biggest man-made harbour.
Key Info:
UN/LOCODE: AEJEA
Annual Container Volume: 13.6 million TEUs
Berths: 67
Number of Terminals: 3
Vessels in port: 85
Expected Arrivals: 71
Berths: 67
Major Exports: Crude petroleum, Gold, Refined Petroleum, Broadcasting equipment, Diamonds
Major Imports: Gold, Broadcasting equipment, Cars Diamonds
Major trade partners: China, India, United States, Saudi Arabia, Germany
11. Port of Rotterdam, Netherlands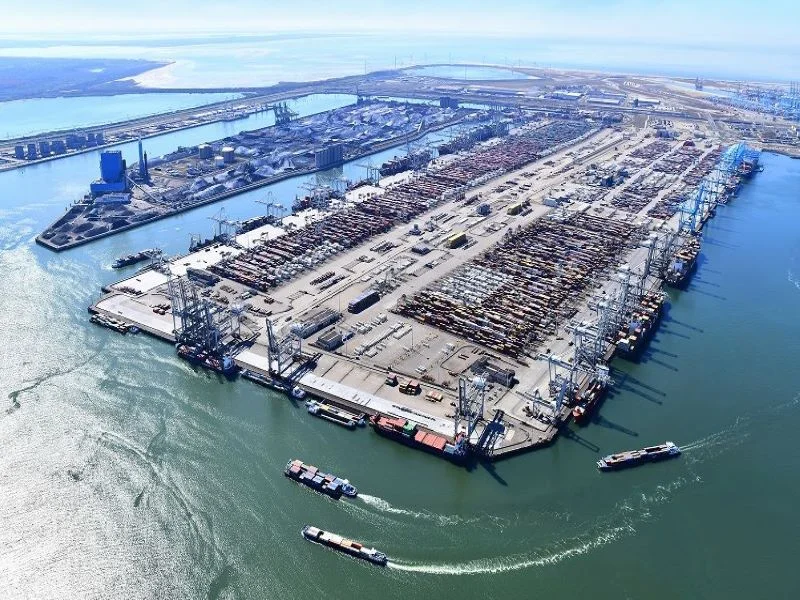 The Port of Rotterdam in the Netherlands was a prominent port that dominated world trade between the mid-20th and the early 21st century. In fact, it was the top port for over four decades, from 1962 to 2004. The port is one of Europe's top ports, significantly impacting the trade and economy in and around the region.
Key Info:
UN/LOCODE: NL RTM
Annual Cargo Tonnage: 468.7 million tons
Annual Container Volume: 15.3 million TEUs
Annual Revenue: 772.7 million Euro
Employees: 1270
Vessel arrivals 28876
Major Imports: Fuel, Machinery, Food and live animals, Pharmaceuticals and electronics
Major Exports: Refined Petroleum, Broadcasting equipment, Packaged Medicaments, Computer, Photo Lab Equipment
Major trade partners: Germany, Belgium, France, United Kingdom, United States
12. Port Klang, Malaysia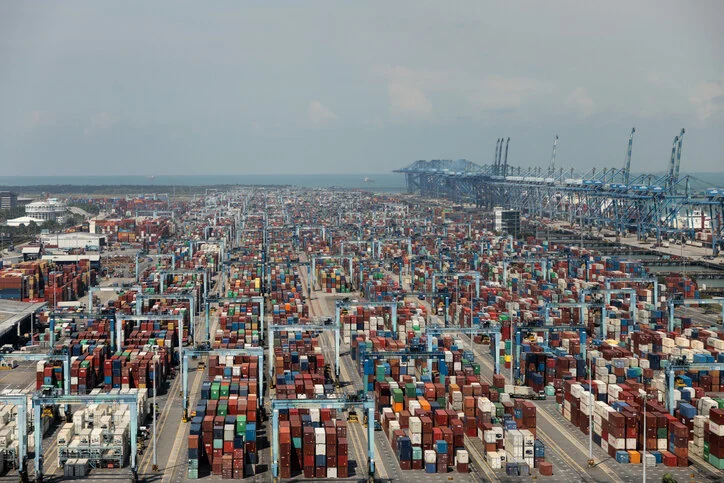 Known as Southeast Asia's largest port, Port Klang in Malaysia, is 38 kilometres away from its capital city of Kuala Lumpur. The port was known as Port Swettenham under British rule and was later renamed Port Kelang in 1972.
Port Klang is located at the crossroads of shipping routes connecting Asia, Europe, and the Middle East, making it a key regional transhipment hub.
Key Info:
UN/LOCODE: MYPKG
Annual Container Throughput: 13.7 Million TEUs
Cargo Tonnage: 220 million
Berth: 53
Major Exports: Timber, Automobiles, Liquid bulk such as Latex, palm and coconut oil, petroleum goods
Major Imports: Steel coils, Rods, Wires, Billets, Fruit, Grains, Machines equipment
13. Port of Antwerp, Belgium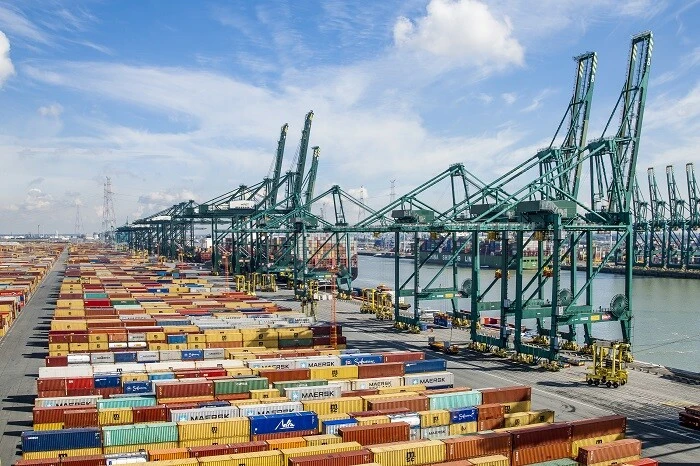 Belgium's Port of Antwerp is the second busiest port in Europe and is in 13th position in the world. The port of Antwerp has become one of Europe's largest seaports, ranking second behind Rotterdam by total freight shipped.
The Antwerp port is renowned for its efficient handling of a wide range of cargo, including container ships, dry bulk carriers and oil tankers. The port handles over 200 million tons of cargo annually and is a major hub for container traffic, with a handling capacity of over 14 million TEUs.
Key Info:
UN/LOCODE: BEANR
Annual Cargo tonnage: 240 million tons
Vessel arrivals: 14220
Major imports: Machinery and equipment, chemical, diamonds, pharmaceuticals, foodstuffs, transportation, oil products
Major Exports: Cars, Packaged Medicaments, Vaccines, Blood, Antisera, Toxins, Refined Petroleum, Diamonds
Major trade partners: Germany, Netherlands, France, UK, United States, China
14. Port of Kaohsiung, Taiwan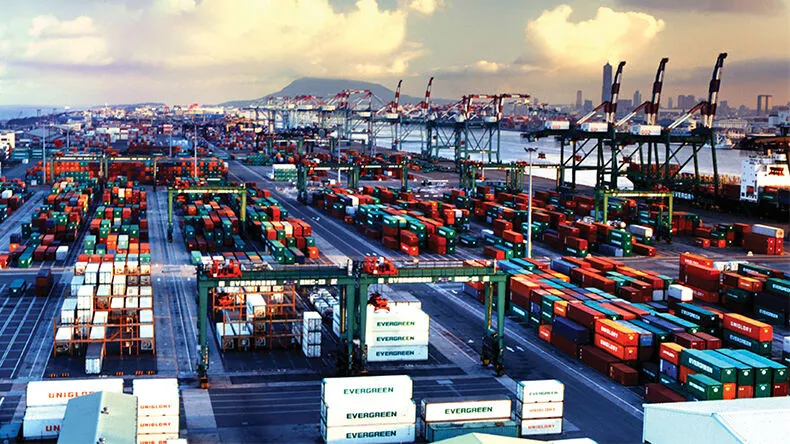 Kaohsiung Port is an important port in Taiwan located on the southwestern coastline. It is one of the largest container-handling facilities in the world. With its strategic location in the nation's industrial region, the port handles 18.9 million tonnes of cargo and 9.8 million TEU annually and is visited by over 5000 vessels.
The port is a crucial contributor to Taiwan's economy as a Logistics hub, transhipment centre of the Asia-Pacific region, and important fishing port. The port is run by the Kaohsiung Harbour Bureau and equipped with state-of-the-art technology for optimal efficiency.
Key Info:
UN/LOCODE: TWKHH
Annual Container Volume: 10.27 million TEUs
Berths: 25 special-use berths
Vessels: 5000+
Warehouses: 70
Cargo capacity: 100000
Major Exports: electronics, basic metals, metal products, plastics and rubber, chemical and machinery
Major Imports: Machinery, chemicals, plastics, rubber, leather goods, and miscellaneous manufactured items
Major Trade Partners: Germany, South Africa, Brazil, Saudi Arabia, Japan
15. Port of Los Angeles, United States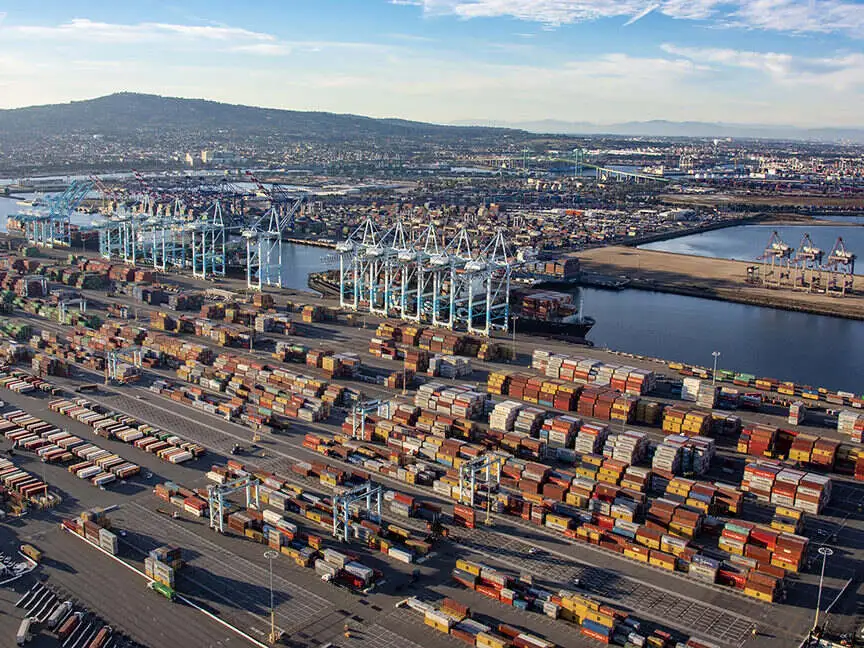 The Port of Los Angeles in California, also called America's port, is the first US port to appear in the Top Busiest Ports in the World list. The port is located in San Pedro Bay in Southern California and is the busiest in the United States. It is a central hub for international trade, handling over 9 million TEUs of container cargo annually and serving as a gateway for goods from Asia, Europe, and South America.
With its strong commitment to environmental sustainability, the Port of Los Angeles is a leader in the development of clean transportation solutions, including electric and hybrid vehicles, and is dedicated to reducing the impact of its operations on the local community and the environment.
Key Info:
UN/LOCODE: USLAX
Vessel Arrivals: 1867
Annual Cargo Tonnage: 178 million tons
Annual Container Volume: 9.3 million TEUs
Value of cargo: 276 billion USD
Major Imports: Computers, Cars, Telephones, Crude Petroleum, Integrated Circuits
Major Exports: Cotton, Bovine Cuts boneless, Frozen, Food preparations, Nuts, ferrous waste or scrap
Major Trade Partners: China, Japan, Vietnam, Taiwan
FAQs about the top container ports in the world: