Top 11 procure-to-pay software that your business needs in 2023 
In an age where almost every single activity that is essential to man's life and his livelihood is being digitized, there seems no plausible reason why businesses should be left behind. Post the covid-19 pandemic, large-scale businesses that employed thousands of manual laborers shifted to using more automation allowing their employees to focus on other areas which required their cerebral attention. Also, needless to mention, the accuracy that comes along with automation is an absolute boon!
What is Procure-to-pay software?
A procure-to-pay software consists of a comprehensive suite of tools and functionalities that automate various stages of procurement, such as supplier management, sourcing, bidding, contract management, purchase order creation, invoice processing, and spend analysis. By integrating these modules into one centralized system, procurement professionals have a complete view and control over the entire procurement lifecycle.
Why do businesses need a procure-to-pay software?
Large-scale enterprises that deal with complex procurement processes have always felt the need for a solution that can streamline and automate their procurement operations, and the pandemic fueled this need even further. This has led to more and more businesses adopting robust procurement management software also known as Procure-to-pay software. The centralized system in a procure-to-pay software consolidates all procurement activities, ranging from purchasing to vendor payments. By leveraging Artificial intelligence and data analytics, this software helps businesses make more informed strategic decisions leading to cost savings and complete transparency of the process.
With procure-to-pay software, monitoring financial transactions and implementing purchasing policies has become easier than ever before. Moreover, the ability to collaborate with vendors through online portals, and access to payment tracking and invoicing, has led to complete transparency in the process. The use of this software has helped businesses mitigate risks, achieve operational efficiency and drive measurable returns.
Here is a list of the top 11 procure-to-pay software
GoComet
A comprehensive procurement platform that offers a range of powerful tools and features to streamline sourcing, supplier management, and procurement operations. With GoComet, businesses can efficiently source and onboard suppliers, ensuring access to a reliable and diverse supplier network. The platform enables users to create and manage RFQs (Request for Quotation) facilitating efficient bidding and negotiation processes.
GoComet provides intelligent automation capabilities to automate manual tasks, reducing human errors and saving valuable time for procurement teams. It offers features like automated purchase order generation, invoice reconciliation, and contract management, ensuring smooth and accurate transaction processing. The platform also includes advanced analytics and reporting functionalities, providing businesses with valuable insights into their procurement performance, supplier performance, and cost savings opportunities.
G2 and Capterra reviews for GoComet
SAP Ariba
This cloud-based solution delivers where ERP and CRM systems fall short. Its market-leading solutions combined with a user-friendly interface, you can seamlessly collaborate with trading partners leading to collaborative finance management, streamlined spend management, and sales acceleration. These subscription-based solutions are easily integrated with your ERP and back-office systems, eliminating the need for installation and maintenance.
G2 and Capterra reviews for SAP Ariba
Coupa
The leading spend management platform that gives you unparalleled control and visibility by utilizing a single source for all your spend management requirements. Coupa's intuitive guided buying experience centralizes and manages requests of all sizes. Coupa consolidates all payments in one place using a fast, secure, global payments platform, maximizing rebates and automating reconciliation. The software can be seamlessly integrated with your ERP system to accelerate financial processes, ensure compliance, and control spend.
G2 and Capterra reviews for Coupa
PRM360
PRM360 offers an all-in-one solution for your Procure-to-Pay needs, consolidating various processes into a single platform. With the ability to post requirements online, receive automatic vendor quotations, and validate them efficiently, PRM360 stands out as a top-tier solution. The online bidding process allows purchase officers to compare and select the most favorable offers, resulting in significant time savings of 5-15% compared to other methods. It also streamlines the payment schedule by automatically reminding vendors to submit invoices and seeking online approvals for clearances.
G2 and Capterra reviews for PRM360
Fraxion
Fraxion is a cloud-based procurement software solution designed to cater to the needs of growing businesses. By leveraging its capabilities, organizations can effectively manage their procurement processes from requisition to payment processing. The software provides accurate reporting, proactive spend management, and complete control over each step of the procurement journey. Fraxion automates procurement workflows, empowering users with features such as multi-level approvals, AP automation, spend analysis, and vendor management. The platform also offers functionalities to manage travel expenses, analyze budgets, and conduct audits for ensuring compliance.
G2 and Capterra reviews for Fraxion
GEP Smart
This cloud-based platformoffers comprehensive control over the entire procurement process. It incorporates artificial intelligence to deliver advanced features such as spend analysis, savings tracking, contract management, and insightful sourcing information.GEP SMART effortlessly manages your vendors through a unified platform, which includes supplier management, contract management, and project analysis for evaluating vendor performance and rating. It caters to both direct and indirect procurement processes, driving efficiency improvements. By integrating upstream sourcing with downstream procurement, it facilitates a strategic approach to sourcing. Users have the flexibility to customize their dashboards, enhancing reporting capabilities that can be easily shared within their team.
G2 and Capterra reviews for GoComet
MHC
Known to automate document creation, capture, and distribution throughout essential business processes, it is the industry's most versatile end-to-end automation platform. MHC empowers businesses to eliminate laborious tasks associated with procure-to-pay (P2P) and order-to-cash (O2C) workflows. This results in improved efficiency, enhanced agility, and the ability to achieve operational excellence objectives.
Pipefy
This software enhances visibility and communication across various systems and activities to streamline the purchasing process. By acting as a communication layer, it enables teams to allocate time for more strategic sourcing activities. Pipefy effectively bridges the gap between key systems like Coupa, SAP, NetSuite, and DocuSign, providing complete visibility and transparency for each purchase requisition. This benefits both requesters and buyers, facilitating better communication among teams, internal clients, and vendors.
G2 and Capterra reviews for Pipefy
Xelix
An advanced platform designed to enhance and automate crucial audit and control processes within Accounts Payable (AP). It serves as a complementary tool to your existing ERP / AP systems. By leveraging cutting-edge AI technology, Xelix revolutionizes the core AP controls, leading to significant cost reductions, streamlined processes, and increased job satisfaction among AP teams. The Xelix solution focuses on four key areas: preventing overpayment and fraud, reconciling vendor statements, managing the master vendor file, and generating AP/P2P reports.
Varis
Previously known as BuyerQuest, it is a procurement technology solution that offers a user-friendly and intuitive experience similar to consumer platforms. It operates as a marketplace that connects users with trusted suppliers, resulting in significant cost savings and improved employee productivity. Partners and customers have the flexibility to create curated marketplaces that include their existing contracts, as well as pre-negotiated contracts in complementary categories that may not be currently managed.
G2 and Capterra reviews for Varis
Procurify
A comprehensive spend management platform designed to streamline company expenses while maintaining efficient processes. It offers a range of features that enable businesses to effectively manage their spending. With Procurify, users have the ability to customize budgets in real time, obtain necessary approvals, and even distribute spending cards to facilitate timely purchases by team members. Its mobile app further simplifies the purchasing process, especially when team members are on the move.
G2 and Capterra reviews for Procurify
Ratings and Reviews from real users
In addition to our insights and analysis of procure-to-pay software, it's also essential to consider the opinions and experiences of real users. That's where review platform like G2 come in, allowing users to share honest feedback and reviews of such solutions.
Here's a snapshot of the ratings of the various solutions we have listed above: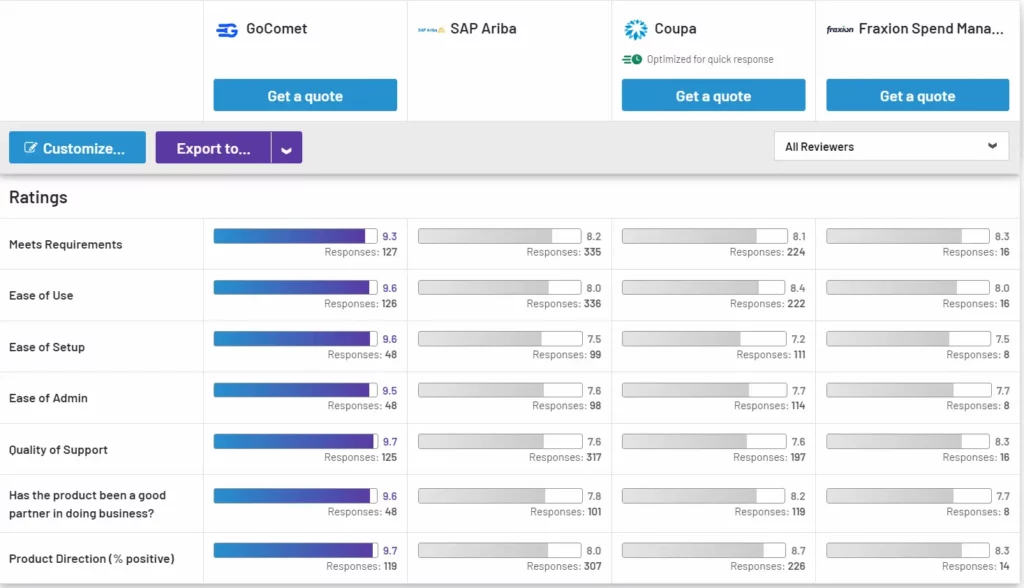 Benefits of procure-to-pay software to your business
Implementing P2P software offers numerous advantages and benefits, which can vary depending on the specific software and organization's needs, but here are some common advantages:
Cost Savings: P2P software helps reduce operational costs by optimizing procurement processes. It enables better negotiation with suppliers, identifies cost-saving opportunities, and reduces errors that can lead to overpayments or incorrect invoices.
Efficiency and Time Savings: Automation of procurement processes eliminates manual tasks such as data entry, approval routing, and invoice matching. This increases efficiency and reduces the time required to complete procurement cycles.
Better Compliance: P2P software often includes built-in compliance checks and approval workflows. This ensures that purchases align with company policies and regulations, reducing the risk of non-compliance and associated penalties.
Enhanced Visibility: Real-time dashboards and reporting features provide stakeholders with visibility into the entire procurement process. This transparency helps in better decision-making and forecasting.
Reduced Risk: P2P software can mitigate risks associated with fraud, errors, and maverick spending by enforcing strict controls and approval processes.
Inventory Management: Some P2P solutions integrate with inventory management systems, enabling organizations to optimize stock levels, reduce carrying costs, and minimize stockouts.
Scalability: P2P software can adapt to an organization's growth. It can handle increased procurement volume and complexity without significant additional administrative overhead.
Streamlined Supplier Onboarding: P2P software often includes tools for onboarding new suppliers efficiently. This can reduce the time it takes to start doing business with new vendors.
How should you evaluate any procure-to-pay Software?
Selecting the right Procure-to-Pay (P2P) software for your business is crucial for efficient procurement and financial management. Here are five main things to consider when evaluating P2P software options:
User-Friendliness and Ease of Adoption: Look for software that is intuitive and easy for your employees to use. Complicated or cumbersome interfaces can lead to resistance and inefficiencies. A user-friendly P2P system can help ensure smooth adoption across your organization.
Integration Capabilities: Ensure that the P2P software can integrate seamlessly with your existing systems, such as your ERP (Enterprise Resource Planning), accounting, and inventory management software. Integration reduces manual data entry and enhances data accuracy.
Customization and Scalability: Your business requirements may change over time, so it's important to choose a P2P solution that can be customized to meet your specific needs. Additionally, make sure the software is scalable to accommodate your company's growth.
Compliance and Security: Compliance with regulations and data security are paramount. Ensure the P2P software can handle tax regulations, international transactions, and other compliance requirements relevant to your business. It should also have robust security measures to protect sensitive financial and procurement data.
Analytics and Reporting Tools: A good P2P system should offer robust analytics and reporting capabilities. It should provide insights into spending patterns, vendor performance, and other key metrics to help you make informed decisions and optimize your procurement processes.
Conclusion
Remember, selecting the ideal procure-to-pay software is a significant decision for your organization. It requires a thorough evaluation of your specific business requirements, budget constraints, ease of implementation, customer support, scalability, and more. If you're prepared to make this investment in effective procure-to-pay software, embark on your research journey, read reviews, and don't hesitate to inquire with potential vendors. This tool is your compass for navigating the complex landscape of procurement and payment processes, empowering your organization with efficiency and confidence.
If you are looking for accurate, reliable and easy-to-use procure-to-pay software, feel free to reach out to us.
Authored by
Anmol, Supply Chain Consultant, SEA