Air Freight Vs Ocean Freight: How to Choose?
Businesses that deal with international shipments are always faced with the dilemma of choosing between Ocean freight and Air freight at some point or the other. Although the two serve the same purpose, they are poles apart in multiple ways. Choosing to use one over the other is a highly conditional decision and boils down to a significant difference in cost and time.

Determining which one is better is undoubtedly a never-ending debate. Both of them come with their own set of pros and cons and that is the reason why companies must use a mix of the two in order to respect deadlines and budgets.

To aid the decision-making process of air freight vs ocean freight, it is imperative to consider the following factors:
For most businesses worldwide, the cost is of prime importance when it comes to shipments. It is a well-known fact that ocean freight offers more capacity while being the less expensive of the two options. Whereas air freight is faster and safer. But air freight comes at a very hefty price. To put that into perspective by example – a package that costs $200 by ocean freight can cost up to $1000 by air. That is why most professionals recommend that air freight be used when it costs less than 15-20% of the value of the goods.

All that being said, for ocean freight, when a package is small and less than a full container's load, its cost is calculated in cubic meters. A lot of times, this can actually cost a lot more than air freight for the same package. That is why it is important to do a thorough calculation and cost comparison before choosing the mode of shipment.
Time:
While cost is a primary condition, time is an equally important one. When it comes to time sensitivity, ocean freight is really not the best idea. Along with a long journey time, it is important to consider the port hold-ups, and customs and not to forget weather conditions. Although there are new express ocean freight options, they still don't beat the speed of air freight.

Air freight also promises predictability, something that ocean freight fails to do. The departures and arrivals are pre-determined more accurately as are customs and transits. Unpredicted delays are significantly less relevant in this case too. So, when it involves speed, air freight could be the better option.

Type of Cargo:
One of the crucial plus points of maritime shipping is that it can ship the bulkiest of packages, fuss-free! Size and weight are where air freight can be restrictive. Air freight also comes with a long list of prohibitions and materials that are deemed hazardous.

For example, air freight restricts all objects that contain gases (eg. lightbulbs), all things that are flammable (perfumes included), all toxic and corrosive items like batteries, magnetic items like speakers, and any objects that pose a risk to public health like untanned hides, chemicals used for medicinal purposes, any packaging that bears a "danger" sign on it and the list goes on. That limits the use of air freight in several categories of business and makes ocean freight a more versatile option.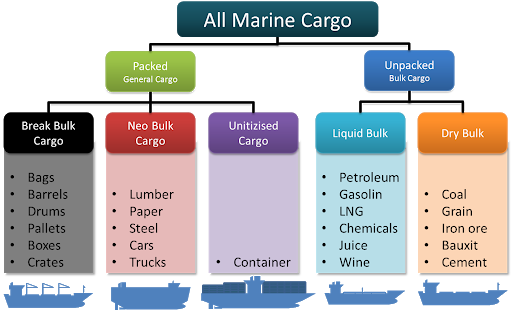 Safety:
Time and cost aside, it is equally important for companies to ensure that their shipments reach safely or it could pose an unnecessary logistical burden. The human factor is extremely important in this sphere.

Air freight and ocean freight both involve human handling and securing of goods in transport and transit. In both cases, there is scope for man-handling, causing damage. Normally, the rules for handling are strictly defined by airport authorities while ocean freight containers are obliged to be packed in a secure manner. It is important to avoid restricted goods on board as they can cause an accident. It is important for freight forwarders to package cargo very well in order to avoid damage from unforeseen circumstances.
Accessibility:
Accessibility of goods is an important criterion when it comes to choosing a mode of transport and by all means, air freight has the upper hand in this. First of all, the world is much better connected by air than by sea, considering the number of airports worldwide. Secondly, the procedures for air cargo are well-defined and the downtime is much shorter due to lower volumes.

On the other hand, the lower number of seaports results in heavy traffic at each port leading to heavy congestion and a longer waiting time. This can also lead to additional costs like detention and demurrage charges due to heavy traffic at the seaports. Sometimes this could offset the company's budget.

That said, one cannot discount the fact that from a business point of view, sea freight gives great access to marketplaces equally well. It's just that as stated above the time factor varies for both modes.

Carbon Footprint:
A very important factor that must be considered, given the global warming crisis is the carbon footprint of the company. The mode of transport that a business uses to move around its shipments is a determinant of the company's consideration of the planet.

While making a simple comparison, air transport emits more carbon dioxide than ocean transport but there are a lot more factors to take into account when making this allegation. Sometimes, it is important to look at the bigger picture. For example, one might choose a particular freight method because of its low carbon footprint but that might not be a safe option for the product as it may get damaged and have to be sent once more, thus increasing the carbon footprint and nullifying the main objective.

To put this into perspective, let's look at the example of pharmaceutical giant GlaxoSmithKline. GSK has calculated that transportation only made up about 3% of the company's total carbon emissions in 2016. Likewise, Sanofi has calculated that upstream and downstream transportation constitutes 6.7% of the company's total emissions of greenhouse gases and Sanofi's own vehicle fleet for another 1.4%.

As transportation makes up such a small part of the total carbon emissions of the value chain of pharmaceuticals, it becomes clear that the most environmentally friendly option is to ensure the speedy and safe delivery of the products. Should the products become damaged during transport and become unsellable, carbon emissions will increase exponentially as the products have to be discarded and exchanged for new ones. For sensitive pharmaceuticals, air freight is, therefore, the most environmentally friendly choice as it is the safest alternative. (Source: Envirotainer)

The key objective of freight management is to ensure that the shipment reaches the on time and at a nominal price, without compromising the safety of goods. It is also imperative for companies to negotiate the best possible price with their freight forwarder in order to avoid an unnecessary increase in costs.

In conclusion, It is safe to say that ocean freight and air freight cannot be pitted against each other because they both do the job equally well but it depends entirely on the requirement of the company and the type of shipment.
Also, check out our Track and Trace/Container Tracking Software.