Fourkites Review 2023: Competitor Comparison
FourKites is a global supply chain visibility platform that provides end-to-end multimodal visibility to its clients. This article provides a comprehensive review of the latest product trends, emphasising information from reliable sources such as G2 Crowd, Capterra and Trustradius.
Fourkites overview
The company offers predictive and dynamic ETAs, order visibility, inbound & outbound visibility and Temp tracking & security. FourKites' visibility solution is predominantly used by Fortune 500 companies with high monthly shipment volumes.
FourKites product offerings
FourKites mainly focuses on real-time multimodal visibility and has related product offerings. Core features include:
Real-time visibility: The platform provides end-to-end visibility based on a proprietary location-specific algorithm and gives accurate ETAs for shipments. The platform uses advanced analytics and provides real-time notifications & alerts along every leg of the shipment.
Yard Management System: The platform has a dock and yard management system to provide real-time tracking of in-transit and in-yard freight.
Automated Appointment Management: The platform helps to improve dock door utilization with appointment scheduling based on dynamic in-transit ETA.
Order Visibility: The platform helps to integrate order data, load information across modes, yard shipments, inventory visibility and other third-party systems, shippers and their supply chain partners. This helps to get an end-to-end view of their order lifecycle.
FourKites (vs) other real-time visibility tools
FourKites is positioned as a real-time visibility platform in the market. Major players in the same category provide end-to-end visibility and multi-modal tracking capabilities, including companies like Project44, GoComet, Descartes, SAP Ariba and JDA.
The following feature comparison has been made based on a recent survey by G2 on software buying behaviour. In the report, 93% of buyers indicated that the quality of the implementation process is important, indicating a need for easy deployment that can yield ROI earlier. Our comparison also considers hassle-free onboarding, ease of use, product depth vs deployment speed, customization capabilities, post-deployment support and cost.
Fourkites comparison based on G2 reviews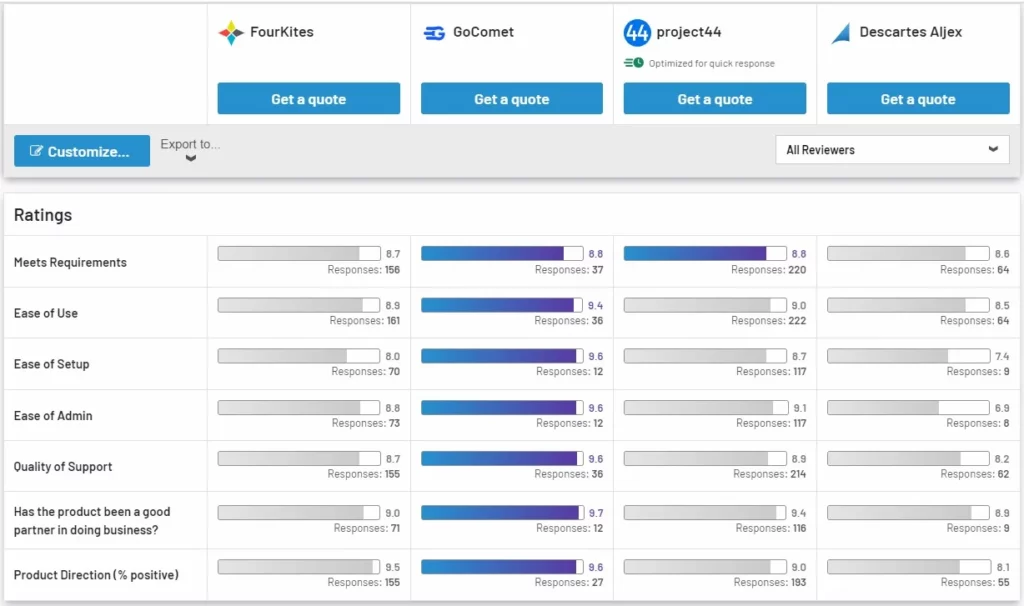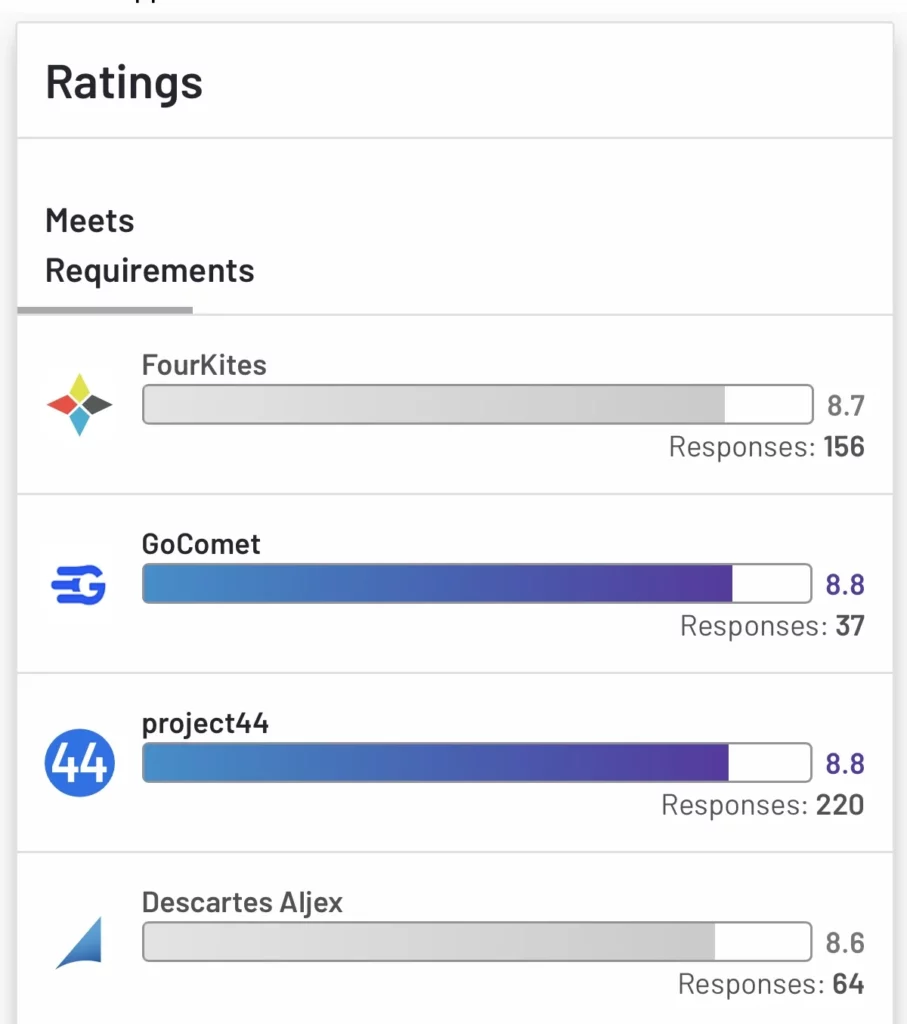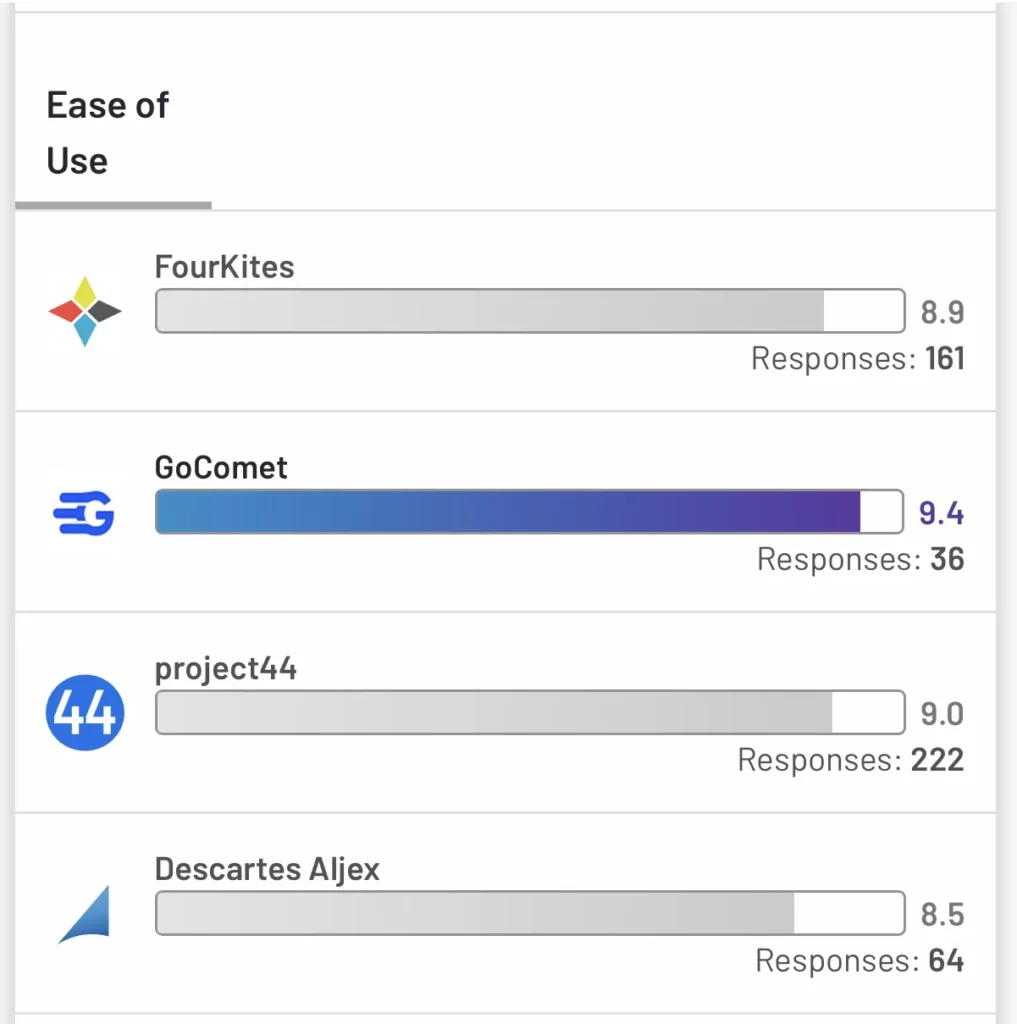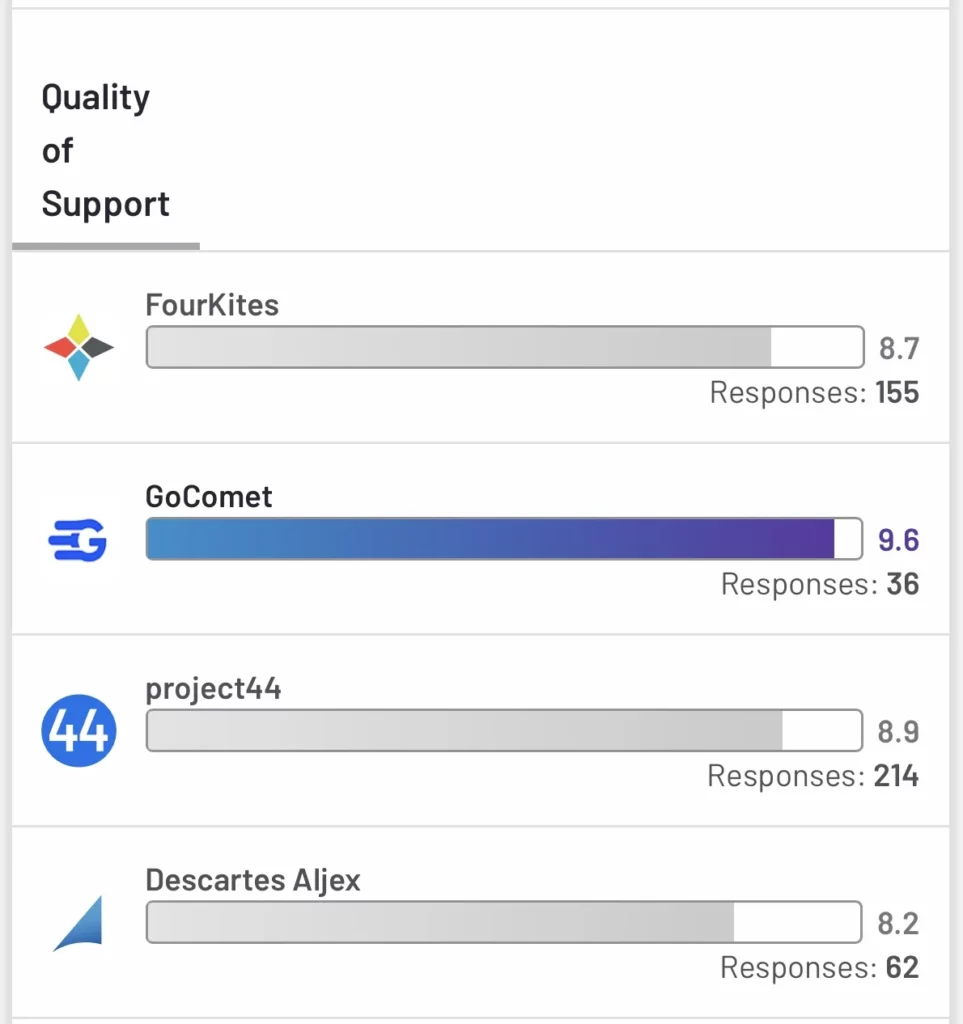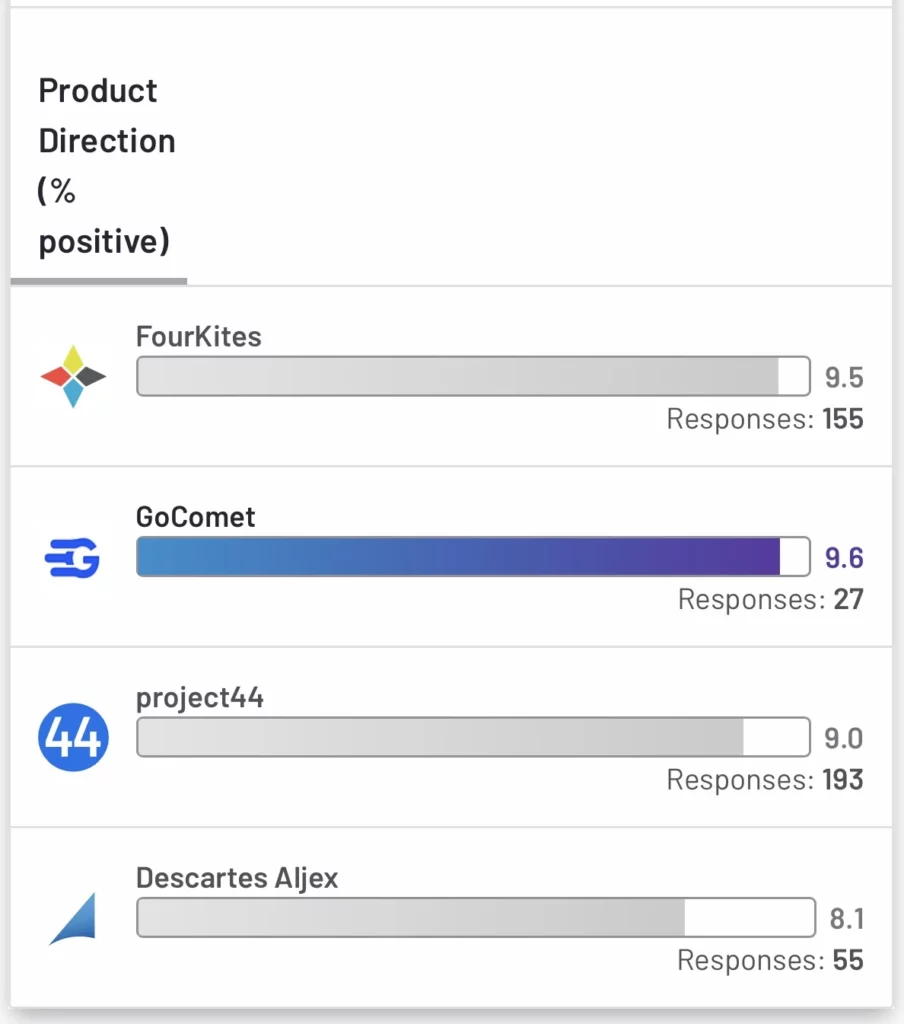 Fourkites comparison based on Capterra reviews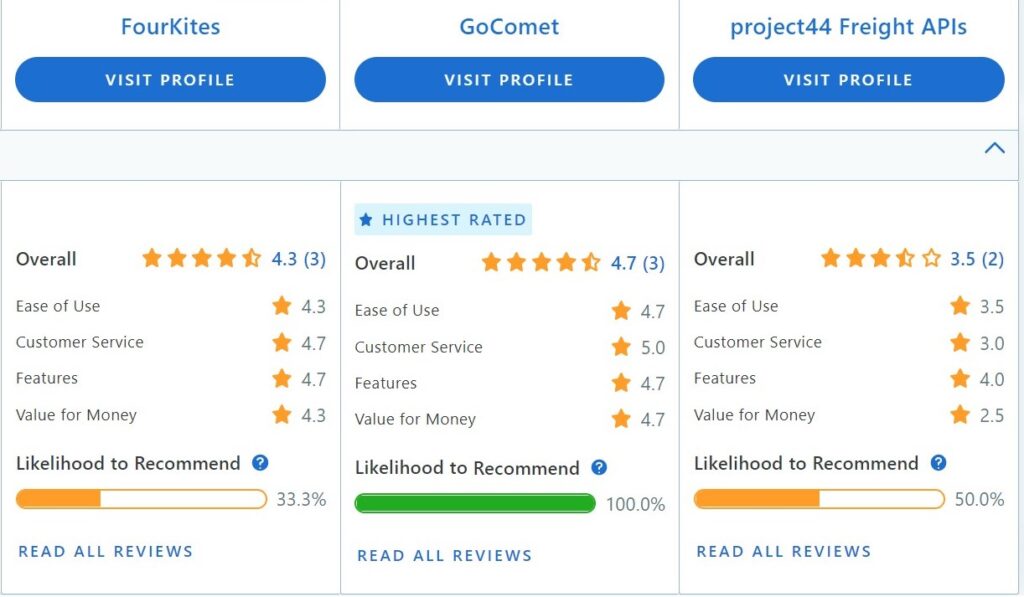 Feature comparison – FourKites Vs similar top competitors
| | | | | |
| --- | --- | --- | --- | --- |
| Feature | Fourkites | GoComet | P44 | Descartes |
| Multimodal tracking (Ocean, Road, Air and Rail) | | | | |
| Freight visibility on international shipments | | | | |
| Predictive ETA using multiple data points (vessel data, geofencing and carrier API) | | | | |
| Advanced carrier analytics | | | | |
| Custom workflows for stakeholders | | | | |
| End-to-end shipment tracking from shippers till end customers | | | | |
| Advanced AI-driven port congestion data | | | | |
| Intelligent tracking document reader for tracking automation | | | | |
| Smart tracking to track non-traceable shipments | | | | |
| Freight index to benchmark real-time market freight rates | | | | |
| Single dashboard to manage all tasks from procurement till invoice reconciliation | | | | |
Feature comparison of Fourkites against key players
FourKites – pros and cons
Major pros:
Advanced visibility capabilities owing to a vast number of global carrier integrations
Extensive data points are captured for every shipment to provide advanced insights
Robust API integration
Major cons:
Requires efforts for automated onboarding
The platform is limited to visibility. Other comprehensive features, such as freight benchmarking, freight procurement, invoice reconciliation, etc., are not the platform's strong suit.
It takes a while for users to navigate the menus in the dashboard. Getting used to the UI requires time and effort.
Difficulty in getting dynamic visibility alerts — It requires some manual effort.
Trouble in getting issues resolved through the support team. Clients are often redirected to the customer answer portal.
(Source: G2, Capterra and Trust Radius)
Our recommendation
It would be best to explore an easy-to-use, customizable, multimodal solution, which is also highly scalable as and when your business grows. Along with multi-modal tracking capabilities, if the platform provides additional features such as freight procurement, stakeholder collaboration, document management and automated invoice reconciliation, it will be a huge advantage to your operations team in terms of cost and time savings.
Do not choose a heavy ERP solution and bear the full costs if your requirements are different and minimum. Also, check how well the system can be integrated with your existing software. Choose a solution that best suits your shipment volume and everyday operations. Affordable solutions make it easier for medium and smaller companies to optimize their supply chain efficiencies cost-effectively.
Choose a provider who can give a proactive customer support team and has the quickest response in case of any issues.
Choose a solution after trying it out for a free trial period. You need to know if the solution caters to your requirements.
Feel free to fix a free walkthrough demo of how GoComet's solution can help you drive double-digit cost savings in your supply chain while eliminating all the pain points you may currently face due to the lack of automation. You can also start with our free 15-day trial version.
Disclaimer: The above review is collated based on the information obtained from the websites of each company and top and credible software review sites such as G2, Capterra and Trust Radius. Information could change over time based on these companies adding new features to their product portfolio. We recommend you consider this factor while making your decision.