Shanghai's Lockdowns are Affecting Asia, US, and Europe Supply Chains – GoComet
China accounts for about 12% of global trade, and the country's stringent COVID lockdown in Shanghai, home of the busiest container port, and other major cities across the country have snarled up the global supply chains. While the full impact of China's lockdowns is yet to be felt, the action has caused factories and warehouses to shut temporarily, slowed truck movement and exacerbated container logjams.
The closed-loop system – has it helped?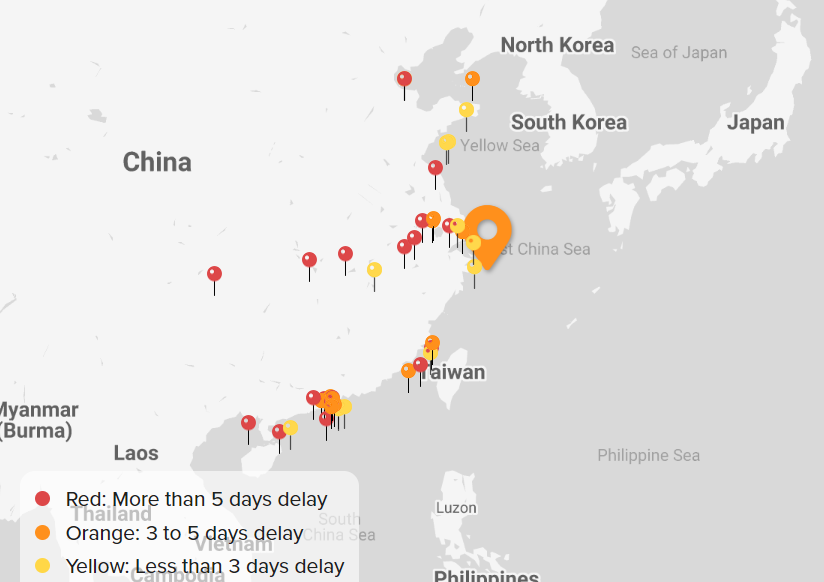 China claims it has managed to keep its ports operational despite the lockdowns using a closed-loop system, keeping the staff on-site. However, container yards are highly congested due to the shortage of truck drivers, as many drivers refuse to enter Shanghai for fear of being quarantined. Many reports suggest that the lockdown in China is heavily impacting the congestion outside the country's ports.
Lockdown in Shanghai—Delays are at peak levels
Since February, the number of container vessels waiting outside Chinese ports has grown by 195%. As ships continue to pile up outside Shanghai and other container docks across China, this is what the trend looks like, according to a Windward report:
In February, when there was no lockdown, the number of vessels stuck outside of Chinese ports was 260.
In March, when the Shenzhen lockdown was announced, the number went up to 470 vessels.
In April, after the Shanghai lockdown was announced, the number of vessels awaiting berthing space at Chinese docks increased and by the fourth week of April, the number was 506, which is 27.7% of all vessels that were waiting outside of ports around the world.
The numbers indicate that lockdowns in China have nearly doubled the congestion outside the country's ports. In addition, restrictions on cross-border trucking have prevented workers from off-loading and on-boarding shipping containers, further increasing the delays.
Supply chain recovery delayed – Impact
Port congestion at Chinese ports due to lockdowns and Russia's war in Ukraine has definitely derailed the global supply chain recovery. Various shipping analytics reports predict that it will be another chaotic summer for supply chains between Asia, the U.S. and Europe.
Europe – a supply chain reflood expected
The European Union sanctions and the rising inflation due to increased energy and food costs have already affected many European shippers. Europe has been dealing with port congestion since the mid of February this year. Many industries, including automotive and electronics, have taken a severe hit in Europe due to these crises.
If the China lockdowns don't begin to ease by early or mid-May, it will have a tremendous impact on European shippers. And as soon as the ports reopen, the surge in volume will lead to container shortage which will eventually increase the shipping costs.
Maersk has already announced that it has rescheduled departures of 11 container vessels from China through mid-July as it was experiencing an accumulation of delays driven mainly by port congestion.
The U.S – a repeat of last year likely
As far as the U.S is concerned, we can expect a repeat of last year's situation at the United States Los Angeles and Long Beach ports when there was a surge in imports as soon as the lockdown was lifted, resulting in severe port congestions. According to industry experts closely monitoring the developments, we can expect a similar situation in June or July this year.
Long Beach and the Port of Los Angeles import around 40 percent of all containerized goods into the U.S, and a sudden surge in imports is likely to overwhelm West Coast ports once again, affecting the global supply chains.
At this point, having accurate real-time visibility across all your shipments and access to live port congestion intel with actionable data insights could help tackle these supply chain bottlenecks efficiently.
Feel free to reach out to us if you want to plan your shipments cost-effectively and drive double-digit cost savings to your supply chain.