How can you simplify shipment tracking and reduce the time this takes?
Let me begin with a simple question…
To find the answer, let's break this down.
Let's assume you have 500 shipments a month and you work with 7 to 15 shipping lines.
To know the current location of all your 500 shipments, you are forced to look at each shipping line's website and enter a master bill of lading or container number. Each and every time.
Right??
Let's do the maths here
On average, it takes 2 mins to track 1 shipment from 1 shipping line
1 shipment = 2 min
500 shipments = 1000 mins
Now, you also have to trawl through 7 to 15 independent websites for each shipping line, which is again going to take you time and effort.
15 shipping lines' site = 15 mins
Next, there are generally 6 to 12 checkpoints in every shipment.
Gate in, container loaded on the vessel, container about to reach transshipment port, container loaded on the vessel at transshipment port, container reached the destination, container gated out, etc.
On average you would find 8 checkpoints in any shipment.
So…now imagine
Based on the time required for 500shipments for a single checkpoint
Checking a total of "8 checkpoints" to "500 shipments" a month
You have been forced to devote 8,000 mins of your time!
That's right, 8,000 minutes! That's 133 hours, or put another way, over 16 ½ working days!
16 ½?! That's more than most people's annual holiday allowance!!
And that's not even including the time it takes for you to store these records to analyze the levels of service that your carriers are (or are not) providing you for the money you are paying them…
However, this is the best-case scenario.
I know what is going on in your head…
HECK, I have already wasted 17days …now it continues to be more.
The reality is that you will NEVER be able to hit all the checkpoints on estimated time.
Because it's nearly impossible… Delay happens.
And for every delay, you have to track your shipments on their revised expected date. And you need to do this for every delay, for every shipment.
In your head, if you are thinking- Is it worth investing so much time on tracking containers?
ABSOLUTELY YES. Here's why this matters to you…
So, now the real question isn't why I should track my shipments…. it's whether or not I can do something to simplify it?
Simple. With automated container tracking process, actionable insights and route history of your shipment From smart and easy to use container monitoring tool you can simplify your tracking to a great extent. (Hint: GoComet)
Introducing GoComet Live Shipment Tracking Solution
GoComet live container tracking solution allows you to determine the current position of your containers on the World Map. Our application is integrated with 170 shipping lines and 60 airlines so that we can provide you real-time updates, actionable analytics and instantly notify you about any delay.

Here is what GoComet is capable of doing for you:
Track end-to-end delivery of multiple shipments from a single dashboard-
GoComet's API integrations allow you to track all your shipments from a single dashboard. No more trawling through multiple websites one after another.
Plus you can also add multiple container numbers at one time via a simple excel drag-and-drop instead of searching one by one. With GoComet Tracking, you can optimize performance, increase your supply chain efficiencies and save yourself time. How good does that sound?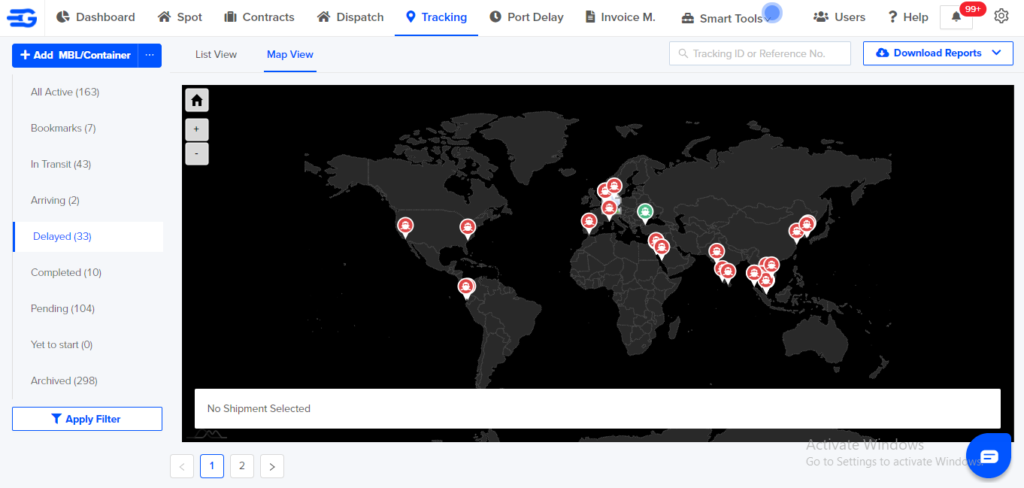 Send automated notification and alerts about shipment milestones-
To complement and enhance tracking process GoComet sends notifications and alerts about your shipment milestones, arrival, events, and delays enabling you to stay up-to-date with your shipments automatically.
Now you don't have to waste your time in tracking your shipments again and again. It straightly saves hours and efforts that you or your team member putting in.
As soon as your shipment gates in at the port of loading, you will begin to receive notifications via email informing you of any changes in status to your shipment every time it reaches a milestone.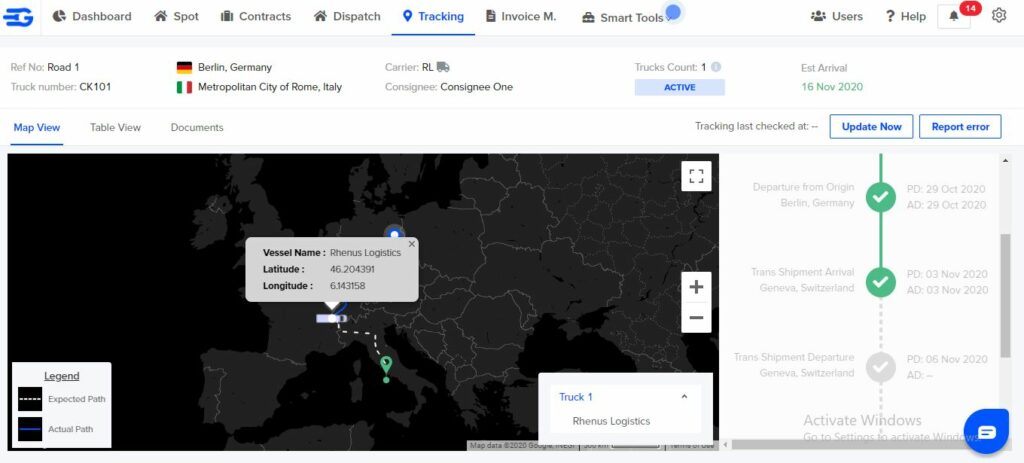 The bottom line
GoComet's automated tracking solution saves you time and money, increasing efficiencies and accuracies, and uncovers valuable data as to carrier service levels and performance that is so often left unchecked.
Implementation is quick and easy. No matter where you are located, we can innovate your tracking in a matter of days.
Contact us here to start saving today.

Also check out Sailing schedule – a smart tool to make smart decisions while planning the movement of your freight.