What Should Businesses Learn From Recent Ningbo Port Congestion?
The recent Ningbo port congestion piled up more pressure on the already strained global supply chains and affected businesses adversely, especially in the US. This article looks at everything that led to the disruption and how shippers can mitigate the impact of such events in the future.
The Ningbo Port in China's Zhejiang Province was shut down on August 11th, 2021, remained closed until August 25th, 2021. This shutdown affected supply chains dependent upon trade lanes between China and the United States. Here's what we know so far about this issue and how it is likely to impact businesses across the globe.
What precisely happened?
According to the South China Morning Post, a 34-year-old employee at the Ningbo Port was found to have Covid-19. The person didn't show any symptoms, but the port authorities sealed the terminal and bonded warehouse area as preventive measures, halting the operations at the terminal indefinitely.
What was the direct consequence of this?
Accounting for over a fourth of the container cargo volume managed by Chinese ports, the partial shut down of the world's third-busiest container port brought up more challenges than the global supply chains were prepared to take. Here's a peek into the scale of the disruption:
The cost of shipping from China and South East Asia to the East coast of the US hit a record high, according to the FREIGHTOS Baltic global container freight index.
Port congestion at Ningbo increased from 5 days (average) to 16 days (average) after the partial closure of the port. Source: GoComet's Port Congestion Report.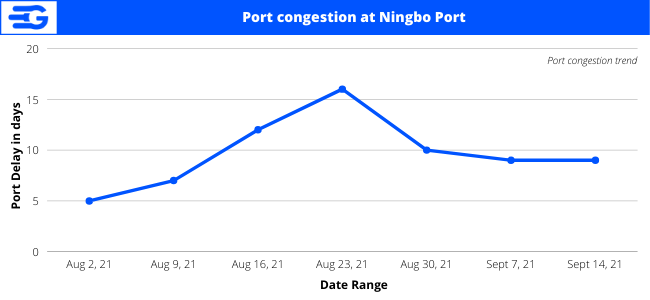 CMA CGM/APL, Cosco Shipping, and Evergreen Line carriers altered plans and used other terminals at Ningbo. In some cases, excluding the port entirely, leading to blank sailings and causing rerouting delays for all of its vessels.
Inland haulage were limited to gating in shipments only two days prior to the booked vessels—ETA. This significantly disrupted logistics operations for businesses in this region.
Implications in the near future for Europe and the US?
Although Ningbo port has now reopened, the impact of the crisis will continue to affect shipments in the time ahead. Jason Chang of Ocean Shipping Consultants said, "The global shipping industry is likely to feel the impact of the pandemic for at least a few more months, given the strong dependency on Chinese goods globally."
China's zero tolerance for the spread of COVID-19 suggests this recent port closure may not be the last as the country prioritizes pandemic mitigation over everything else. This means shippers will continue to face uncertainty and increased risk.
Western manufacturers and consumers who need Chinese components and goods will suffer much more. Moreover, shippers will pass on the cost to consumers, fueling inflation in these countries ahead of the business-critical Christmas season.
Businesses will have poor reliability in China as shipping lines struggle to cope with COVID-19 restrictions. This will warrant a supply chain visibility solution for businesses trying to avoid extra costs for detention and demurrage in the region.
How can you mitigate the impact of such disruptions?
Businesses in the past have experimented beyond the usual point A to point B logistics in order to conform to delivery deadlines. Some of these concepts though have evolved to become viable strategies to mitigate port disruptions.
Changing the usual "route"—Businesses have adapted to alternate ports and pathways in the aftermath of recent port blockades, allowing them to better manage their supply chains. Several businesses have switched from using California's most active ports (Los Angeles/Long Beach) to various western ports. For some cases completely avoiding the west coast for East coast seaports. This allows them to enjoy faster clearances on these ports and cutting lead times significantly.
Using Cargo Redistribution—Staggering containers in multiple vessels and or with various transport providers may help businesses balance their freight load better and use smaller amounts with reliable carriers to minimize the adverse effects of port congestion on their operations.
Planning ahead for your Transportation Demand – To reduce duplication and inefficiency, track your company's worldwide freight activity across numerous trade lanes and key business divisions. Forecasting demand and preparing ahead of time can help you get around longer transit times between point of origin and end destinations.
Improving Visibility – The most effective strategy to reduce the impact of port closures/congestion is to improve your knowledge on how, when and where your goods are traveling. You may either use a team to keep track of this or use software such as ours to stay up with the movements of your shipment.
To manage your logistics operations better under such disruptions owing to an unanticipated event like the closing of Ningbo port. Schedule an online demo with our experts, and we'll assist you in achieving supply chain resilience so that future disruptions don't have as big an impact on your company!