10 Best Freight Procurement Software for Improved Negotiation
Any supply chain professional who has worked in the industry for long enough, and handled the procurement of freight rates, would have wondered at some point whether there is a better way to negotiate rates than the traditional practice.
If you too have wondered about it then you are at right place! In this blog, we will not only delve into the importance of freight procurement software for your business but also present you with a comprehensive list of the top freight procurement software available in the market today.
Why do businesses need freight procurement software?
Putting together a suitable RFQ, manually reaching out to different logistics service providers and obtaining quotations from them, comparing all the bids received, and then selecting the vendor with the lowest quote, is a time-consuming process, to say the least. Not to mention the number of delays experienced due to slow email communication, discrepancies due to human errors at the last possible minute, etc.
Today, there indeed is a better way to secure freight rates. With the help of the right freight procurement software, it is possible to drive significant cost savings and enjoy the ease of freight management. Automating your RFQ processes enables you to receive the best quotes from trusted vendors, engage in transparent bidding processes and obtain the cheapest deals for your business, every time.
Any automated freight procurement solution provides a unified dashboard to carry out all your negotiation processes. Vendors will have other vendors to bid against/negotiate with, thereby, eliminating human bias that may affect your final negotiation. Timely alerts go out to the vendors to notify them of their current rank in the bidding process as well as nudge them to improve their bids if required.
For supply chain companies that are looking to majorly improve their bottom line, here is a list of freight procurement software that can completely automate your freight quotation management.
Top 10 freight procurement software:
GoComet Freight Negotiation Engine
Secure the best deals through GoComet's freight quotation management module that provides an automated and compounded negotiation system, ensuring that your vendors compete with each other, to give you the best possible rates.
Accepted by all the major global accounting firms, GoComet's platform enables a transparent procurement process, reduces turnaround time for spot rates, lets you instantly compare rates from multiple vendors, and facilitates better decision making by providing vendor performance analytics and records every transaction, for future reference.
Coupa
Coupa's RFQ management software makes requesting a quote as simple as creating a requisition. Coupa is an all-in-one application that provides real-time freight quotes and consolidates all of your negotiated rates on one dashboard so that you can choose the right vendor with ease, review quotes side-by-side, invite vendors to bid on your project via email and so on.
G2 and Capterra reviews for Coupa
Alpega
Digitize and automate your rate procurement process confidently, with Alpega's Freight Cost Management software. Obtain a quick and comprehensive overview of total freight cost and visibility, settle, monitor and analyze freight costs, all from a single platform provided by Alpega.
Their solution provides shippers with a reliable, cloud-based system to easily settle invoices, handle contract management and reconcile surcharges or accessorial costs related to their international transportation.
G2 and Capterra reviews for Alpega
Transporeon
Transporeon's centralized Rate Management module gets your freight rates sorted out, no matter how many transport data sets and logistics contracts you manage worldwide, and facilitates easy access to information, centralized data handling and transparency.
It is used to process complex pricing plans, surcharges and alternative shipping options quickly and easily. Enjoy centralized storage of all freight contracts and documents per carrier and freight contract, enabling easy and quick access to standardized information.
G2 reviews for Transporeon
FreightPOP
FreightPOP aims to save up to 30% on shipping and freight with their multi-carrier rate shopping module. Their Rate Shopping dashboard compiles all of your negotiated rates into one window – all that you have to do is fill in the shipment information, or automatically pull it from your ERP system using our robust integrations.
You can compare rates for an unlimited amount of shipments at the click of a button as well as email quoted rates to your team, directly from the FreightPOP app.
G2 and Capterra reviews for FreightPOP
Freightos
Experience painless global freight comparison and booking with Freightos. You can receive free freight quotes, compare instant freight shipping quotes from 75+ freight forwarders with all-in shipment fees, and know exactly what level of service you're getting every time. Do away with hidden costs and enjoy the most attractive pricing for all your shipments.
G2 and Capterra reviews for Freightos
Kuebix
Kuebix freight procurement software is a cloud-based TMS that helps shippers find the best shipping rates, book orders, and track shipments. The software offers a variety of features that can help shippers save time and money on their freight shipments, including real-time rate shopping, booking and tracking, auditing, and integrations. Kuebix is a powerful tool that can help shippers improve their freight procurement process.
G2 and Capterra reviews for Kuebix
LogistaaS
LogistaaS is a cloud-based freight procurement software that can help businesses streamline their freight forwarding operations. The software offers a number of features, including automated RFQs, real-time quotes, transparent pricing, and data analytics. LogistaaS can help businesses save time, money, and improve their freight forwarding operations. The software also provides increased visibility, improved efficiency, and reduced risk.
G2 and Capterra reviews for LogistaaS
ShipStation
ShipStation freight procurement software offers a variety of features to help businesses streamline their freight shipping processes and save money. These features include freight rate shopping, freight label printing, freight tracking, freight inventory management, and freight integrations. By using ShipStation, businesses can compare rates from multiple carriers, print labels for a variety of carriers, track shipments in real time, track freight inventory levels, and integrate with other business applications. This can help businesses save time, improve visibility, and increase efficiency, leading to faster shipping times, lower costs, and improved customer satisfaction.
G2 and Capterra reviews for ShipStation
Flexport
Flexport freight procurement software is a cloud-based platform that helps businesses manage their global freight shipments. The software offers a variety of features to help businesses improve their supply chain efficiency and reduce their costs, including order management, freight booking, customs clearance, insurance, and reporting. Flexport also provides real-time visibility into shipments and helps businesses ensure that their shipments comply with all applicable regulations.
G2 and Capterra reviews for Flexport
Discovering the right Freight Procurement Software can be challenging. But don't worry! We're here to help you with G2 and Capterra reviews. These reviews provide useful information about different software options, including their strengths, weaknesses, and how well they optimize freight procurement operations.
G2 Reviews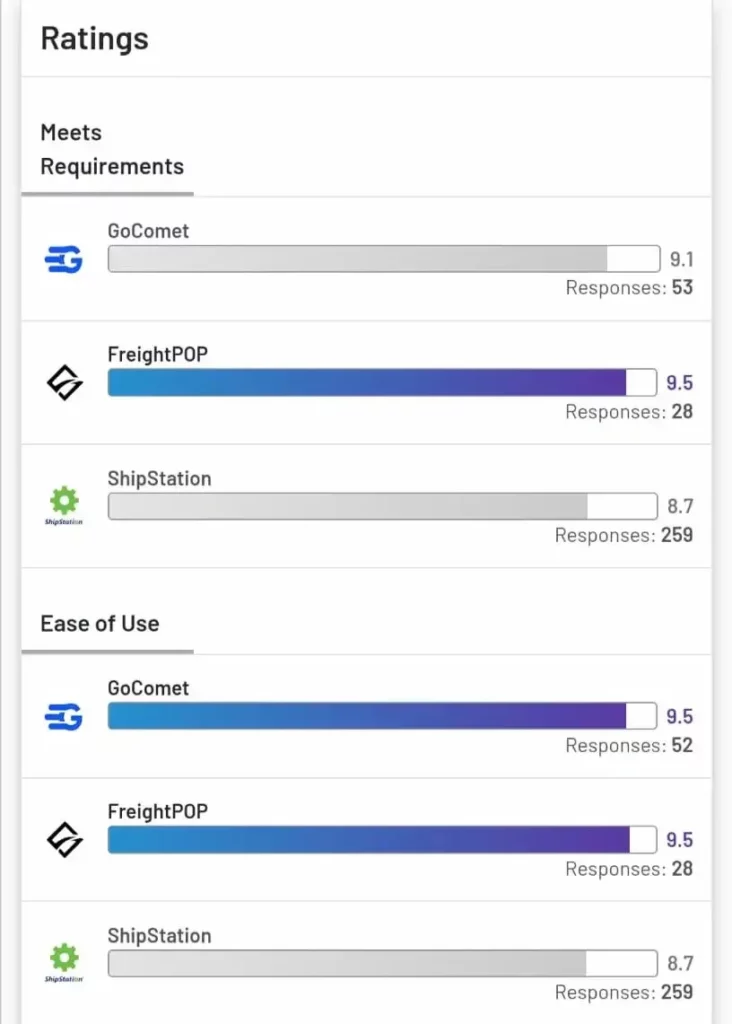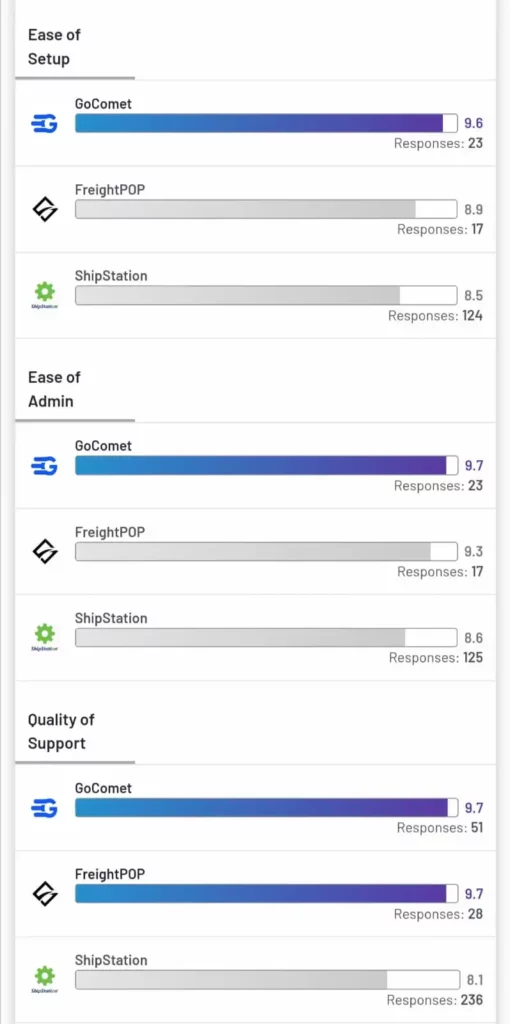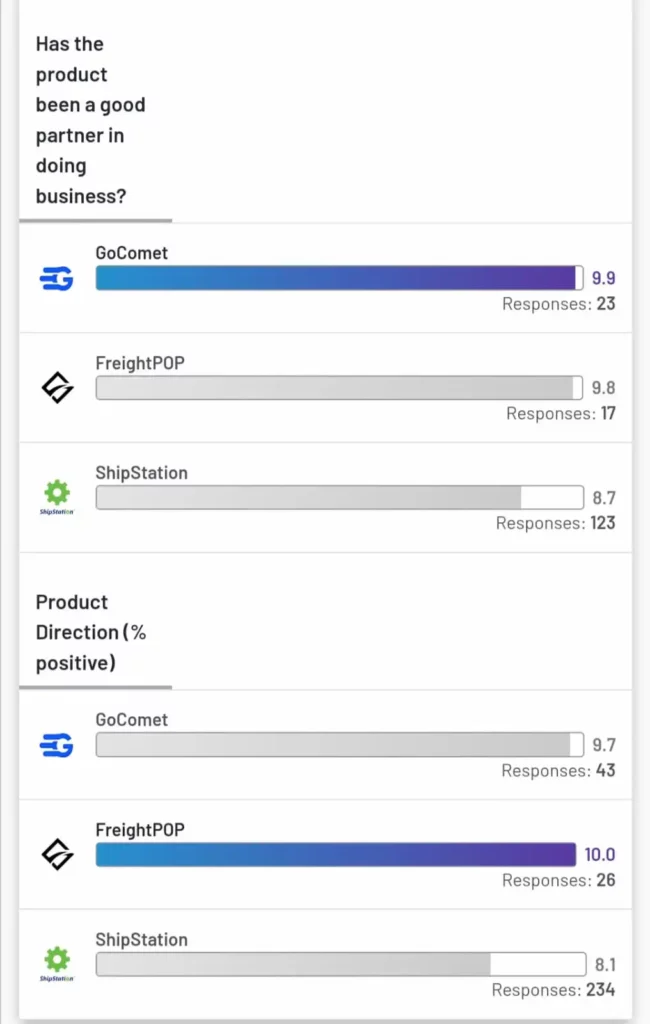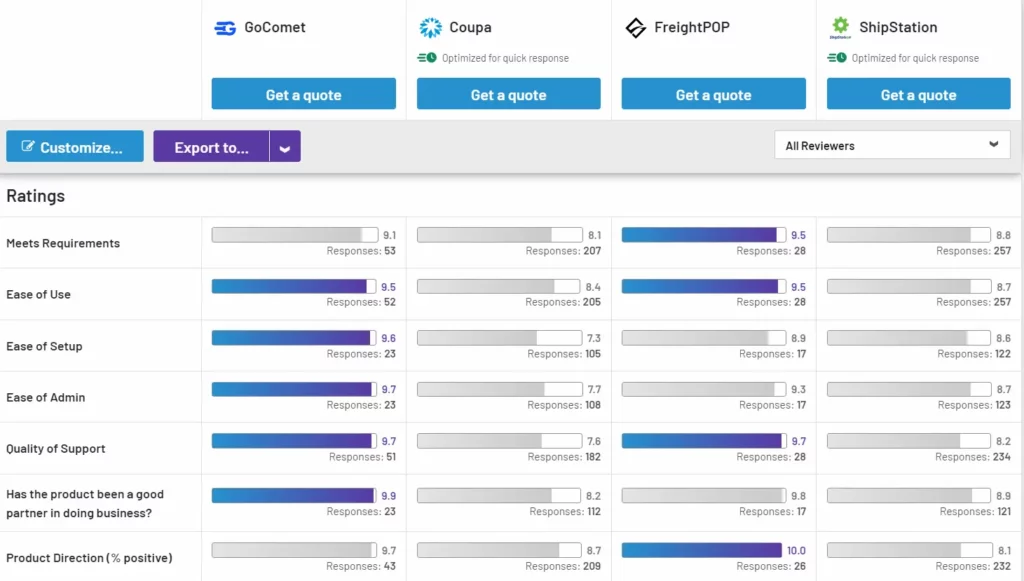 Capterra Reviews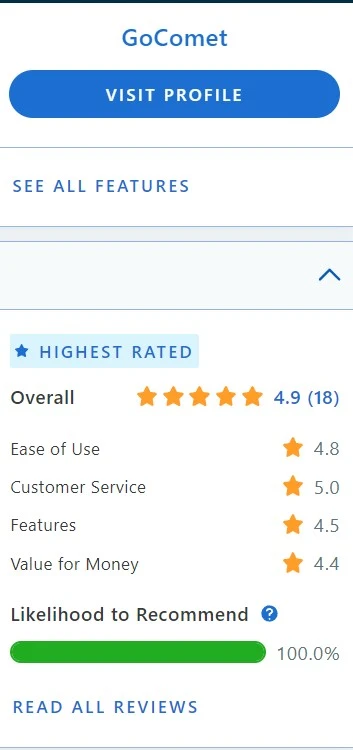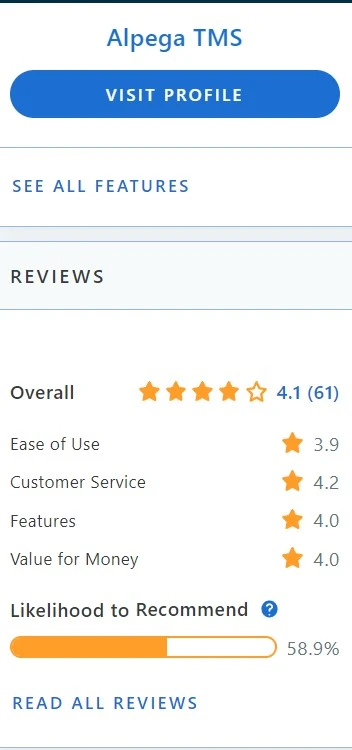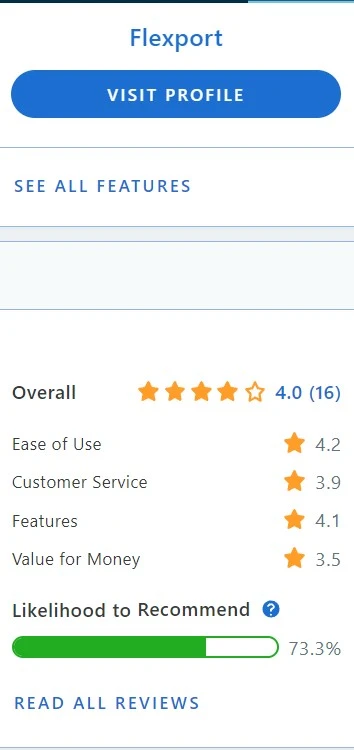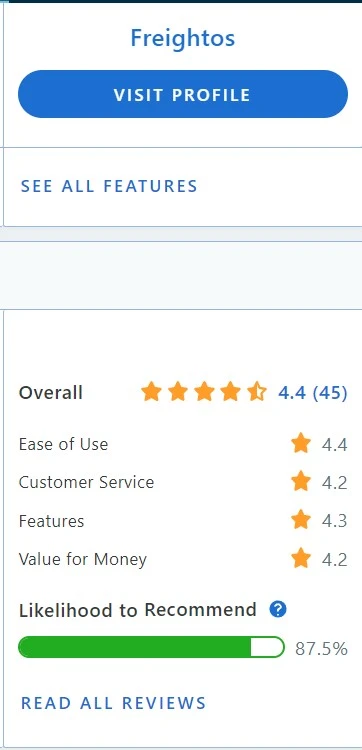 Factors to consider while evaluating the freight procurement software for the business
When selecting freight procurement software for your business, there are several important features to consider. Here are some key features to evaluate:
Freight Sourcing and Bidding: Look for software that provides a comprehensive platform for freight sourcing and bidding. It should allow you to efficiently solicit quotes from multiple carriers and compare them based on factors such as price, service level, and transit time.
Carrier Network and Integration: Ensure that the software has a wide network of reliable carriers that you can connect with easily. It should support integration with carrier systems, allowing for streamlined communication, real-time tracking, and electronic documentation exchange.
Rate Management: Effective rate management is crucial for freight procurement. The software should enable you to maintain and manage carrier rates, including contract rates, spot rates, and accessorials. It should also support rate negotiation and provide tools to analyze rate performance.
Analytics and Reporting: Look for software that offers robust analytics and reporting capabilities. It should provide actionable insights into your freight spend, vendor participation, carrier performance, lane analysis, and other key metrics. Customizable reports and dashboards are also beneficial.
Automation and Workflow: The software should automate manual tasks and streamline workflows. This includes features such as easy approval of freight quotes across internal hierarchy, automated carrier selection based on predefined rules, automated document generation, and workflow notifications. Integration with other systems like ERP or TMS can enhance process efficiency.
Compliance and Documentation: Freight procurement involves numerous compliance requirements and documentation. Ensure that the software helps you manage and track compliance with regulations, such as customs documentation, hazardous materials handling, and carrier insurance. It should support electronic documentation storage and retrieval.
User Experience: A user-friendly interface and intuitive workflow are essential for user adoption and productivity. Evaluate the software's ease of use, training and support resources, and the availability of mobile or web-based access for remote teams.
Integration and Compatibility: Assess the software's ability to integrate with other systems, such as your existing ERP, TMS, or WMS. Compatibility with standard file formats (EDI, XML, CSV) and the availability of APIs for data exchange can simplify data sharing and enhance process efficiency.
Conclusion
By leveraging freight procurement software, businesses can optimize their freight spend, ensuring that they achieve the best value for money. The software facilitates transparent and collaborative communication between shippers and carriers, enabling them to negotiate contracts, manage freight tenders, and monitor performance effectively. This level of visibility and control minimizes risks, improves compliance, and fosters stronger partnerships within the logistics ecosystem.
To know more about how to best negotiate the lowest prices for your shipment, and identify the right freight procurement software for your business, reach out to us today!
FAQS
What is freight procurement software?
Freight procurement software is a technology solution that helps businesses streamline and automate the process of procuring freight services.
How does freight procurement software work?
Freight procurement software allows users to request, compare, and select freight quotes from different carriers or logistics providers. It integrates with other supply chain tools and provides end-to-end visibility and efficiency.
What are the benefits of using freight procurement software?
Using freight procurement software offers benefits such as time and cost savings, improved visibility into carrier rates and capacity, enhanced efficiency through automated workflows, better supplier management, and data-driven insights for optimizing procurement strategies.
Can freight procurement software handle different modes of transportation?
Yes, freight procurement software can handle various modes of transportation, including truckload, less-than-truckload (LTL), ocean, air, and rail.
Is freight procurement software suitable for businesses of all sizes?
Yes, freight procurement software is suitable for businesses of all sizes, whether small companies or large enterprises. It can be tailored to adapt to the specific needs and volumes of different businesses.
What integrations should I consider when implementing freight procurement software?
When implementing freight procurement software, consider integrations with Transportation Management Systems (TMS), Enterprise Resource Planning (ERP) systems, carrier APIs, and e-commerce platforms or order management systems. These integrations enable seamless data exchange, financial reconciliation, real-time rate quoting, and streamlined order processing.