Top 15 Freight CRM Software of 2023
In a fast-paced world where commerce knows no boundaries, the smooth and timely movement of goods has become paramount for businesses to thrive. Whether it's shipping raw materials from suppliers or delivering finished products to customers, effective freight management lies at the heart of any successful supply chain. This is where freight CRM software swoops in as a game-changer, revolutionizing the way companies handle their logistics operations.
What is Freight CRM Software?
Freight CRM software is a specialized customer relationship management tool designed specifically for companies in the freight and logistics industry. It helps manage customer interactions, streamline sales processes, track leads and opportunities, and improve overall customer service in the freight industry.
Why do businesses need Freight CRM software?
Imagine being able to monitor the status of your shipments at any given moment, effortlessly track their progress, and receive instant notifications about delays or disruptions. With freight CRM software, this level of transparency becomes a reality. It enables businesses to proactively address issues, minimize risks, and ensure timely deliveries, thereby bolstering customer satisfaction and loyalty. Moreover, by streamlining processes and reducing manual errors, companies can significantly lower operational costs, optimize resource allocation, and enhance overall productivity.
Bringing intelligent support and automation to the supply chain industry, here are the top 15 freight CRM software you can bet for:
List of Freight CRM Software
1. GoComet
GoComet is the go-to logistics management software, renowned for its exceptional freight management capabilities. With a robust freight CRM platform, it helps businesses find the best carriers and secure competitive rates effortlessly. By streamlining transportation operations and leveraging AI-powered technology, GoComet optimizes logistics, reduces costs, and provides valuable supply chain insights. It's the ultimate choice for businesses seeking to enhance their freight management and achieve remarkable success in their operations.
REVIEWS – G2 – 4.6/5, Capterra – 4.8/5
2. Fresa Gold
Fresa Gold provides an ERP freight management software tailored for various logistics businesses, including Freight forwarders, NVOCC, IATA Cargo Agents, Transporters, Courier, and Logistic service providers. It offers two Interface Options, providing a flexible and efficient way to organize, manage, and monitor operations.
This comprehensive software incorporates modules to capture essential information from sales and quotations to shipment details. It ensures timely updates on shipment milestones through automated status emails to internal and external stakeholders. Fresa Gold simplifies the generation of shipping and financial documents, such as invoices and receipts, while providing real-time visibility and transparency of operations and finances within the organization.
REVIEWS – G2 – 4.6/5
3. Logi-Sys
Logi-Sys is an advanced Cloud ERP solution designed specifically for the Freight Forwarding and Logistics Industry. Its purpose is to automate, streamline, and integrate logistics processes, resulting in improved operational efficiency, enhanced customer service, and increased profitability. Logi-Sys is internationally renowned as a comprehensive and highly-regarded ERP solution for the freight forwarding industry. With its fully integrated module, Logi-Sys effectively automates the entire freight billing process by seamlessly interfacing with all operational aspects.
REVIEWS – Capterra – 4.6/5
4. Shipthis
Shipthis is a powerful, AI Driven, White-Labeled platform covering all aspect of your freight forwarding operations, including Freight & Shipment Management, Tariff and Rate, Track and Trace, Quotation, Warehousing, Documentations, Vendor, CRM, Billing, Accounting and more. Shipthis's platform empowers Freight Forwarders to evolve into Digitised Freight Forwarders.
REVIEWS – Capterra – 5/5
5. Magaya
Magaya offers cutting-edge logistics software that specializes in freight management solutions. Seamlessly managing transportation processes, Magaya empowers companies to effortlessly organize and execute shipments while providing real-time tracking for optimal visibility. By harnessing the power of Magaya's freight management software, businesses revolutionize their supply chain operations, ensuring efficient freight forwarding, warehouse management, and transportation management, all in one comprehensive solution.
REVIEWS – G2 – 4.5/5, Capterra – 4.4/5
6. FreightPrint
FreightPrint offers a comprehensive freight CRM software solution, catering to the needs of startups and enterprises alike. The feature-rich platform is specifically designed for web applications, ensuring a seamless experience for all users. FreightPrint gives access to a complete suite of tools and functionalities, enabling you to streamline your freight operations effectively. Whether 3PL support, advanced barcoding and RFID capabilities, or real-time shipment tracking, the freight CRM system consolidates all these features into one convenient place.
REVIEWS – No reviews
7. Linbis
Linbis Freight CRM Software is a web-based application that helps freight forwarders, logistics companies, and other transportation providers manage their shipments. The software provides a comprehensive set of features for tracking shipments, managing inventory, and generating documentation. Linbis Freight Management Software can be used to manage shipments of all sizes, from small packages to large freight containers. The software is also available in a variety of languages, making it a global solution for transportation providers.
REVIEWS – Capterra – 5/5
8. Descartes
Descartes offers end-to-end freight management solutions that provide the convenience of one-stop-shopping to address the most complex of business needs. Descartes' comprehensive solution gives forwarders a competitive edge and enables them to improve their margins by providing much needed control over the entire shipment process and visibility into the movement of freight.
REVIEWS – G2 – 4.3/5, Capterra – 4./5
9. Freightview
Freightview is a freight CRM software that helps businesses save time and money on shipping. It does this by providing a single platform for shippers to compare rates from multiple carriers, schedule pickups, track shipments, and generate reports. Freightview also offers a variety of features that can help businesses improve their shipping operations.
REVIEWS – G2 – 4.7/5
10. Logitude
Logitude offers a comprehensive freight forwarding software solution, specifically tailored for the needs of freight forwarders, consolidators, import/export managers, and NVOCCs. The cloud based freight management software ensures the access to the latest advancements in the industry, enhancing capabilities and optimizing the freight forwarding processes.
REVIEWS – G2 – 4.7/5, Capterra – 4.5/5
11. eCargo Cloud
eCargo Cloud is a comprehensive and user-friendly cloud-based system. Seamlessly integrated with major platforms, this intelligent solution empowers freight forwarders to effortlessly manage bookings, automate quotes and invoices, generate MIS reports, and access vital information from their computers or iPads. With mobile technology at its core, eCargo Cloud ensures smooth operations and offers compatibility with IATA-approved eAWB and Tracking, INTTRA Alliance for Ocean Carriers, Financial Management, and Collections.
REVIEWS – Capterra – 5/5
12. FreightBro
FreightBro is an innovative freight CRM software designed to streamline shipping processes and optimize cost savings for businesses. By offering a centralized platform, FreightBro empowers shippers to effortlessly compare rates from multiple carriers, efficiently schedule pickups, track shipments in real-time, and generate comprehensive reports.
REVIEWS – No reviews
13. Scope Freight
Scope Freight provides a cutting-edge forwarding software solution that seamlessly combines air freight, sea freight, and customs functionalities. Its primary objective is to assist managers in the freight forwarding and logistics industry in achieving their corporate objectives.
REVIEWS – G2 – 4/5, Capterra – 4.7/5
14. ZEALIT
ZEALIT ERP is a comprehensive software solution that streamlines operations in the global logistics and freight forwarding sector. It encompasses NVOCC operations, freight forwarding and clearance, finance and accounting, business intelligence, depot management, warehouse management, and transport management. By automating workflows and providing real-time tracking, this solution enables businesses to enhance efficiency, minimize mistakes, and maintain control over their operations.
REVIEWS – No reviews
15. Transcount
Transcount is cloud based freight management and logistics uberization software for micro, small and medium sized freight forwarders. The platform offers a unique opportunity for freight forwarders to establish and operate their own user-centric logistics businesses without the requirement of building and investing in their own website and software. This comprehensive solution enables companies to enhance their growth by automating workflows, digitizing processes, and embracing service uberization.
REVIEWS – Capterra – 4.2/5
Overview comparison
The opinions and experiences of real users are essential in addition to our insights and analysis of freight CRM software. That's where review platforms like G2 and Capterra come in, allowing users to share honest feedback and reviews of such solutions.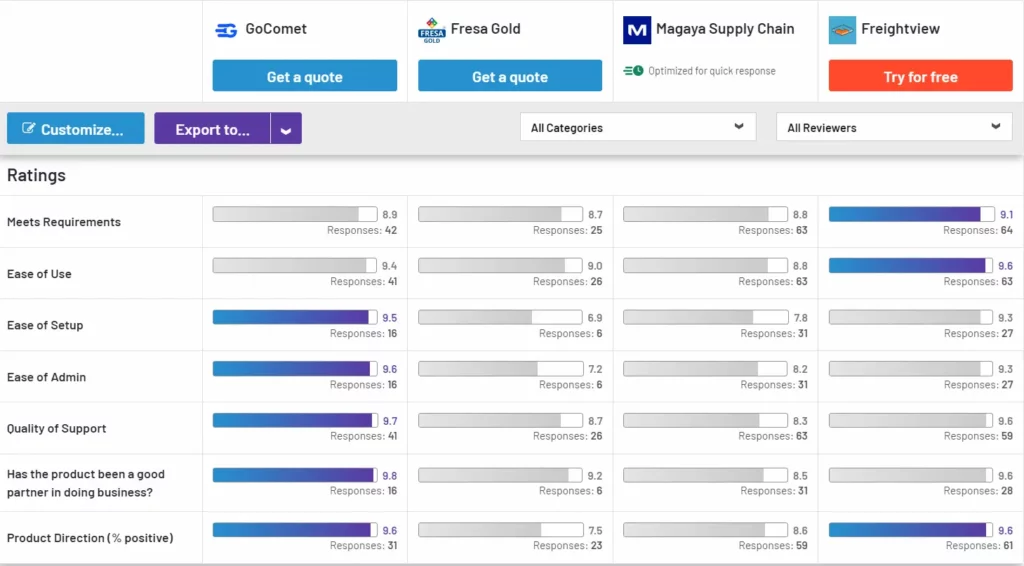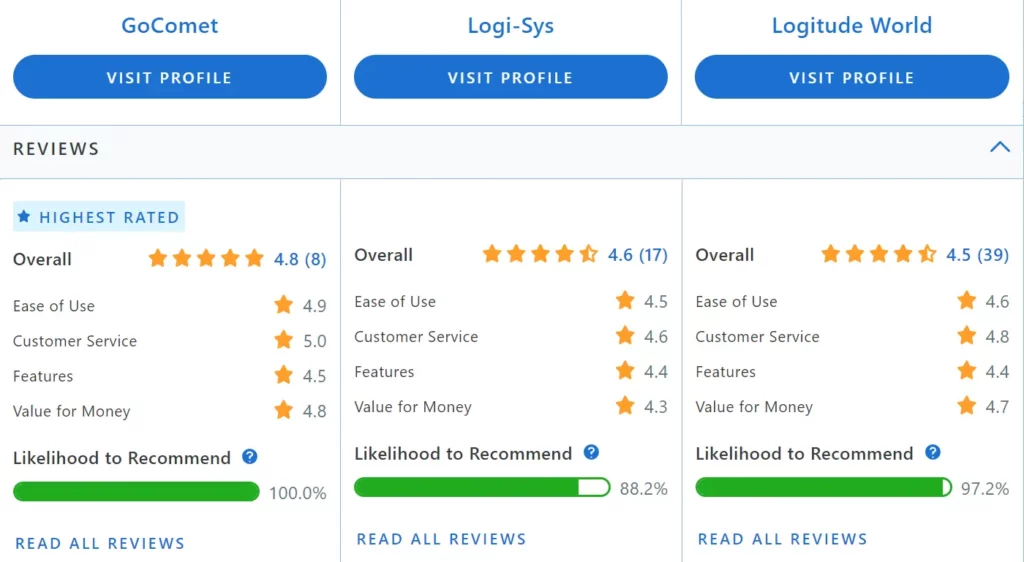 Navigating the vast array of choices when it comes to freight CRM software can feel overwhelming, but don't worry!
Factors to consider when selecting a Freight CRM software
When evaluating freight CRM softwares, you should consider the following key points:
Freight Management Capabilities: Ensure that the software provides comprehensive freight management features, including freight rate management, carrier selection and management, freight tracking and visibility, automated documentation, and freight cost analysis. It should effectively handle all aspects of your freight operations.
Integration: Look for software that seamlessly integrates with your existing systems, such as transportation management systems (TMS), warehouse management systems (WMS), or enterprise resource planning (ERP) software. Integration facilitates data sharing, eliminates manual data entry, and improves overall efficiency.
Carrier Connectivity: Check if the software offers connectivity to a wide network of carriers, allowing you to easily compare rates, transit times, and service levels. It should support various transportation modes, such as road, rail, ocean, and air, to cater to your specific shipping requirements.
Real-time Tracking and Visibility: The software should provide real-time tracking and visibility of your shipments, enabling you to monitor their progress, anticipate delays, and proactively address any issues. This feature enhances customer satisfaction and helps you make informed decisions.
Reporting and Analytics: Look for software that offers robust reporting and analytics capabilities. It should generate customizable reports, performance metrics, and key performance indicators (KPIs) to help you gain insights into your freight operations, identify areas for improvement, and make data-driven decisions.
Conclusion
In conclusion, the importance of freight CRM software cannot be overstated in today's global marketplace. It revolutionizes logistics operations by providing end-to-end visibility, real-time tracking, cost optimization, and seamless collaboration. By leveraging the power of technology, businesses can unlock unprecedented efficiency, enhance customer satisfaction, and gain a competitive edge in the ever-evolving world of supply chain management.
FAQs
What is Freight CRM software?
Freight CRM software is a specialized customer relationship management tool designed specifically for companies in the freight and logistics industry. It helps manage customer interactions, streamline sales processes, track leads and opportunities, and improve overall customer service in the freight industry.
What are the key features of Freight CRM software?
Freight CRM software typically includes features such as lead management, contact and account management, sales pipeline tracking, quotation management, order processing, shipment tracking, customer communication tracking, reporting and analytics, and integration with other freight-related tools or systems.
How can Freight CRM software benefit my business?
Using Freight CRM software can bring several benefits to your business, such as improved customer relationship management, increased sales efficiency, streamlined operations, better communication and collaboration among teams, enhanced customer service, and more accurate reporting and analytics for better decision-making.
Can Freight CRM software integrate with other systems?
Yes, many Freight CRM software solutions offer integration capabilities with other systems commonly used in the freight industry. This can include integrations with transportation management systems (TMS), accounting software, email clients, document management systems, and more. Integration helps streamline workflows and data sharing across different platforms.
Is Freight CRM software scalable for businesses of different sizes?
Yes, Freight CRM software solutions are available for businesses of varying sizes, from small freight companies to large logistics enterprises. The software often offers scalability options to accommodate the needs of growing businesses, allowing for the addition of users, data storage, and advanced features as required.
Is Freight CRM software accessible remotely?
Many modern Freight CRM software solutions are cloud-based, which means they can be accessed remotely through web browsers or dedicated mobile apps. This enables users to manage customer relationships, track sales activities, and access critical information while on the move or working from different locations.
How secure is Freight CRM software?
Security is a crucial aspect of any CRM software. Reputable Freight CRM solutions implement robust security measures to protect sensitive customer data and business information. This can include data encryption, user access controls, regular data backups, and compliance with industry regulations such as GDPR (General Data Protection Regulation).
Can Freight CRM software automate repetitive tasks?
Yes, Freight CRM software often includes automation capabilities to streamline repetitive tasks and save time. This can include automated lead assignment, follow-up reminders, email templates, task scheduling, and notifications. Automation helps increase efficiency and ensures that critical tasks are not overlooked.
What support and training options are available for Freight CRM software?
Freight CRM software providers typically offer customer support services to assist with implementation, troubleshooting, and general inquiries. Training options can include documentation, online tutorials, webinars, and personalized training sessions to help users get the most out of the software.
How much does Freight CRM software cost?
The cost of Freight CRM software varies depending on factors such as the features, scalability options, and the number of users or licenses required. Pricing models can include monthly or annual subscriptions, and some providers may offer different tiers or packages with varying levels of functionality. It's best to contact CRM software vendors directly for detailed pricing information.