Detention & Demurrage 2023-Q2 Insights: Major Regions and Shipping Lines
The world of global trade relies heavily on the efficient movement of goods through shipping lines and ports. However, the complex nature of international logistics often gives rise to challenges that impact the supply chain. One of the most significant challenges is the issue of detention and demurrage. As we delve into the insights of the second quarter of 2023, we uncover the latest trends and developments in detention and demurrage across major regions, shipping lines, and ports.
Understanding Detention and Demurrage
Detention and demurrage are charges that occur when containers are held for too long at ports or terminals. Detention refers to the additional time containers spend at the port beyond the allotted free time, while demurrage refers to the time containers are retained by the importer or exporter beyond the agreed-upon time frame. These charges are designed to encourage the swift movement of containers and to ensure the availability of equipment for other shipments.
Regional Analysis for Q2
Global average charges for Demurrage and Detention (D&D) assessed across major ports along shipping routes, ranked by regions, in USD.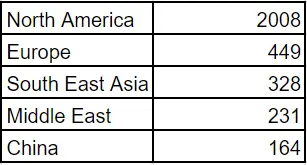 Regions ranked in terms of average free days over key ports across shipping lines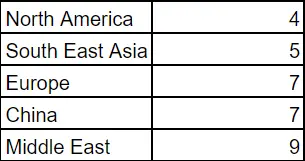 Accumulative charges for Demurrage and Detention are notably influenced by the allocation of free days. It's evident that the average number of free days inversely correlates with the charges incurred on day 14 in various regions. Intentionally shorter free days are implemented by carriers in congested ports to stimulate quicker turnaround, albeit this approach might seem inequitable initially.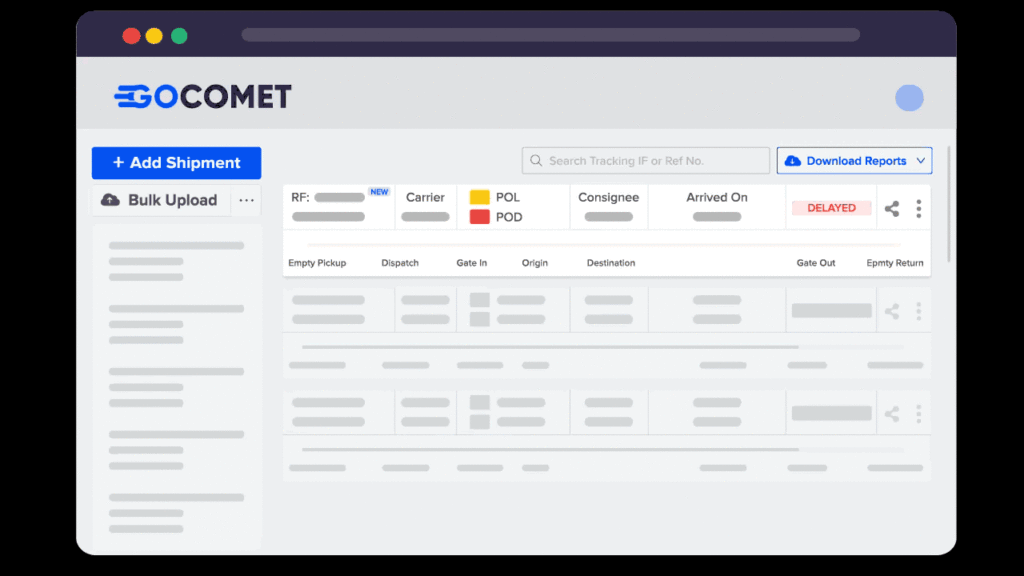 North America
Because of port congestion, intricate trade regulations, difficulties in infrastructure, and stringent enforcement, North America has consistently maintained its position as the most costly region for Demurrage and Detention charges. The ongoing strikes among port workers are projected to exacerbate the situation, causing additional delays and extended turnaround times (roughly 10-15 days longer than the norm) in the vicinity of the primary Western ports. Significantly, Oakland has now claimed the title of the costliest west-US port concerning D&D fees, surpassing Long Beach and Los Angeles.
Shipping lines ranked within North America in terms of average D&D charges in USD
Europe and Middle East
Europe is recognized for its comparatively elevated Demurrage and Detention charges in contrast to other global regions. Nevertheless, it is crucial to acknowledge that these charges can differ significantly among various countries and ports within the European continent. On average, Europe as a whole incurs combined Demurrage and Detention fees amounting to $449 over a 14-day period. This marks a decrease of 18% from the 2022 figure of $549. The average cost of D and D charges across major European ports on the 14th day demonstrates an 18% reduction.
Shipping lines ranked within Europe & Middle East in terms of average D&D charges in USD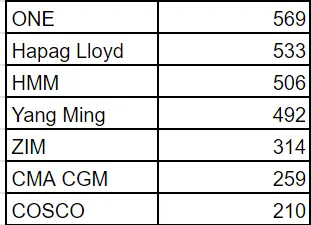 Among the European nations, North European ports, including those in the United Kingdom, Germany, and the Netherlands, are often synonymous with higher Demurrage and Detention charges. These ports function as crucial trade hubs, facing increased congestion and operational complexities. As a result, the time containers spend in these ports is extended, leading to escalated charges.
In contrast, South European ports in countries like Spain, Italy, and Greece generally feature lower Demurrage and Detention fees compared to their northern counterparts. Nonetheless, it's essential to recognize that these southern ports are not exempt from charges. The fee structure can still fluctuate based on factors such as the efficiency of the port, levels of congestion, and the prevailing market dynamics.
In the Middle East, North Middle Eastern ports like those in the UAE, Saudi Arabia, and Qatar often have higher Demurrage and Detention charges due to their role as vital trade hubs and the challenges of congestion. Meanwhile, South Middle Eastern ports in places like Oman, Kuwait, and Bahrain usually feature lower fees.
China and South East Asia
Due to its role as a significant manufacturing center and exporter, China has experienced fluctuations in demurrage and detention fees. The swift expansion of trade activities within the country has occasionally caused port congestion, subsequently leading to escalated demurrage charges. Nevertheless, ongoing initiatives aimed at enhancing port efficiency and alleviating congestion have yielded favorable outcomes on demurrage and detention fees in recent times. In China, ONE stands out for consistently imposing the most competitive D&D charges.
Shipping lines ranked within China in terms of average D&D charges in USD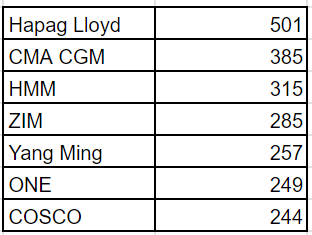 Owing to its prominence as a notable hub for manufacturing and exports, the countries in Southeast Asia have encountered fluctuations in demurrage and detention fees. The rapid growth of trade operations within this region has at times resulted in port congestion, consequently giving rise to increased demurrage charges. However, continuous endeavors aimed at boosting port productivity and mitigating congestion have generated positive results concerning demurrage and detention fees in recent years.
Shipping lines ranked within South East Asia in terms of average D&D charges in USD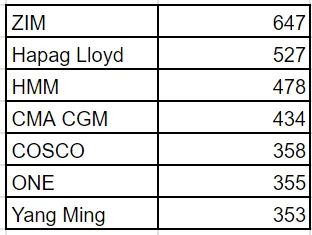 Key takeaways
Year over year, D&D drops have decreased by an average of 25%, with a further 14% decline compared to the previous year, signaling promising prospects for shippers. This trend suggests a return to the usual state of affairs.

However, D&D fees higher than those in 2020 are found in 11 ports. These ports comprise Antwerp, Jebel Ali, Ningbo, Port Kelang, Rotterdam, Shenzhen, Singapore, Tianjin, Xiamen, Hong Kong, and Guangzhou.
The most expensive demurrage and detention (D&D) charges worldwide are found in 7 North American ports, with the highest costs attributed to New York, Oakland, and Los Angeles.
Globally, ZIM stands out as the shipping company with the most competitive late fees, while CMA CGM tends to impose the highest charges. However, it's important to note that this dynamic changes across regions. To illustrate, in North Asia, Yang Ming takes the lead with the lowest late fees, whereas ZIM shifts to charging the highest.
Conclusion
In the year 2023, the landscape of Demurrage and Detention fees is undergoing significant transformations, primarily propelled by impending rulings from the Federal Maritime Commission (FMC). These forthcoming decisions hold the potential to completely reshape the structures and norms of these fees, particularly for shipping companies operating within the United States. The entire industry is holding its breath in anticipation of these outcomes, given their potential far-reaching ramifications.
While awaiting the official pronouncements from the FMC, several major ocean carriers including Maersk, MSC, HMM, and Hapag-Lloyd have already started contemplating the possibility of exempting detention and demurrage charges on days when marine terminals remain closed. This would encompass weekends and public holidays, representing a preemptive move that showcases their willingness to adapt to potential regulatory shifts.