Select the best carrier for your critical shipment in just 3 simple steps
In the realm of supply chain management, the importance of selecting the optimal carrier for critical shipments cannot be overstated. Such shipments, often involving time-sensitive, high-value, or perishable goods, demand a level of precision and care that extends beyond mere transportation logistics. The choice of carrier holds the key to ensuring the success and reliability of these operations, as it directly influences factors ranging from timeliness and security to specialized handling and regulatory compliance.
In this context, the meticulous selection of a carrier emerges as a pivotal decision, one that can profoundly impact the seamless flow of goods and the overall effectiveness of supply chain networks.
Imagine you're the logistics manager of a manufacturing company based in China, and you're tasked with shipping a crucial load of products to the USA. Navigating the complexities of international shipping can be overwhelming, but with GoComet's three-step approach, you can efficiently secure the best-priced carrier and ensure a smooth transportation process.
Step 1: Find the best schedule
Your production is on track, and you've set a target delivery date for your products in the USA. With GoComet's platform, you can access real-time information on sailing schedules of various carriers operating on the China-USA route. By analyzing the departure and arrival dates, you can pinpoint carriers that offer frequent departures and arrivals at U.S. ports that match your delivery timeline.
In the presented scenario, pertaining to the shipment route from Shanghai, China to Los Angeles, USA, we have obtained the sailing schedules from multiple carriers, encompassing essential parameters such as transit time, departure and arrival times, and the specific route. After a comprehensive analysis of the tabulated data, we have identified three optimal carriers for consideration: CMA-CGA, OOCL, and COSCO.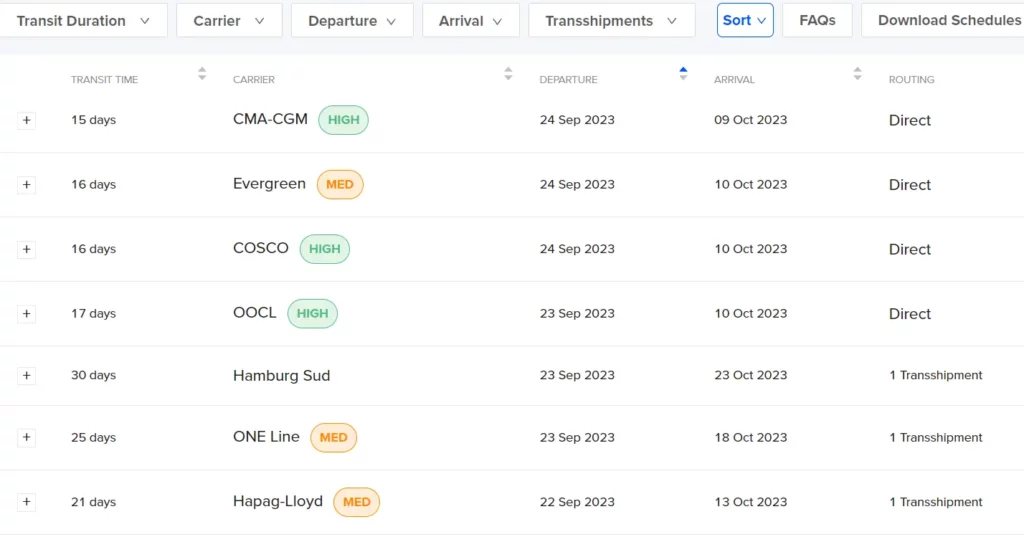 Carrier reliability
Carrier reliability emerges as a pivotal factor when deliberating on the optimal carrier choice with respect to schedules. In this regard, OOCL distinctly shines, boasting an impressive on-time record of 87%. Following suit, COSCO presents a commendable on-time performance at 82%.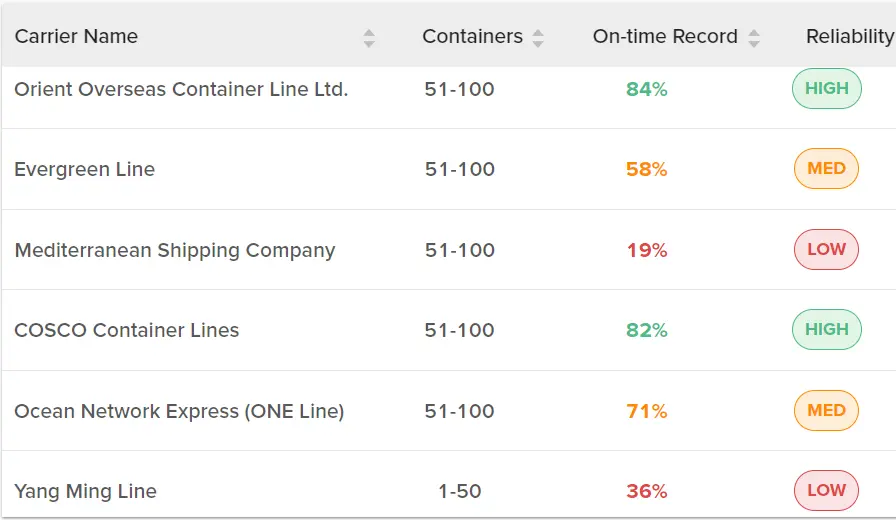 Want to check out the best carrier for your next shipment? Get live carrier reliability data for the ports
Step 2: Analyze the lead time
To avoid any surprises during transit, you decide to utilize GoComet's lead time benchmarking feature. By inputting the origin and destination details, in the given scenario, Shanghai to Los Angeles, GoComet provides you with comprehensive insights into the historical lead times of various carriers on this specific route. This data-driven approach enables you to make an informed decision, selecting a carrier with a track record of consistent and reliable lead times. Armed with this information, you can confidently plan your production and inventory, knowing that your goods will reach the USA according to your established timeline.
Based on the provided historical data, the published transit time for OOCL stands at 13.75 days, while GoComet's actual transit time records at 14.08 days. Impressively, OOCL boasts the highest on-time performance. The data unequivocally highlights that for this crucial shipment, OOCL outperforms other carriers, emerging as the optimal choice in terms of both reliability and historical transit time.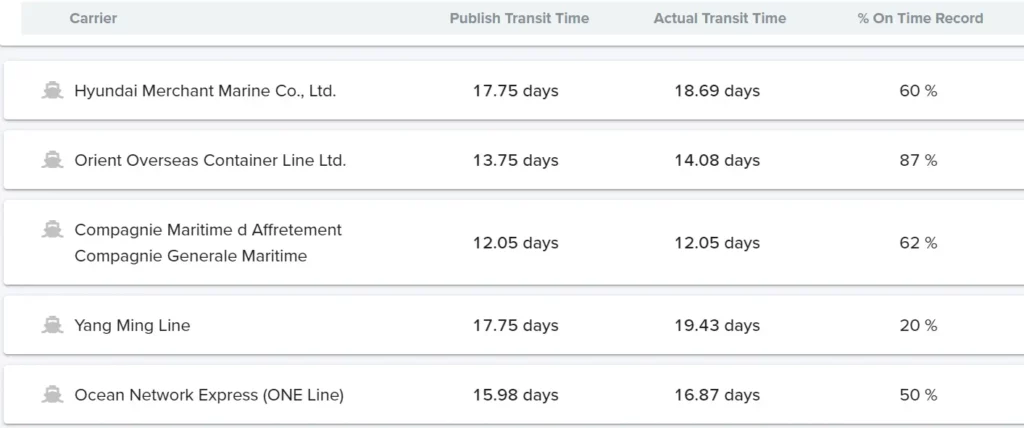 Step 3: Get the best quote for the selected carrier
Now comes the critical task of finding the best possible freight rates offered by the selected carrier for our shipment. The final task entails entering into negotiations with the vendors to obtain the most competitive rates for our shipment.
Conclusion
In this scenario, GoComet proves to be an invaluable tool for your manufacturing company's international shipping needs. By leveraging GoComet's Sailing Schedule, Lead Time Benchmarking, and Best Freight Rates features, you successfully navigate the decision-making stage and secure the best carrier for shipping from China to the USA. With GoComet's data-driven insights, you not only streamline your supply chain but also ensure a cost-effective and reliable transportation process.