Make Freight Bidding Fair For Your Freight Forwarder – GoComet
According to freight waves, Businesses overspend on shipping by a minimum of 13% every year.
In this challenging scenario, manufacturing companies and shippers are struggling to deal with soaring freight costs to secure competitive prices. Without an efficient solution in place, freight bidding can become a painstaking process that can take weeks of back-and-forth vendor calls, inefficient negotiation, and ambiguous shipping charges that can significantly impact your pre-shipment planning!
GoComet freight bidding helps clients to save cost on international freight bidding while reducing time and effort by automating freight procurement.
The Logistics bidding platform not only eases the day to day tasks of your vendors but also enables them to quote competitive rates continuously. The two processes are linked after all!
The only metric to win a bid is merit!
GoComet provides a transparent platform for all forwarders to compete fairly for every client inquiry. The forwarder is aware while quoting that the client is only interacting with him and other participants on the platform and nowhere else. The Freight bidding platform makes the process very transparent and hassle free.
This makes the freight bidding fair, eliminating the possibility of any underhand tactics. Such a scenario gives the forwarder confidence that the only metric to win business is merit.
Hence, the best and lowest possible quotes are worked out from the forwarder's side increasing the scope of savings for the client.
Why does your forwarder quote lower on the platform?
The participants are aware at all times about their ranking for all inquiries enabling them to rework, reduce margins and bag more business. In order to update quotes on the platform, they don't need to input rates again and again.
The freight bidding platform is intelligent and allows auto copying of previous rates for a similar port or auto-filling shipping line charges by inputting the name of the liner.
All this makes their work easy, saving time being wasted earlier in doing manual entries and allowing them to work better on quotes.
Here are top features of GoComet's Forwarder Bid Management Platform-
Stress free freight bidding with automation: With GoComet in place, negotiate freight quotes from a large pool of freight forwarders and get internal approvals instantaneously. The process that takes days or weeks, gets done within seconds.
Reverse auctioning: GoComet's logistics bid management platform leverages the power of reverse auctioning to rank vendors (L1, L2, L3, L4, L5, etc.) based on their quoted rates, rather than their competitors. This leads to an exponential increase in the number of negotiations in nC2 combinations, encouraging vendors to be competitive and leading to higher net savings for users of the platform.
Real time freight rates: GoComet's freight bidding platform empowers you to take control of the bidding process by providing real-time freight rates from major carrier lines worldwide, allowing you to compare and negotiate with vendors for the best deal.
Instantaneous performance analytics: GoComet's freight bidding platform tracks the success of your vendors, providing a single dashboard and valuable insights to drive cost savings and efficiency.
Foresight planning: GoComet's automated logistics bidding platform streamlines the freight bidding process, reducing the time it takes from weeks to just seconds, making it faster and more efficient for users.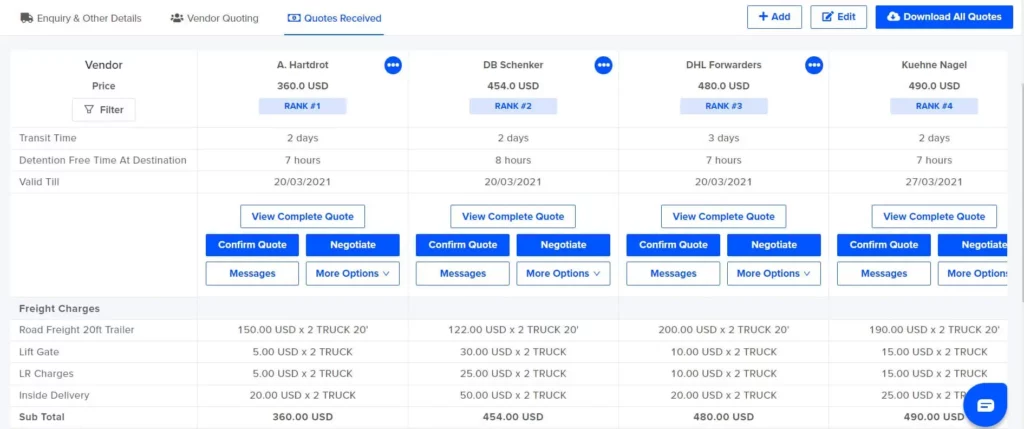 Forwarders are loving GoComet today!
1000 plus freight forwarders, quoting on GoComet freight bidding platform for their existing clients. Today forwarders want all their clients to adopt GoComet so that bidding becomes fair everywhere and they can win more business on merit.
It is time you try GoComet to make freight bidding easy and your quotes cheaper!
GoComet is the world's best platform to make freight procurement efficient and fast. Our enterprise SaaS product logistics bidding platform is used by manufacturing companies to drive sharp reverse auctions bringing out the best possible end to end rates for international shipments.

Also check out Sailing Schedule and Freight Index modules.