Procure-to-Pay systems: All you need to know
As volatility continues into 2021, logistics teams are juggling multiple systems to keep their supply chains running. Amid container shortage, capacity constraints and delays, strategies focused solely on cost savings have taken a back seat in the post-pandemic world, and efforts are being directed towards building more agile and resilient supply chains.
It is here that Procure-to-Pay solutions step in.
Today, supply chain leaders worldwide are looking to control costs and gain transparency over their operations based on real-time data. As a result, organisations are increasingly working towards modernising their procure to pay process.
At its most literal level, this is the process whereby a requisition is made, an order is placed, and once the order is received, payment is made based on an invoice from the supplier. However, the term is increasingly being used to describe software tools that automate the process.
What exactly are Procure-to-Pay software systems?
Procure to Pay (or P2P) platforms are automated systems that integrate procurement with accounts payables in order to streamline the process, ensuring accuracy and creating efficiencies in cost and time.
According to Gartner, "A procure-to-pay system is a fully integrated solution designed to support an end-to-end process that begins with goods and services requisitioning and ends with ready-to-pay files for upload into an accounts payable system. In addition to core e-procurement functionality, procure-to-pay solutions offer purchase-order-to-invoice matching and processing for invoices that don't match or when goods are returned."
Competent procure-to-pay solutions can be seamlessly integrated with your company's existing ERP solution to ensure easy flow of information, precision and transparency.
Why should companies adopt Procure to Pay solutions?
The procurement to pay process flow is often stalled because of endless documents, multiple ERPs, and dispersed supplier information. A paper-based system further complicates the process, making audits a nightmarish experience.
However, the new-age cloud-based P2P solutions enable companies to connect these traditionally manual processes on a digital platform. With these systems, you can bring all of your purchase-to-pay functions under a single, easy-to-use platform.
Along with better compliance, supplier collaboration and spending control, the solution also provides you with a control tower view of your supply chain operations and facilitates seamless interaction with your vendors and customers.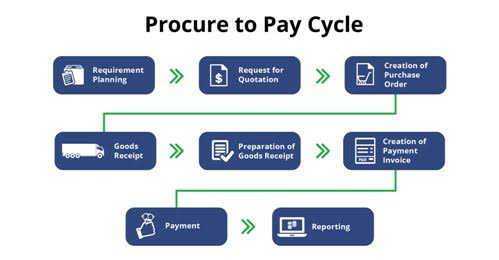 Save time and money with GoComet
Built around simplifying your end-to-end logistics management and growing your business, GoComet's cloud-based Transportation Management System gives you a P2P solution that connects your entire organisation's spend—from sourcing and requisitions to invoicing and payments on a unified dashboard.
And there's more; you can integrate the solution with multiple ERPs and have a single Procure to Pay system for all your suppliers.
GoComet's innovative solution has helped global brands such as Glenmark, Ducati, Sun Pharma, John Deere and many more drive significant cost savings and ensure transparency. If you are interested in knowing how we can help you build a cost-efficient and transparent P2P process, contact us here.