Russia Ukraine war – a shipping industry perspective
Shipping as an industry is interconnected like no other!
As the Russian invasion of Ukraine extends into its fourth week, its effect on an already stressed shipping industry continues to hammer what is believed to be a long path of recovery.
In the last two decades, there has not been a time where the magnitude of the supply chain disruption has prolonged this long. The situation is dire.
Major developments in ocean shipping since Russia Ukraine war began
1. The western sanctions of the U.S., the European Union and the U.K. have had a significant impact on the ocean shipping industry since the U.S. dollar serves as the leading global currency for several business transactions across various levels of the maritime industry.
2. Hundreds of bulk carriers have been diverted away from the Black Sea. With major ports in the area shut down and the movement of goods coming to a halt, the world's second-largest grain exporting region has essentially come to a standstill.
3. Leading shipping lines including MSC, Maersk and CMA CGM have suspended all bookings to and from Russia until further notice, citing safety concerns.
4. More carriers like ONE and Hapag Lloyd and logistics companies have joined shipping lines in suspensions of services to Russia.
5. The western sanctions have specifically targeted some Russian shipping companies and Russian-owned vessels.
6. Major oil companies and banks have backed away from doing business with Russia, which has exacerbated the woes of the strained shipping industry.
Now, how do these sanctions impact the maritime industry? Let's take a closer look at the impact of the Russia Ukraine war crisis on the shipping industry.
Ocean shipping is pulling more than its weight
Every week, around 10,000 TEU of cargo is transported across Russia by rail from Asia to Europe. Today, however, firms are moving their freight from rail to the ocean amid fear of fresh sanctions and customers boycotting their products if transported by Russian rail.
According to Bloomberg, Kuehne + Nagel International, one of Europe's largest freight forwarders, is rejecting rail cargo from China to Europe.
The flying ban has cancelled many flights and removed significant miles of airspace from international freight routes.
With rail and air becoming less reliable at this point, there is increased pressure on ocean shipping resulting in a scarcity of containers. The shortage of containers and freight capacity has led to severe port congestion and soaring ocean freight prices on alternative routes.
Port congestion and container shortage
As ships are being rerouted to avoid combat zones and several key ports shutting down owing to the war, port congestion has worsened in the alternate routes. With sanctioned Russian cargo remaining on board, congestion at North Europe's container ports has become even more severe.
Maersk announced it was facing "critical yard density levels" at its Bremerhaven NTB terminal. The major shipping line also added, "This situation slows down the terminal operations, which will further delay our vessel arrival and departure schedules.
Shipping companies at a risk
A little over two years ago, in September 2019, the U.S. sanctioned COSCO Dalian, a subsidiary of COSCO, for transporting Iranian oil. This made charterers refrain from booking not just the subsidiary but all of COSCO tankers. This removed around 150 tankers from the global charter market overnight. The spot rates surged above $100,000 per day.
If a similar situation were to happen today with Russia's largest shipping company Sovcomflot (SCF), which directly owns 229 tankers, how grave will the situation be?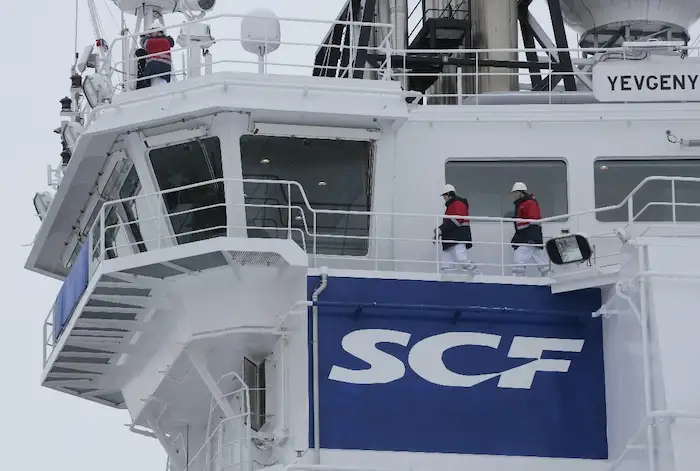 Shortage of crew
Together, Russia and Ukraine account for 14.5% of the world's 1.89 million seafarers. While most of them spent months being stuck at sea during the COVID-19 pandemic, the current Russia Ukraine war has prevented these shipping crews from boarding and disembarking freely. In addition, some crews in the war-hit regions are abandoning ships over fears of safety. If the war continues and more seafarers abandon their ships, never to return, it would be nothing short of a global supply chain collapse.
Two things shippers should do amid the war crisis
Given the growing western sanctions, stakeholders in the shipping industry should:
Closely monitor newly emerging Russian sanctions that impact the maritime industry. As sanctions are expanding and newer entities are targeted every day, enhanced due diligence may be warranted.
Leverage tech-enabled supply chain solutions to respond to the shifts in capacity and volatility in costs. The more visibility you can drive into your supply chain, the better. With real-time tracking and visibility, shippers can mitigate the risk to a greater extent. Access to real-time shipping data and actionable insights can help build your supply chain resiliency at such complex times.
To help ease the pain of shippers at such trying times, GoComet has made its port congestion and smart sailing schedule tools available to everyone free of cost. You can use our open-source tools to access real-time port congestion status across the globe and obtain alternate sailing schedules along with freight rates instantly.
Please feel free to reach out to us to build your supply chain resilience during these testing times.
You may also be interested in reading our recent blog – Chaos for the shipping industry as China announces lockdowns.