Shanghai Lockdown Spell Further Supply Chain Disruptions – GoComet
As China sticks to its zero Covid policy, a two-stage lockdown in Shanghai has created further fears of supply chain disruption.
The Shanghai lockdown is causing ripples in a setting where severe port congestions, blank sailings, and increased freight rates are ongoing challenges that are yet to be resolved.
In light of disruptions created by earlier pandemic-related lockdowns and the Russia-Ukraine war, the recent Shanghai lockdown could be another setback for China's exports. However, when disruptions occur in China, it becomes significant to the global supply chains because about a third of the world's entire manufacturing capacity is based in China.
Shanghai lockdown – a quick summary of the recent developments:
According to operator Shanghai International Port Group, the city's port remains open 24-hours-a-day as usual. However, landside infrastructure and transport links to and from will be disrupted.


Truck drivers must show a negative result from a COVID test taken within 48 hours if they want to enter Shanghai city. For this reason, most drivers are avoiding entering the city for fear of being quarantined. This disruption has left a large part of the cargo ready for loading unable to be transported to the port.
In an attempt to avoid the chaos in Shanghai, logistics companies are switching to Ningbo port which is 100 miles away, or even the much farther Qingdao port.
Though the major ports in China remain open, slower trucking activity due to labour shortage and yard congestion has resulted in berthing delays.
Port Congestion – North and Central China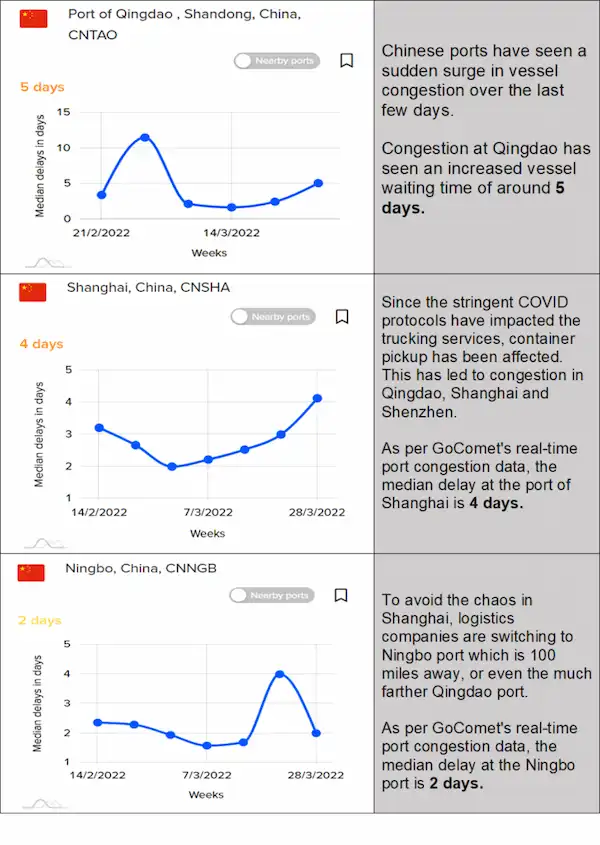 Today, the global supply chains are too interconnected, making them fragile. This became evident when a complete lockdown was announced in June last year, which shut Shenzhen port's Yantian terminal for almost a month. It created a massive backlog of containers and sent freight costs soaring.
To date, ocean shipping is healing from the shocks sent by the Yantian port's closure. Congestion and capacity still remain a global supply chain issue, making it clear that another major port's closure in China could cripple global supply chains for a longer time.
Dealing with the new normal
As disruptions have become the new normal in global supply chains, this reality has made shippers think about staying ahead of the bottlenecks. A growing number of companies are now using AI-powered supply chain automation tools that provide greater visibility into the flow of goods. These tools help the companies to identify potential bottlenecks through continual monitoring.
Follow the data
As supply chain professionals scramble for data amid a seemingly never-ending supply chain crises, you need complete visibility into your shipments and access to real-time, actionable insights. And it would be best if you had this now more than ever.
To help ease the pain of shippers at such trying times, GoComet has made its port congestion and smart sailing schedule tools available to everyone free of cost. You can use our open-source tools to instantly access real-time port congestion status across the globe and obtain alternate sailing schedules and freight rates.
Please feel free to reach out to us if you need to effectively address your supply chain bottlenecks.
You may also be interested in reading our recent blog: Russia Ukraine war – a shipping industry perspective.