3 Proven Ways To Avoid Demurrage And Detention Charges – GoComet
Did you know that demurrage and detention charges can accrue up to 20 times the container's value? With international shipping rates already soaring, any extra expenses incurred on top of the freight rate will take a bite of your margin.
Today, the detention and demurrage charges easily exceed $100 per container per day. While D&D can be an incentive for the shipper to return an empty container to have a fast turnaround, no shipper likes an unexpected additional fee at the last moment!
What leads to demurrage and detention charges?
Supply chain disruptions – including bad weather, labour shortage, shortage of trucks, geopolitical tensions, and port congestion, to name a few.
Incomplete shipping documentation
Containers held up by customs for an inspection
Payment related issues due to which the carriers fail to release cargo.
Three proven ways to avoid demurrage and detention charges:
While D&D charges cannot be entirely eliminated given the volatility of supply chains in the face of unforeseen disruptions, they sure can be minimised. Let's see the three ways using which proactive supply chain professionals have been able to avoid unnecessary D&D charges.
1. Planning and preparing in advance:
Planning and streamlining your shipment process in advance can go a long way in preventing you from incurring D&D costs.
You must proactively:
Dispatch your cargo in advance with a bit of buffer time.
Have proper documentation readily accessible, and pay duties in advance—specific to the geography or the materials in the container. Incomplete or not submitting the documents on time will result in unnecessary demurrage and detention costs.
Secure customs clearance before the shipment's arrival.
Share delivery instructions with all stakeholders in advance to save valuable time. For instance, communicating with the trucking company well in advance could save time, especially in busy ports.
2. Tracking containers using visibility platforms:
Use a real-time visibility solution to easily track your container throughout the transit to keep demurrage and detention fees to a minimum. With an intuitive tracking platform, you will be able to:
Predict delays at ports and proactively explore alternative lanes to keep your cargo moving.
Obtain real-time alerts about the shipments so that you will know which shipments are likely to incur D&D charges. This can help you take action before it is too late.
3. Use the data:
There is a vast amount of data flowing through today's global supply chain. With such an enormous amount of data at your disposal, you can make informed business decisions that could prevent any unnecessary expenses, including detention and demurrage.
Using the data from a container tracking platform, you can: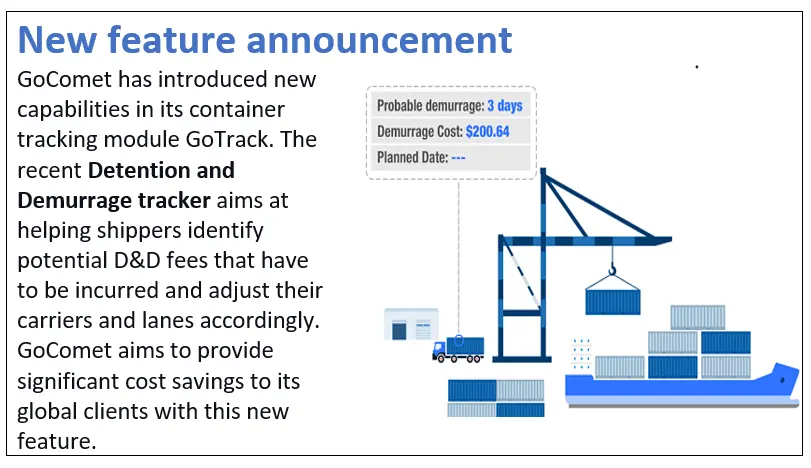 Understand the performance of your carriers and identify the best performing carriers lane-wise.
Identify possible port congestion scenarios well in advance.
Identify risky carriers or risky ports which would delay your shipments.
With our enhanced D&D tracker and container tracking, shippers can:
Prioritise containers that are at the risk of incurring demurrage and detention fees.
Receive real-time notifications and alerts for dwell time
View and compare the lane-wise performance of various carriers to make an informed decision for the future.
Maintain and manage essential shipping documents on a cloud-based repository, and effortlessly collaborate with other stakeholders with the help of customisable workflows. This timely communication and digital documentation will minimise unnecessary D&D expenses to a larger extent.
Obtain detailed shipment reports, aiding data-driven decision-making
See how GoComet's real-time container tracking can help reduce your demurrage and detention charges - Tell me more.
You may also be interested in reading our recent blog — Russia Ukraine war: a shipping industry perspective