Shipsy Review 2023: Competitor Comparison
Shipsy was launched in 2015 and is an AI-powered platform that empowers global businesses to optimize, automate, track and simplify end-to-end logistics and supply chain operations headquartered in India. The following article provides a comprehensive product review based on extensive online research and reliable data from trusted review sites such as G2, Capterra, and Trustradius.
An overview of Shipsy
The company provides a platform that enables smooth connections between cross-border and local logistics through automated operations and intelligent third-party logistics (3PL) management. Shipsy's platform is powered by AI and offers intuitive features that provide complete visibility of first, middle, and last-mile operations. It helps to unlock operational efficiency and leverages real-time analytics to make informed decisions.
Shipsy Solutions Suite
Shipsy offers tailored solutions designed to cater to the specific needs of shippers, logistics service providers, and carriers. Some of their core products include:
Shipment Tracking – Easily track shipments globally with 50+ shipping lines and 40+ 3PLs.
Route Optimization and Planning – Optimize vehicle utilization and minimize customer delivery times.
Last Mile Delivery – Monitoring deliveries in real-time to ensure operation KPIs are met.
Courier Aggregator – AI based allocation engine to ensure superior performance and minimum cost with multiple 3PLs for pickup/delivery through a single window.
Shipsy comparison
The following comparison by Capterra takes the top three competing platforms in the market based on similar features.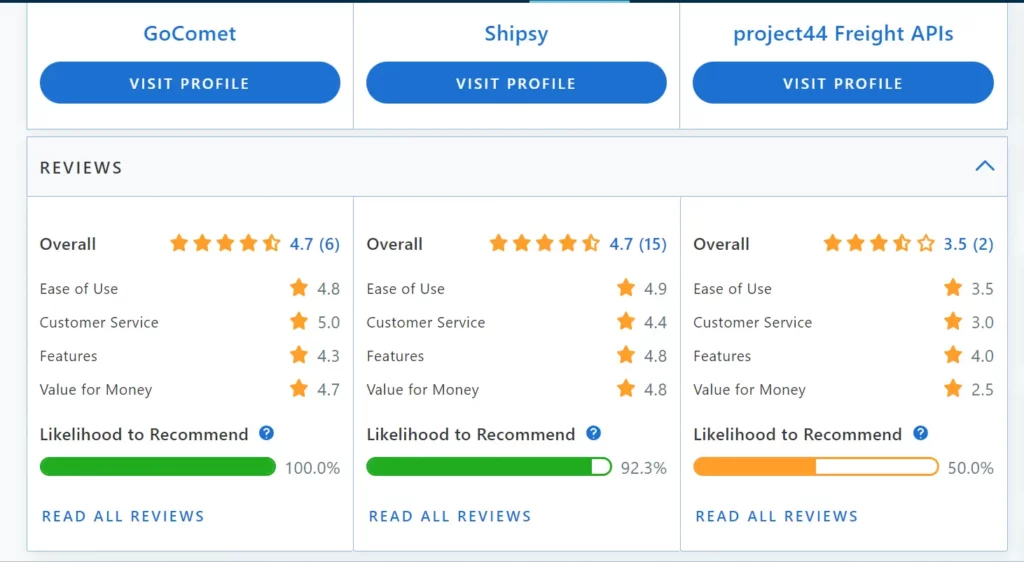 Shipsy comparison on G2 based on 7 key factors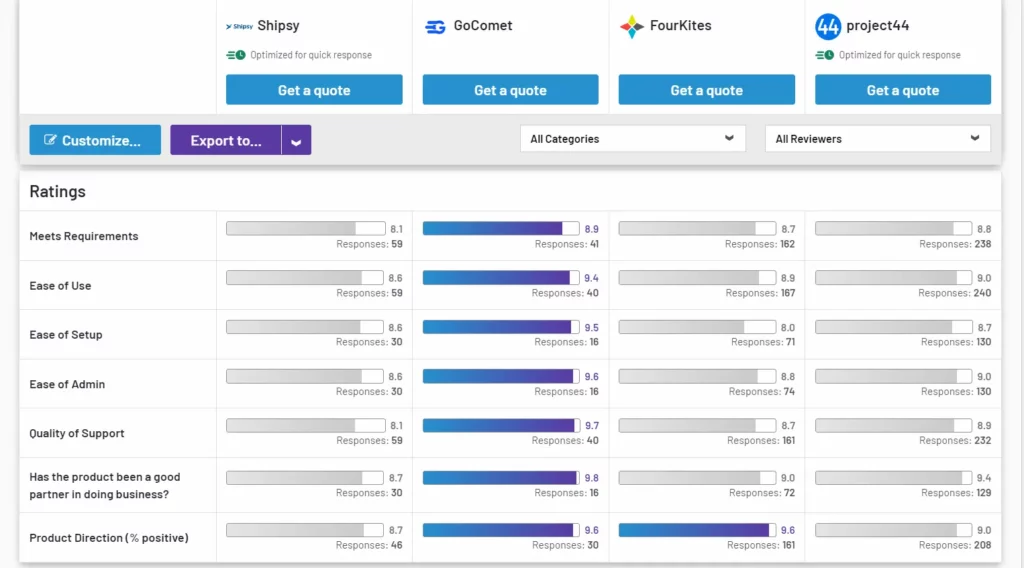 Shipsy vs competitors: product features comparison:

Shipsy – Pros and Cons
Major Pros:
Prompt support team – Delivers the solution on time and always responsive
The platform's interface is clear and self explanatory.
Major Cons:
Tracking the delayed shipment is difficult due to limited information
No filters in dashboard view – Dashboard improvements can help in efficient analysis
The system has not yet incorporated major carriers into its mapping functionality.
(Source: G2, Capterra)
Our recommendation
Consider a scalable, customizable, and user-friendly platform with multi-modal tracking capabilities. Look for features like freight procurement, stakeholder collaboration, document management, and automated invoice reconciliation to save time and costs for your operations team.
Avoid expensive ERP solutions if your needs are minimal, and ensure the system can integrate with your current software. Choose a solution that fits your shipment volume and daily operations. Affordable options help medium and small companies improve their supply chain efficiency while keeping costs low.
Select a provider with fast and proactive customer support for timely issue resolution.
Try out the solution with a free trial to ensure it meets your needs before committing.
Try GoComet's solution and experience double-digit cost savings while saying goodbye to all your supply chain difficulties. Book a free walkthrough demo now or kick-start your journey with our 15-day trial version, absolutely free!