Top 10 Logistics Management Software In 2023
In today's globalized world, logistics management plays a crucial role in the success of businesses engaged in international trade. Effective logistics management is essential to ensure that goods are transported efficiently and cost-effectively from one location to another. It involves coordinating the movement of goods, managing inventory, and optimizing supply chain operations to minimize costs and improve delivery times.
With the increasing complexity of global supply chains, logistics management has become more challenging than ever. However, advancements in logistics management software have made it possible for companies to handle their logistics operations more efficiently and effectively than ever before. These software solutions offer a range of capabilities that enable companies to manage their logistics operations more efficiently and effectively.
Some of the critical capabilities of logistics management software include the following:
Real-time tracking of shipments
Automated inventory management
Streamlined freight management
Enhanced supply chain visibility
In this blog, we will explore the top 10 logistics management software that enables businesses to manage their logistics operations from a single platform, reducing the need for manual intervention and minimizing the risk of errors.
1.GoComet
GoComet is widely recognized as one of the best logistics management software solutions available today. This is due to various factors that set it apart from its competitors. For starters, GoComet's freight procurement platform is one of the most robust on the market, allowing businesses to identify the best carriers and secure the best rates for their shipments. Additionally, GoComet's transportation management features are cutting-edge, enabling firms to streamline transportation operations and reduce costs.
One of the key strengths of GoComet is its AI-powered technology, which provides businesses with valuable insights into their supply chain performance. By leveraging the benefits of GoComet, companies can improve customer service, cut costs, and optimize their logistics operations. Overall, GoComet's unique combination of features, technology, and emphasis on freight procurement make it an exceptional choice for businesses looking to enhance their logistics management capabilities.
G2 and Capterra reviews for GoComet
2. SAP Logistics
SAP Logistics provides solid warehouse management, order fulfillment, and transportation management capabilities, enabling organizations to optimize their supply chain operations and expedite logistics procedures. Businesses can manage their transportation networks, organize and carry out shipments, keep track of inventory levels, and track delivery in real-time using SAP Logistics Execution. It gives companies access to crucial data and analytics, enabling them to make wise decisions and spot possibilities for development.
G2 and Capterra reviews for SAP Logistics
3. Oracle Transportation Management
An end-to-end logistics software solution that provides end-to-end visibility into transportation procedures. Its capabilities assist firms in handling orders, organizing transportation, paying for and billing freight, and improving customer service while streamlining their transportation systems. The solution provides sophisticated algorithms and optimization tools that can aid companies in lowering transportation costs, speeding up delivery, and increasing overall effectiveness.
G2 and Capterra reviews for Oracle TM
4. Magaya
Magaya is a logistics software that provides freight forwarding, warehouse management, and transportation management solutions. Its transportation management software gives companies the resources to streamline transportation processes, cut costs, and enhance customer satisfaction. Businesses can manage their transportation operations, organize and carry out shipments, and keep track of delivery in real-time with the help of Magaya.
G2 and Capterra reviews for Magaya
5. Descartes Aljex logistics
Descartes Logistics provides various solutions for managing transportation operations, customs compliance, and supply chain visibility. Descartes Logistics also provides thorough supply chain visibility, enabling companies to trace shipments and keep an eye on performance throughout their entire supply chain.
G2 and Capterra reviews for Descartes Aljex
6. MercuryGate
MercuryGate provides cloud-based transportation management software and offers its clients a variety of solutions for managing their transportation operations. MercuryGate's capacity to provide organizations with a unified platform for controlling all transportation activities is among its main advantages. Thanks to its extensive tracking and monitoring features, businesses can track shipments, evaluate performance, and make wise decisions based on real-time data.
G2 and Capterra reviews for MercuryGate
7. Kuebix TMS
Using Kuebix TMS, organizations may streamline their transportation processes and cut expenses. The solution offers real-time visibility, route optimization, and carrier management functions. Kuebix TMS offers comprehensive carrier selection capabilities that make it simple for organizations to evaluate prices and service quality across several carriers.
G2 and Capterra reviews for Kuebix TMS
8. Cerasis
Cerasis assists companies in streamlining their transportation processes and lowering transportation expenses. The solutions include real-time tracking, route optimization, and carrier management functions.
G2 and Capterra reviews for Cerasis
9. Transplace TMS
The software includes sophisticated tracking and performance monitoring features that let companies keep track of shipments, keep tabs on activity, and spot areas for development.
G2 and Capterra reviews for Transplace TMS
10. Bluejay solutions
This software gives companies various capabilities for managing their transportation operations, including carrier selection, rate negotiation, real-time tracking, and supply chain insight. BlueJay Solutions is highly customizable, allowing businesses to tailor the software to their needs and preferences.
G2 and Capterra reviews for Bluejay Solutions
Ratings and Reviews from real users
In addition to our insights and analysis of logistics management software, it's also essential to consider the opinions and experiences of real users. That's where review platforms like G2 and Capterra come in, allowing users to share honest feedback and reviews of such solutions.
Here's a snapshot of the ratings of the various solutions we have listed above: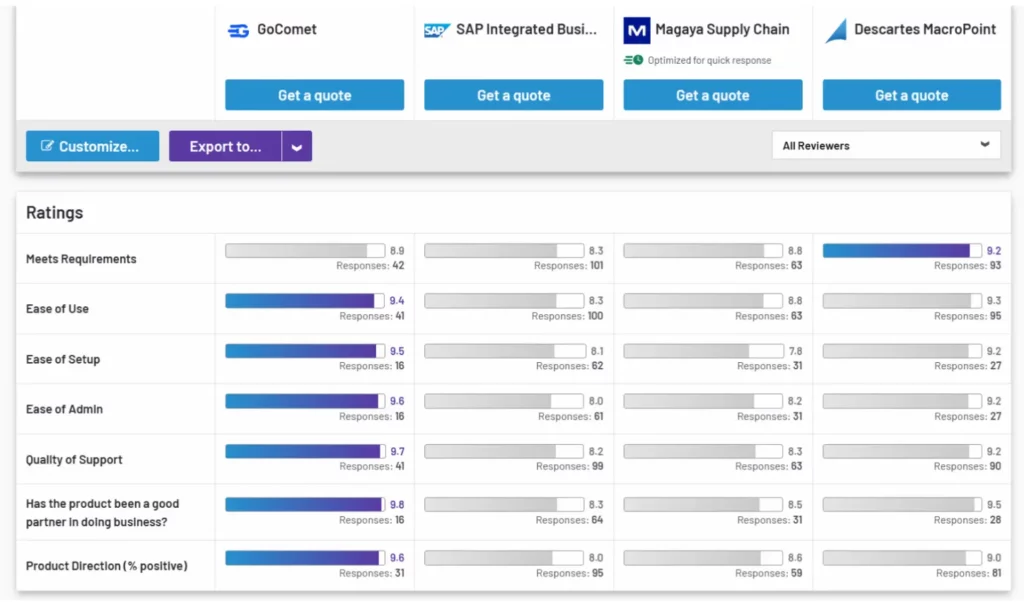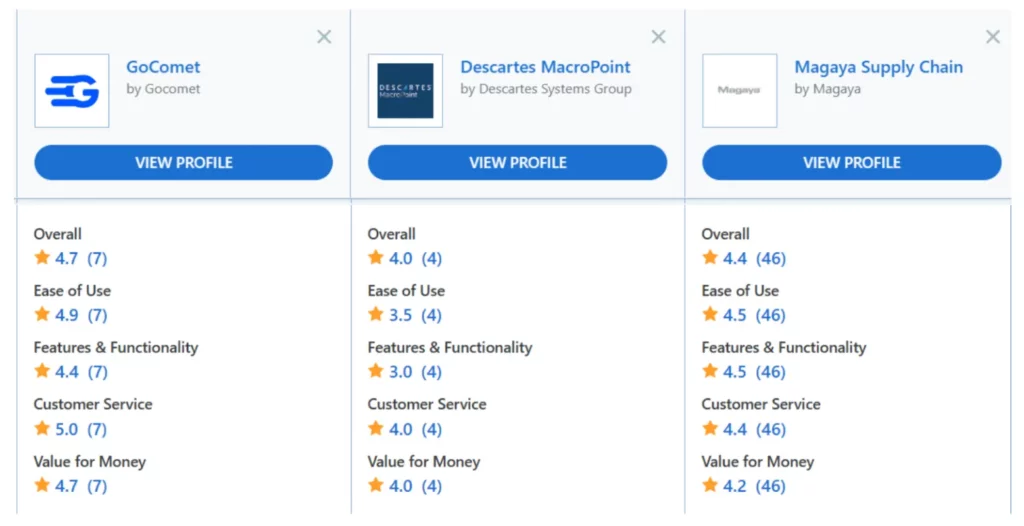 How should you evaluate any Logistics Management Software?
With so many options available on the market, choosing the right logistics management software can be a daunting task. Fear not!
Here is a list of key points to consider before selecting an all-round logistics management software:
Business Needs: The software should meet the specific needs of your business, including the size of your operation, the volume of shipments you handle, and the types of products you ship.
Scalability: Choose software that can grow with your business and accommodate your changing needs.
Functionality: Look for software that offers a range of features such as transportation management, supply chain optimization, freight management, warehouse management, and more.
User-Friendliness: The software should have a user-friendly interface and be easy to navigate and use.
Integration: Look for software that can integrate with other systems, such as accounting software or CRM systems, to streamline your business processes.
Customization: Choose software that can be customized to meet your specific business needs, allowing you to create custom workflows, reports, and dashboards.
The world of logistics management has come a long way in recent years, thanks to the rapid development of technology and the advent of cloud-based logistics software. Whether you're a small business or a large enterprise, these logistics management software solutions offer a range of features and capabilities that can help you streamline your logistics operations, improve your bottom line, and provide better customer service.
With the right software, you can take your logistics operations to the next level and achieve tremendous success in today's rapidly evolving business landscape. Feel free to reach out to us if you are looking for accurate, reliable and easy-to-use logistics management software.