5 Ways Transportation Visibility Can Help In Saving Your Supply Chain Costs
Supply chain disruptions are one of the costliest challenges faced by organizations worldwide. According to a survey conducted in 2021, supply chain outages are an economic burden that costs companies an estimated $184 million annually. Delays in receiving shipments on time due to lack of transportation visibility can cause a ripple effect throughout the entire supply chain network, resulting in increased prices and further complications.
Research shows that over 70% of companies fail to maintain adequate records of their supply chain processes. These figures should be alarming for anyone involved in the logistics industry, currently valued at $1585 billion and expected to grow by 11.2% from 2018 to 2027. Despite facing various obstacles and high costs, technology can help companies respond quickly and intelligently to disruptions. By having real-time transportation visibility, businesses have more options to avoid risks and mitigate adverse impacts.
How? Let's discuss this.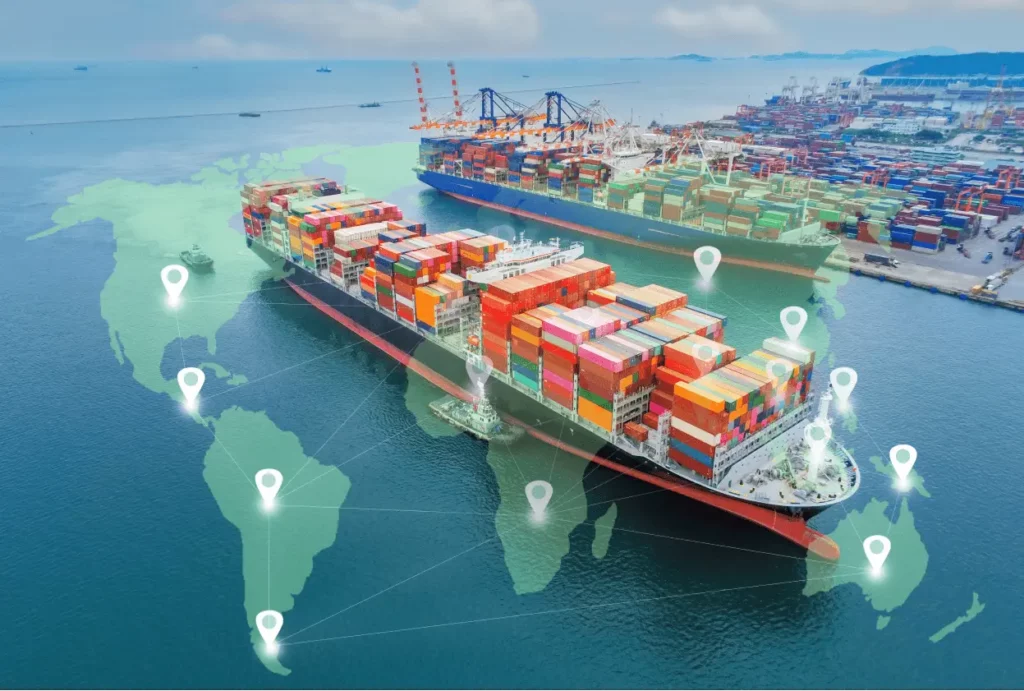 Real-Time Visibility
Real-time visibility is crucial for businesses to provide excellent customer service and ensure efficient operations. However, locating deliveries can be challenging, leading to numerous calls, texts, and emails from customers seeking updates. Businesses are adopting transportation visibility solutions to eliminate these lengthy communication sessions between carriers, drivers, and customer support teams. With these solutions, companies can quickly obtain location updates, reducing the need to wait for turnaround times. This not only saves time and money but also provides peace of mind.
By improving customer service responsiveness, businesses can:
– Decrease the number of calls and emails received
– Enhance interactions with clients and upstream suppliers
– Achieve better operational results and increase future sales.
Data Analytics
In today's rapidly evolving market, relying on intuition is no longer sufficient for industry leaders, and they are increasingly making critical decisions based on big data. To remain competitive, data-driven supply chain management and automated analytics are essential. Data analytics allows companies to effectively manage their supply chain by utilizing real-world data and generating accurate forecasts. Advanced algorithms streamline the process and transform vast amounts of data into actionable insights.
Analyzing data can help reduce delays and expenses by identifying the most reliable carriers with the least amount of delays and the most cost-effective routes. Sophisticated data processing can also evaluate vendor performance by analyzing data points such as quoted rates, negotiation frequency, and service level agreement compliance. Making well-informed decisions based on reliable data can significantly reduce supply chain costs.
Stakeholder Collaboration
Effective stakeholder collaboration is crucial for reducing supply chain costs in various ways. Collaborating with supply chain participants enhances communication and coordination, increasing process productivity, reducing lead times, and lower inventory costs. Through this synergy, stakeholders can recognize supply chain bottlenecks and improvement opportunities, facilitating the dissemination of data and insights to identify cost-saving opportunities.
By coordinating planning efforts and optimizing resource utilization, stakeholders can achieve optimal solutions and expedite problem resolution, minimizing complications and lowering costs. By sharing knowledge and expertise, stakeholders can identify new technologies or processes to improve logistics performance and reduce costs. Collaborative efforts among stakeholders contribute to developing a high-performance, cost-effective supply chain, resulting in increased profitability and customer satisfaction.
Building more agile supply chain
Organizations must take proactive steps to build more agile and resilient operations to navigate the unprecedented challenges facing global supply chains today. Digital technologies such as automated workflows and predictive analytics can provide valuable insights into demand trends, internal performance, and other critical factors. By leveraging data from across the supply chain, organizations can make more informed decisions and anticipate disruptions before they occur. Real-time visibility tracking and customer communication also enhance transparency and improves their overall experience. By adopting these solutions, companies can build more flexible and effective supply chains that are better equipped to withstand market volatility and adapt to changing conditions.
Industry update
Keeping up-to-date with the latest information on supply chains is a challenge for 62% of businesses worldwide, hindering their ability to adapt to customers' changing needs. In response to issues like container shortages, port congestion, and capacity constraints, FMCG companies are enhancing their supply chain visibility to mitigate bottlenecks. Manufacturers can overcome long-standing obstacles such as quality issues, speedy delivery demands, and rising costs by implementing the appropriate system. For pharmaceutical companies, access to all necessary ingredients across a dependable global supply network is critical for safe and effective operations.
Conclusion
In summary, incorporating an agile supply chain solution can significantly reduce logistics costs by streamlining and enhancing various processes in the supply chain. Transportation visibility is crucial in maintaining a cost-effective and resilient supply chain. Supply chain disruptions can have a detrimental effect on a company's profitability. Still, advanced technologies, data-based decision-making, and collaborative approaches can assist businesses in overcoming challenges and navigating through disruptions. In today's constantly evolving market, investing in transportation visibility solutions is necessary for the sustainable success of any company's supply chain.
About the Authors:
Syed Mudassir – Team Lead, Inside Sales
Vaishali Gupta – Inside Sales Executive (Asia and Australia)
Manaswee Shrivastava – Inside Sales Executive (EU and US)