Shanghai Lockdown Makes Global Supply Chain Anxious – GoComet
Global supply chain challenges are compounding due to China's strict lockdowns, especially in Shanghai, which is the home to the world's busiest container port and a key gateway for foreign trade. The port accounted for more than 10% of the country's total trade last year.
The problem is trucks, not ships
Due to the strict lockdown rules, trucking has come to a near standstill in Shanghai. Right now, there is no cargo arriving because there are no trucks. The lack of drivers and port workers has made it increasingly hard to get goods in and out of the Shanghai port.
The Chinese officials have announced a mandatory COVID test for truck drivers before entering Shanghai. According to the Wall Street Journal, truck drivers are avoiding Shanghai altogether for fear of ending up in quarantine. Shanghai International Port Group said that the docks are working normally with a "single-digit" number of vessels waiting to berth. Still, due to restrictions caused for truck drivers, it is not really operating.
According to the European Union Chamber of Commerce in China, the volume of goods moving through the port of Shanghai has fallen around 40% compared with pre-lockdown levels.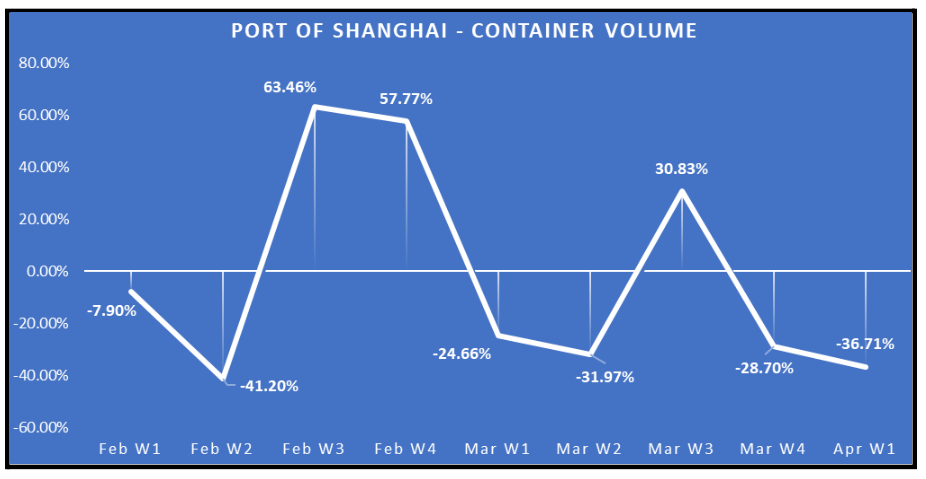 Ripple effect in the global supply chain
The world's fleet consisted of 5,587 ships carrying 24.7 million TEUs of containers last year. Congestion at ports in China and elsewhere worldwide is gridlocking about 10% of the global container-ship fleet, according to shipping line Ocean Network Express. As per Bloomberg's calculations, more than 500 ships are being held up in queues at ports.
Analysts predict that the backlog is likely contributing to growing ship queues off China, threatening more delays and an increase in freight rates in the coming months. According to Bloomberg shipping data, the number of container ships waiting off Shanghai as on April 11 was 15% higher than a month earlier.
Challenging times ahead for US and Europe companies
According to data from Sea-Intelligence, a near-record 12% of global container vessel capacity was "lost" in February because of delays. And with the current Shanghai lockdown, the situation doesn't look like it'll improve immediately. The possibility of extended lockdowns means more difficulties for American and European companies that rely on Chinese suppliers.
The situation at the Ningbo port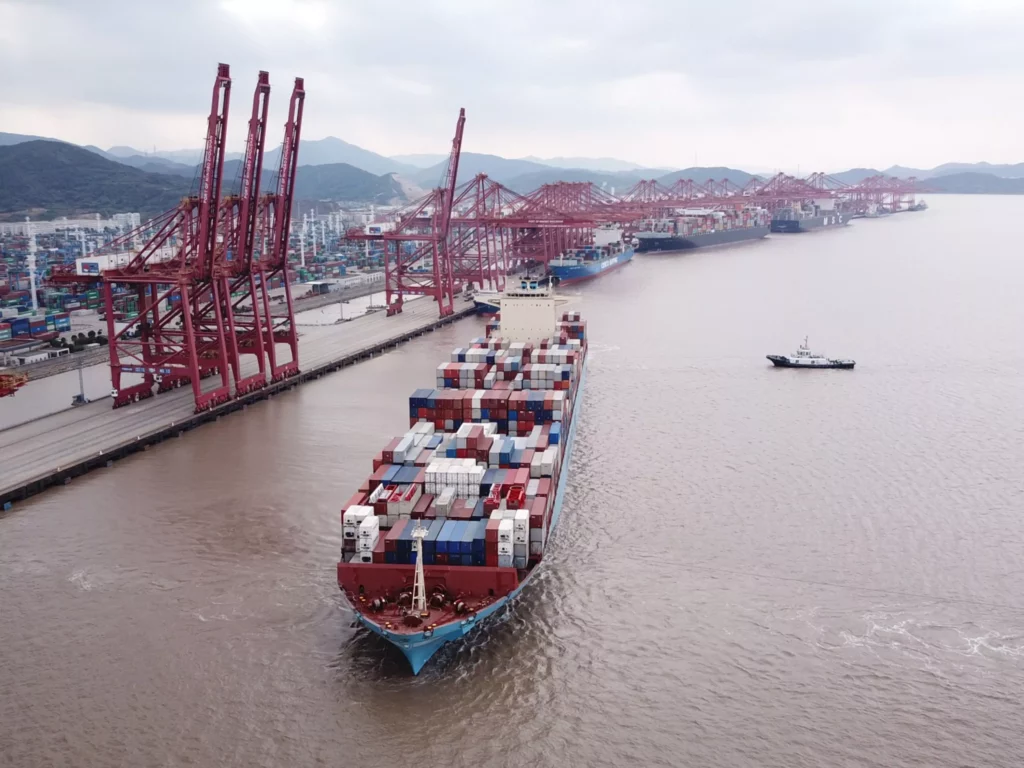 Due to vessel cut-off delays, carriers have announced omit calling at Shanghai, making shippers shift to alternate ports like Ningbo. The Ningbo port is now being impacted as almost all the cargo is being diverted to the port. This has caused an equipment shortage and not to mention an increase in rates out of Ningbo. The recent developments have led to growing backlogs of ships in Ningbo as well.
In a recent announcement, CMA CGM said that it would waive change of destination administration fees for rerouting reefers to alternative ports, such as the nearby Port of Ningbo-Zhoushan. The ocean carrier encourages rerouting options because of excessively stretched dwell times in Shanghai.
When operations rebound
The next big question for supply chain professionals and experts is – what will happen when operations rebound? When the restrictions are lifted and the demand is back, the carriers will not have enough equipment on the ground, and there won't be enough vessels, which will eventually push up prices once again!
Just last year, the outbreak at Shenzhen's port of Yantian slowed operations by more than 70% for nearly a week. This resulted in a 20% spike in ocean rates to the US and Europe.
As disruptions extend, the global supply chain executives are becoming increasingly anxious about how the situation will unfold. Undoubtedly, China's lockdown has posed an enormous challenge to the global supply chain recovery. More and more supply chain leaders are embracing supply chain tech and turning to data-driven decision making to save them from this upcoming bottleneck.
Please feel free to reach out to us if you are planning to build your supply chain resiliency through automation.
You may also be interested in reading our recent blog: Three proven ways to avoid container demurrage and detention charges
China has once again announced stringent lockdown policies in the key manufacturing hubs of Shenzhen, Dongguan and Changchun, as well as the Chinese financial centre of Shanghai, which is now under an indefinite lockdown.