How To Negotiate International Freight Procurement Deals?
Are you sick and tired of paying thousands of dollars to your freight forwarders? Do you want to save money on your international freight procurement? The way you negotiate is key. Negotiation saves your business money. It allows you to work towards a lower price, making sure you pay less for your freight procurement.
Unfortunately, it's not as easy as it sounds.
The uncomfortable reality is that:
Negotiation takes lots of time and effort to achieve the lowest possible quotations
You have to call back and forth to multiple vendors, multiple times
Negotiation is often limited, or even ignored, due to the time constraints within your team
This is why you need more than just software…. 
You need someone who's been doing this for a while, and who knows how to make the software work for you.
Introducing GoComet's RFQ management software.
GoComet's freight procurement RFQ platform has saved millions of dollars and thousands of hours for its users.
We've reinvented contract freight procurement negotiation through automation in a single, all-in-one, easy-to-use platform. Our intuitive and robust features result in quicker turnaround times, improved collaboration processes, automated tracking, and contextual insights for smarter negotiations.

Here Are The Really Clever Bits That GoComet Does to Save Money
GoComet is integrated with an easy-to-use, reverse auction methodology that reduces freight procurement costs by up to 18% to add to your logistics department's bottom line.
Our module gives a live ranking to vendor bids which indicates their current position in the bidding process.
The system creates an environment whereby your vendors are competing with each other to offer the best services at minimal cost for each (export, import) shipment.
No more spending time and energy on calls or emails negotiating freight procurement, just sit back, relax and watch as those prices keep getting squeezed smaller and smaller.
Save up to 18%!
By implementing the GoComet platform you will enjoy up to 18% savings on your logistics operations – not to mention all your precious time!

Save Time and Increase Profits
Research shows that to receive the lowest price on your freight procurement negotiations, you need eight or more interactions.
So unless you want to manually initiate all eight-plus interactions (seriously, who has time for that?!), call us today to see how we can automate all of this for you.
But Does This Method Bring in Consistent Results EVERY TIME?"
Heck yes, it does!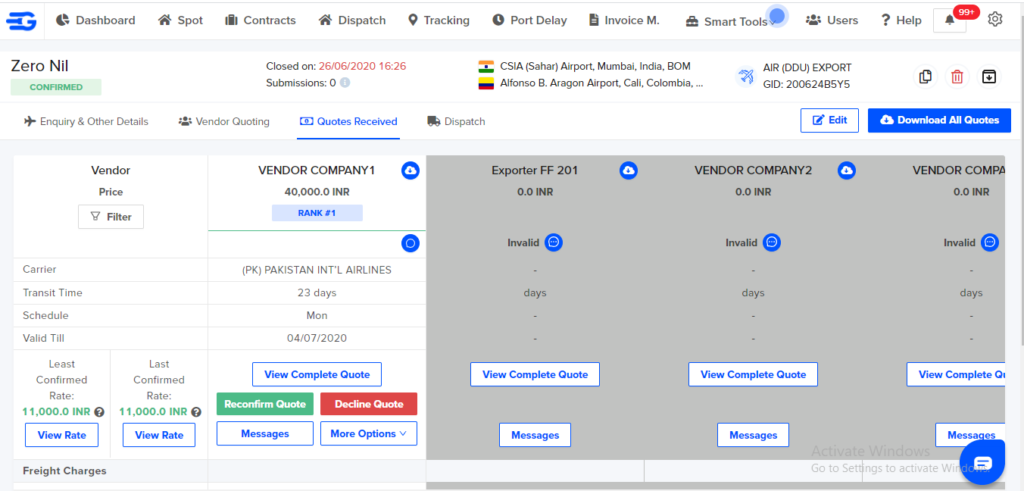 That's impressive… But are your customers getting similar results?
YES! Our clients are saving huge amounts of money from this method… Also, their logistics operations are more streamlined now.
We asked our customers to send us a testimonial sharing their experience with GoComet. Here is their verbatim feedback:
Company Name: Glenmark Pharmaceuticals
Saved 17% in their logistics operation
Name: Mr. Raja Sekhara Reddy
Designation: Vice President – GLOBAL DEMAND PLANNING & LOGISTICS

Testimonial
"We have been working with GoComet for more than a year now. Our association is in the area of International Freight procurement for all annual contract enquiries and spot enquiries. This was a very fruitful and productive association, which helped us to achieve notable savings through the reverse auction process.

GoComet Team has been very patient and helpful in dealing with our current and new requirements that we have asked them to work upon from time to time. We could implement many new strategies with their support. GoComet team is extremely flexible to make changes to the platform at a short notice, almost on the fly. They also helped with new references that we didn't have on our panel earlier.

We are currently working on a collaborative workflow between various external and internal stakeholders, for real-time shipment tracking, document sharing, pre-arrival notices etc. We are working on invoice document auditing to expedite the invoicing process and ensure error-free bill evaluation.

GoComet has the potential to be a complete Logistics Resource Management Platform, we are very keen on leveraging this to our benefit."
Here's another one
Company Name: Scottish Chemical
Name: Mr. Rishab Khandelwal
Designation: CEO of Scottish Chemical
He is sharing his experiences… how the GoComet platform helped them to eliminate manual tasks and achieved significant cost savings.

GoComet's logistics resource management platform has helped us eliminate email and manual negotiation so that these processes are now completely paperless.

We have also achieved significant cost savings through their automated reverse auction system and created ample visibility in our operations. GoComet's platform is easy to use and its accommodated custom QCS reporting has made this aspect of our day-to-day a breeze.
This works in virtually ANY industries involved with logistics operations – like pharmaceuticals, chemicals, plastics, food, etc.
Who Our Software Helps
Logistics departments, accounts, executives, warehouses, even your own vendors — bottom line, if you are in logistics operations, you need GoComet.
You've seen all the proof…
GoComet just plain WORKS!
Call us now to arrange a 30-day trial with all of our premium features.
You have nothing to lose, but we never fail to impress 😉 So what are you waiting for??

Also, check out GoComet Freight Index and Sailing Schedule modules.
Click Here To Schedule your 30-Day Trial